Bushnell Banner 4-12x40mm AO Riflescope
By Chuck Hawks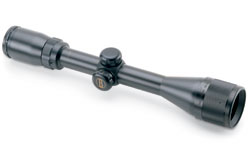 Illustration courtesy of Bushnell
The Banner riflescope line is one of Bushnell's oldest and most popular. The matte black 4-12x40mm AO Bushnell Banner variable power riflescope that is the subject of this review is one of the mainstays of the line.
Features include a one-piece aluminum alloy main tube, Bushnell's Dusk & Dawn Brightness multiple lens coatings, a fast focusing eyepiece, an easy-grip zoom ring, and 1/4 MOA fingertip re-settable windage and elevation adjustments. Like all Banner scopes, the 4-12x40 is dry nitrogen filled and claimed to be fogproof, waterproof, and shockproof.
The 4-12x40's adjustable objective (AO) allows the shooter to correct for parallax at any range between 10 yards and infinity. This makes it a possible choice for short range applications requiring high magnification, such as air rifle competition.
Bushnell Banner riflescopes are covered by a Limited Lifetime Warrantee. This warrantee is good for the life of the original purchaser.
Here are some basic specifications for the Banner 4-12x40 scope:
Model # -
714124
Reticle -
Multi-X
Field of view at 100 yards -
29' (4x), 11' (12x)
Weight -
15 ounces
Length -
12"
Eye relief -
3.3"
Exit pupil -
10mm (4x), 3.3mm (12x)
Click value -
.25 MOA (1/4" at 100 yards)
Adjustment range -
60" at 100 yards
The Bushnell Multi-X reticle is a standard "plex" (as in Leupold Duplex) type. For a long range varmint rifle I prefer a finer crosshair, but the Multi-X is satisfactory and more versatile, particularly for a big game rifle. Although why a knowledgeable hunter would choose a 4-12x scope for a big game rifle I cannot imagine.
A 4-12x scope is a very useful choice for a varmint rifle. Popular calibers for this application would run from .17 HMR to .257 Roberts.
For this review the 4-12x40 Banner was mounted on a Marlin 917VS varmint rifle in caliber .17 HMR. High Millet rings were used to clamp the scope to the tip-off scope mounting grooves in the rifle's receiver. The high rings gave adequate clearance between the scope's adjustable front objective and the rifle's bull barrel.
A 4-12 power variable scope is just about ideal for a .17 HMR caliber varmint rifle. It has sufficient field of view for small game hunting at fairly close range and adequate magnification for shooting small rodents at 200 yards, which is the maximum practical range of the cartridge.
As I have come to expect from Bushnell Banner scopes, everything worked as advertised during our shooting trials. The optics don't measure up to a premium scope, such as one of Bushnell's own Elite 3200 models, but they are adequate. Sharpness and contrast are sufficient to define small targets at rather long distances. It was overcast and threatening to rain on the day we had the 4-12x40 AO at the range, typical of Western Oregon in the early spring, so lens flare was not an issue.
Eye relief is adequate for a rifle that doesn't kick hard, but marginal for a powerful rifle. Eye position is fairly critical with this scope. The eye needs to be centered and at the proper distance behind the ocular or the view through the scope "winks" in and out.
The scope's ergonomics are good. The variable power ring is easy to grasp even when wearing gloves, the adjustable front objective is large and grooved for convenient manipulation, and the rubber covered eyepiece quick focus ring was a pleasure to use.
The 1/4 MOA fingertip "click" windage and elevation adjustments were acceptably accurate. Better, in fact, than many more expensive scopes.
Like the other Bushnell Banner scopes that I have tested, the 4-12x40mm AO variable is a viable choice, especially considering its modest cost. My impression is of adequate optics, accurate adjustments, and value.