Bushnell Banner 6-18x50mm AO Riflescope
By Chuck Hawks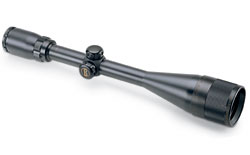 Illustration courtesy of Bushnell
At one time Bushnell was the imported stepchild of the American manufacturer Bausch & Lomb, but Bushnell has prospered in the riflescope field while the B&L name has disappeared.
Today Bushnell markets a wide price range of scopes, plus red dot sights and other optical products. For a long time one of the mainstay Bushnell products has been the Banner line of riflescopes. They have generally been among the best scopes in their price class, offering good performance and reliability for the price. Like all of the Bushnell scopes with which I am familiar, they are sourced out of Asia.
Bushnell describes the subject of this review, the 6-18x50 AO (for Adjustable Objective") Banner as, "A super-high-power variable scope for high performance centerfire and break-barrel air rifles." (That last--air rifle--part has always seemed rather schizophrenic to me.)
The 6-18x Banner variable is built on one-piece aluminum alloy main tube. It is supplied with a matte black external finish. Features include Bushnell's Dusk & Dawn Brightness multiple lens coatings, a fast focusing eyepiece, an easy-grip zoom ring, and 1/4 MOA fingertip re-settable windage and elevation adjustments. Like all Banner scopes, the 6-18x50 is dry nitrogen filled and is fogproof, waterproof, and shockproof. The 6-18x50's adjustable objective allows the shooter to correct for parallax at any range between 10 yards and infinity.
Bushnell Banner riflescopes are covered by a Limited Lifetime Warrantee. This warrantee is good for the life of the original purchaser.
The Banner 6-18x50mm AO variable power scope (model # 71-6185) is 16" long and weighs 18 ounces. The eye relief is 3.5" and the adjustment range is 40 MOA. Field of view is 17' at 6x and only 6' at 18x. The exit pupil diameter is 8.3mm at 6 power and 2.8mm at 18x. The Bushnell Multi-X reticle, basically a copy of the Leupold Duplex, is standard. For a long range varmint rifle I prefer a finer crosshair, but the Multi-X is more versatile. The 2004 MSRP is $184, and the local discount price where I live is about $130.
This big, heavy scope is most suitable for use on big, heavy rifles. Specialized, long range varmint rifles chambered for such cartridges as the .22-250, .223 WSSM, .220 Swift, .243 Winchester, and 6mm Remington would seem to be the most logical application for this scope.
For this review the 6-18x Banner was mounted on a Ruger KM77VT Mk. II varmint rifle in caliber .220 Swift using tall Ruger rings. .220 is one of the highest velocity and flattest shooting of all rifle cartridges and, since the usual targets are small rodents, one of the few that can justify such a powerful scope. In the event, the 6-18 power variable proved to be just about ideal for this application.
As I have come to expect from Bushnell Banner scopes, at the range everything worked as advertised. The optics, while not outstanding, are good. Sharpness and contrast are sufficient to define small targets at long distances. Flare suppression appeared to be more than satisfactory. It was overcast on the day we had the 6-18 at the range, no surprise in Western Oregon in wintertime, so lens flare was unlikely to be a problem in any case.
The scope's ergonomics are good. The variable power ring is easy to grasp even when wearing gloves, the adjustable front objective is large and grooved for convenient manipulation, and the rubber covered eyepiece quick focus ring was, as always, a pleasure to use. Why all scope brands haven't adopted this Euro-style fast focus is a mystery to me.
Like the other Banner scopes that I have owned and tested, the 6-18x variable is surprisingly good, especially considering its modest cost. My impression is of better than average optics, good flare suppression, adequate finish, accurate adjustments, and durability.
The Banner line is still one of the best, perhaps the best, scope line in its price class. The 6-18x50mm AO is a worthy representative of the group.