Bushnell Elite 3200 10x40mm Mil-Dot Riflescope
By Pete Dixon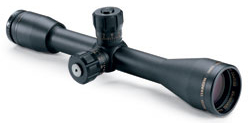 Illustration courtesy of Bushnell
The Bushnell Elite 3200 fixed power 10x40 mil dot riflescope carries a number of distinctions in the Bushnell Elite line of riflescopes. It is one of, if not the, cheapest of the Bushnell Elites. It is one of only two to come with large knurled target type adjustment turrets and it is the only fixed power Bushnell Elite riflescope. It is also in a minority of Bushnell Elites that feature a standard mil dot reticle.
Bushnell sensibly markets it as a target scope although some Internet sales outlets have taken to sensationalizing it by calling it a sniper scope--just what we need in the current anti-gun atmosphere! I find no reference to that on the Bushnell web page or in any of the material that came with the scope.
I was interested in it not due to any resemblance (incidental or intended) to actual sniper scopes, but because of its' sturdy appearance and the simplicity of a fixed power scope and a magnification level that would lend itself to general long range shooting. Also, I have lost a couple turret caps as I adjust my scopes frequently while developing loads, and I was happy to eliminate that possibility on at least one scope.
The general features and specifications of the Bushnell Elite 3200 10x40mm riflescope are advertised as follows:
10 power and 40 mm objective lens
mil dot reticle
field of view at 100 yards- 11 ft
weight-15.5 oz
length- 11.7"
eye relief- 3.5"
exit pupil- 4 mm
click value- .25"@ 100 yards
adjustment range- 100"@ 100 yards
mounting length- 6"
Bushnell's proprietary Rainguard and multi-coated optics
Magnum recoil-proof construction
One piece hammer forged aluminum tube construction
100% waterproof/fog proof/shock proof construction
Dry nitrogen filled
Finger tip adjustment target turrets with audible resettable windage and elevation adjustments
Elite bullet-proof Warranty
It is an impressive scope to hold. It feels unusually heavy duty. The hard black matte finish accents the extra sturdy hammer-forged one-piece aluminum tube. The ocular is focused with a European style fast focus ring that is rubber covered. The target turrets in no way detract from the solid feel. They are well marked, well affixed and coated with a hard rubbery polymer. There is no play whatsoever in their action and they turn with smooth positive yet quiet clicks. You can easily adjust them with your ear protection on. As long as you can count you do not need to hear the clicks. I would not expect them to be accidentally turned in the field under any normal circumstance except perhaps when carried in a saddle scabbard. Bushnell advertises that elite rifle scopes are tested for recoil with a thousand shots from a .375 H&H rifle and this particular scope gives the impression of being up to it.
The packaging and manuals that Bushnell provided were fine except on one point. The instruction manual did not address the use of a mil dot reticle with a fixed 10 power scope. The section on mil dot reticles seems to have been lifted straight out of the manual for a variable power scope.
The use of a mil dot reticle can be somewhat technical. Mil dots are based on radian measurements of arc. The distance between dots can be translated as 3.6 inches at 100 yards or roughly 3.6 minutes of angle (MOA), which is the far more familiar unit of measure for most shooters. Mil dots can be used for windage, elevation, bullet drop and range finding functions, but with a variable power scope this can only be accomplished properly at a particular set magnification. So, the manual contained some potentially confusing and inappropriate information.
Now the bad news. I mounted my new Bushnell Elite on a Savage Model 12 .308 rifle without difficulty. However, on my first trip out with the scope I immediately discovered that there was an excessive amount of parallax at 100 yards, the distance at which this scope is advertised as being parallax free. With my Savage setting securely on my Caldwell shooting rest and gazing at my favorite Redfield Precision Sight-In target, I discovered that I could easily see as much as three inches of sight movement with but a little movement of my eye.
I took a few shots to sight-in the rifle/scope combination and then settled in to shoot a few groups, which confirmed my worst fears. The results were atrocious given the excellent accuracy record of this rifle.
Back in the box and off to Kansas went my new scope. My arrangements with the Bushnell Service Department were straight forward and the repair took only 2 weeks longer than they said it would, twelve rather than ten weeks. Then there is the matter of the $10.00 return shipping bill, which I found offensive under the circumstances. (So much for the Bushnell "no questions asked" 1-year U.S. replacement warrantee. -Ed.)
Anyway, back to the range. This time I got what I was looking for. The optics are good, very bright and clear all the way to the edge. There is a normal amount of eye relief and sufficient exit pupil with sharp edges. The contrast is somewhat lacking but overall the optics are noticeably better than many scopes with higher price tags.
One hundred inches is a generous range of adjustment at 100 yards and in this case I needed a good bit of that. The focus adjuster is too stiff and the reticle cross wires are a little fat for my liking. Sometimes the cross wires reflect a copper color depending on the light, but the scope is good enough to let my Savage shoot its normal little clover leaf groups.
I walked the groups around a 2" square twice with results that were as good as my shooting. I have kept the scope on my Savage Model 12 and nearly a thousand shots later it has not surprised or disappointed me.
Overall it is a well mannered and solid scope. Its features make it good for a number of general purposes but also disqualify it for others. Its fairly thick cross hairs make it a questionable choice for shooting ultra-long range varmints or targets. At the same time the magnification is too high for short to medium range woods hunting. But, for medium-long range targets and center-fire plinking, or long range big game hunting in open country, such as bean field deer, it would be a good choice and a really good value considering the low price.