Bushnell Elite 4200 1.5-6x36mm Riflescope
By Rick Ryals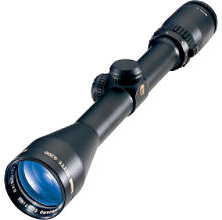 Elite 4200 scope. Illustration courtesy of Bushnell.
The subject of this review is the Bushnell Elite 4200 1.5-6x36mm variable power riflescope. This scope was purchased for mounting on a Kimber Model 84M rifle chambered for the .338 Federal cartridge. It is a Firefly reticle model with Bushnell's patented Rainguard lens coating.
The ideal use for a low to medium power variable riflescope such as this is for short to medium range shooting and possibly for hunting dangerous game. The Firefly reticle is well suited for such use if one happens to encounter a game animal in the early dawn or late evening. Ditto for the Rainguard coating if it happens to be foggy or raining.
My first impression of this scope was that it seemed very large for a low power scope. It is as large as many 3-9x variables. It is also heavy, at nearly 16 ounces, which is heavier than many 3-9x scopes. I consider it larger and heavier than a scope of this power range and presumed usage should be.
The optical quality, on the other hand, is excellent. The Bushnell Elite series of scopes is actually the old Bausch & Lomb scopes marketed and sold under the Bushnell name. Bushnell (originally the name for Bausch & Lomb's imported line) lost the rights to use the Bausch & Lomb name a few years back, but continued to manufacture and sell the scopes as their Elite line. These scopes have an excellent reputation for quality and durability.
Another positive attribute of this scope is that there is plenty of mounting length. There should be no problem mounting it on a variety of rifles with standard rings. The objective, although larger than necessary for the magnification, is still small enough for low to medium height rings. The eyepiece is 3.2" long.
Elite 4200 scopes have fully multi-coated optics. They are dry nitrogen filled and claimed to be 100% waterproof and fog proof. They are recoil tested to 10,000 rounds of .375 H&H recoil and come with a "No Questions Asked" one-year replacement warranty. They are attractive scopes with a matte black finish and gold lettering.
The fingertip windage and elevation adjustments click audibly in Ό minute of angle increments. The eyepiece is the fast focus type with a locking ring and the power adjustment ring is clearly marked and turns easily, but is stiff enough that it should not move by accident. Inexpensive lens covers are provided that are suitable for storage, but not for use in the field.
The Firefly reticle is a Bushnell innovation that, as far as I know, has not yet been duplicated by any other manufacturer. Its outer posts are very heavy with two steps to reach the thin center cross wires. The thickness of the outer posts in and of itself is helpful in low light, although less so on running game. When you "charge" the reticle by shining a flashlight into the eyepiece for a few seconds, the reticle emits a greenish glow that really stands out in low light.
Here are some basic specifications for Bushnell's Elite 4200 1.5-6x36mm riflescope:
Power – 1.5-6

Objective Diameter -– 36mm

Length – 12.8 inches

Weight – 15.4 ounces

Field of View – 61.8 ft. to 16.1 ft at 100 yards

Eye Relief – 3.3"

Exit Pupil – 14.6mm to 6 mm

Click Value – .25 inch

Adjustment Range – 60 inches at 100 yards

Mounting Length – 6.0 inches

Reticle Type – Heavy Duplex, non-battery illumination

Finish – Matte black
The eye relief of only 3.3" is a significant drawback for this scope. It is too short for use on a hard kicking rifle intended for use on large or dangerous game. It would also be inadequate for a 12 gauge slug gun. It would probably be adequate for the lighter recoiling woods cartridges up to about the .30-30 or .32 Special and for carbines chambered for the .357 Mag. and .44 Mag. revolver cartridges, but the scope is too large and heavy to be ideal for a fast handling carbine.
I discovered that the eye relief was an issue when using this scope on my Kimber Montana rifle chambered for the .338 Federal cartridge. The .338 Federal is relatively mild when compared to dangerous game cartridges like the .375 H&H or the .338 Win. Magnum. However, in the five-pound Montana rifle it generates recoil energy in the neighborhood of 30 foot-pounds. I do not find the recoil painful, but the rifle comes back fast. After the scope bumped my eyebrow a couple of times, I decided that the eye relief was insufficient for use on this rifle.
This seems like a real shame to me. This scope has many fine qualities and excellent optics. However, its size and eye relief is poorly balanced in regards to its power range. The normal applications for a 1.5-6x scope require more eye relief and would be better served by a smaller, lighter scope.
To be fair, I should note that many expensive European scopes are even larger and heavier and have similar eye relief. Such scopes are successfully used by many hunters without complaint.
If you are looking for a low to mid power variable scope of superb optical quality and can live with the size and weight, the Elite 4200 1.5-6 is indeed a fine riflescope. It was designed to be easily mounted and would be satisfactory on many rifles of moderate power and recoil. Based on the Bushnell Elite 4200 line's excellent reputation, it should provide a lifetime of use.