Bushnell Elite 4200 Riflescopes
By Chuck Hawks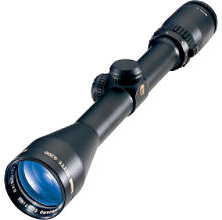 Elite 4200 2.5-10x40mm. Illustration courtesy of Bushnell
The Bushnell Elite riflescope line is descended from the premium Bosch & Lomb Elite line. Bushnell lost the right to use the Bosch & Lomb name a few years ago and simply re-labeled the existing B&L scopes with the Bushnell brand name. As I write this article, Bushnell's upscale Elite scopes are offered in three series: 6500, 4200 and 3200. The 4200 series riflescopes are the subject of this piece.
At present, the Elite 4200 line is made up entirely of variable power riflescopes. These are: 1-4x24mm, 2.5-10x40mm, 2.5-10x50mm, 2.5-10x50mm SF (side parallax focus), 4-16x40mm AO (adjustable objective parallax focus), 4-16x40mm SF, 4-16x50mm SF, 6-24x40mm AO, 6-24x40mm SF, 6-24x50mm SF and 8-32x40mm AO models. There are variations on most of these with different reticles or other features. Altogether, Bushnell catalogs 15 separate stock numbers for 4200 series scopes. 2008 MSRP prices start at $449.95 for the 1-4x24mm model, which--unlike most models--is built on a 30mm main tube.
All Elite 4200 scopes incorporate the following features:
Rainguard exterior lens coating
Fully multi-coated optics
One-piece main tube forged from an aluminum-titanium alloy
Waterproof, fogproof, shockproof construction
Dry nitrogen filled
¼ MOA (or finer) click, resettable, fingertip windage and elevation knobs
Elite "Bulletproof" warranty and "no questions asked" one year replacement (U.S. customers only)
95% light transmission at 550 NM--claimed to be the world's brightest riflescopes
The Bushnell Rainguard lens coating is hydrophobic (water repellant) and prevents fogging by causing condensation from rain, fog, or even your breath, to bead up into much smaller droplets than on standard coatings. Smaller droplets scatter less light for a clearer view. This patented Bushnell coating really does exactly what is claimed.
Another feature optionally available on most Elite 4200 scopes is the FireFly reticle. The FireFly's crosshairs illuminate after a ten second exposure to a flashlight beam for shooting in extremely low light situations. Since the FireFly is not battery powered, the possibility of battery failure is eliminated.
Bushnell Elite 4200 scopes are made with high quality optics and offer crisp, contrasty views of the target. Flare and optical aberrations are generally well controlled. Ring positioning and mounting latitude are generally good. They have proven to be durable and reliable in the field and are suitable for a wide variety of applications. Bushnell is a solid company and their customer service is generally good.
Like all riflescopes (and all optical devices), their design is, of necessity, the result of a series of compromises. For example, 4200 series scopes are often larger and heavier than many competitive scopes. The 1-4.5x24 weighs 15 ounces and all the others weigh a pound or more without a mount or rings, which makes them less appropriate than some of their competitors for use on lightweight rifles. Eye relief is often rather scanty, only 3.3" for most, including the popular 1-4.5x and 2.5-10x models. This mitigates against their use on hard kicking rifles. These are not intended as criticisms, but statements of fact. Any riflescope purchase should be considered in the context of the specific application for which it will be used and no scope is best for every purpose or every rifle. The Elite 4200's are good scopes, but they cannot be all things to all people.
In summation, the Bushnell Elite 4200 line is a solid contender in the competitive four-star/medium-high price class scope market. Their particular strengths include very good optics, excellent features, rugged construction and they are backed by a reputable, well established firm.