Bushnell Elite 3200 4-12x40mm AO Ballistic Reticle Riflescope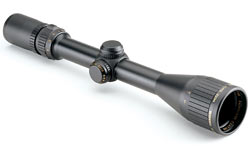 Illustration courtesy of Bushnell
I've long been a fan of Bushnell 3200 scopes. They have been, without exception, quality scopes that are more than generous in image quality for legal big game hunting hours. Whether a 2-7x, 3-9x, Bushnell's new compact 3-10x, or this particular 4-12x scope, they have all proven to be the best for the dollar.
The 4-12 x 40mm AO Ballistic reticle includes the features and benefits that all Bushnell Elite 3200s share: hammer-forged titanium tubes, quick-focus eyepieces, finger click adjustments, the revolutionary patented RainGuard that has shaken up the sports optics industry, and a lifetime warranty to the original purchaser. It is a full size scope, but weighs a surprising light fifteen ounces.
There are a couple of reasons to use a 4-12x scope for hunting and shooting needs. Although 12X is seldom requisite for big game hunting, it sure makes range work easier. It helps you get up close and personal at 100 yards, and really makes a difference for me when shooting at 200, 250, and 300 yards.
This scope was mounted and tested on a Savage 10ML-II muzzleloader. I liked it so well that it got the call for a recent Wyoming pronghorn hunt.
The reticle that Bushnell uses is what I know as the "T.D. Smith" style reticle. This is basically a triangle configuration, and it is quite easy to use. The trajectory compensating lines are all below the primary crosshairs and offer a far less cluttered image than Mil-Dot scopes. The "bullet drop lines" mean 3 inches at 100 yards, making it very easy to set up for most rifles, even modern muzzleloaders.
I'm not a "Kentucky Holdover" fan, and use of this reticle takes drop guess-timation out of the equation. Zeroed 3 inches high at 100 yards, I was good to go aiming straight through the body to 220 yards. Line one of the ballistic reticle gets us to 270 yards, line two out to 310 yards, line three to 350 yards.
Naturally, these values must be range confirmed before actually hunting with a specific rifle. This was using Vihtavouri N120 powder, an MMP 50-.458 Orange Sabot, and a Barnes Original .458 300 grain Spitzer Soft Point bullet in the Savage 10ML-II.
The preparation paid off, as an opportunity at a nice 5 year old buck presented itself at a laser-verified 285 yards. The elevation compensation was instant, dropping down to the 2nd gridline as planned. Our trophy was walking at about 7 mph, it was a raking shot, it was spitting rain, and the wind was at about 12-15 mph at half-cross. So, with the help of a Kestrel wind meter, I knew where to hold well before the shot.
As it happens, the crosshairs were on air with the gun tracking the animal as I squeezed off. The pronghorn went zero steps after that, going down like a lightning bolt hit him.
It was absolutely no surprise at all to me when he did (though I'd imagine the pronghorn was a bit surprised). However, I can tell you right now there is no way I would have taken a muzzleloading shot like that without the aid of a laser rangefinder, a wind meter, and the help of the ballistic reticle on this Bushnell Elite scope.
Scope caps and rotating adjustable objectives don't get along well, and that is yet another reason that RainGuard really shines with an AO scope in the field. The scope was protected with bikini covers when not hunting, there was a lens pen in my goodie kit for end of the day clean up if required, but Bushnell's RainGuard is always there for you.
About RainGuard: it is one of those rare things that works as promised. It also helps the Bushnell Elite 3200 series break the rules a bit in scopeland. It has been fundamental that fully multi-coated scopes are the brightest scopes in the barn. Well, the multi-coated Elite 3200 (all lenses fully coated, but only the objective and ocular lenses multi-coated) has the additional feature of RainGuard that not only prevents external fogging while not decreasing light transmission, it gives you more than that. According to Bushnell, it increases objective light transmission 1/2 of a percent over and above fully multi-coated lenses.
That may not seem like a big deal, but the effects of light losses through a scope are cumulative, with comparatively little internal light losses in the clear, nitrogen charged atmosphere in which lens elements live. The bottom line is that the 3200 series, at somewhere around 90-91% light transmission, are brighter scopes than some fully multi-coated scopes.
Now my eyes, even with the aid of resolution charts, are not good enough to spot a 1-2 percent difference in light transmission between scopes. What I can tell you is that the Elite 3200s are as bright, or actually brighter, than many fully multicoated scopes. Let your eyes be the judge of that.
This scope has done everything I could ask of a scope. It held its zero, gave me a more than sufficient image for all big game legal hunting hour use, and allowed me to make a long range shot that I would have immediately elected not to take without this scope on my rifle.
The Elite 3200 line continues to grow, and is currently the watershed of quality scopes. At the prices for which they can be had there is little reason to settle for anything less. I know that I won't.