One for the Money:
The Bushnell Legend 2 x 7 x 32 Riflescope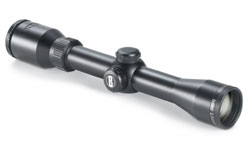 Illustration courtesy of Bushnell
The tested product is the 2004 Bushnell Legend 2 x 7 x 32mm riflescope, weighing in at under 12 ounces, boasting 91% light transmission, finger adjustments, quick focus, and a pleasant 3-1/2 inches of eye relief. The internal adjustment range of sixty inches is certainly adequate for most muzzleloaders and centerfire rifles, and it comes in at the astonishingly low 2005 street price of under $130.
In interviewing and learning from some of the top scope designers in the firearms industry, it became clear after a while that riflescopes must be engineered within certain guidelines. A riflescope is not new technology, after the buzzwords are set aside there are scant options available in this ultra-competitive industry to make a product standout from the pack within a set pricing parameter.
Bushnell product has continued to impress, and this latest offering is an amazing value for the money. I'll offer an opinion how this came to be. To get the cost out of a scope, there are not many things that can be done without sacrificing features, image quality, or durability. Scope assembly is a labor intensive process. Expensive hand labor means increasing scope cost, there is no easy way around that.
Bushnell, in this case, has taken the cost-effective path of having their Legend series scopes assembled in the Philippines. While I did not find the adjustments to be as quite as crisp as the costlier Elite 3200 and 4200 scopes, they were every bit as repeatable. The adjustments are noticeably more precise than the friction adjustments still found on some scopes, and easier to use. The finger "click" windage and elevation adjustments combined with the quick Euro-style focusing ring are two of the most appreciated scope features these days, and the Legend has them both.
When it comes to good glass, there are again very few options to get the cost out of a scope. The fact is large objective lenses of a given quality are more expensive than smaller lenses. Bushnell designed in a 32mm objective, retaining excellent glass quality while reducing cost. With a scope of this 2-7 power range, even at 7X magnification the 32mm objective yields a 4.57mm exit pupil, all the light that many adult eyes can accept. That has never been the sole consideration, as better glass and coatings yield a brighter image. The parallax that some people seem a bit obsessed with seldom reveals itself in a scope until about 8X, so this scope is as balanced in function as one could hope for.
For decades, the standard fixed power scopes were 4X for all-around hunting, 6X for long range use. The 2 x 7 has this beat on both ends, of course. To date, I've never pulled the trigger on a big game animal with a scope turned up past 5X, and that isn't likely to change. Many fellow hunters might be a bit insulted if I asked them if they are "hunting accurate" out to 50 yards with iron sights. Well, this scope offers that same view at 350 yards, with a single sighting plane to boot.
Aesthetics are another reason to opt for a 32mm scope. A scope like this won't overwhelm a sleek mountain rifle; there is less of it to carry, and less of it to snag in a scabbard and so forth. If it sounds like I'm impressed with this new "value offering" from Bushnell, it is because I am. I've tried to pick apart this product, but have come up empty. The only petty complaint I can voice is the cheesy "Legend" logo embossed on top of the ocular end that just looks silly.
I can't say that the Legend is in the class with the RainGuard enhanced Elite 4200 scopes, but not much in scopeland is. It is, however, a scope that gives a bright, sharp from edge to edge sight picture, is functional well past most legal hunting hours, and is not sensitive to eye position. With the qualifier "for the money," it is the best in class I've ever used, with all the features most ask for in a hunting scope. Let your eyes test drive one of these, and I think you'll be pleasantly surprised, as well.