Bushnell Legend 2-7x32mm Riflescope
By Chuck Hawks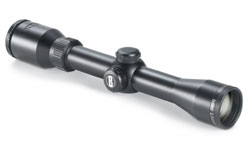 Illustration courtesy of Bushnell
Bushnell's gracious and ever helpful Laura Olinger had a new 2-7x32mm Legend riflescope delivered for review after I mentioned that I had not yet had a chance to inspect a Legend series scope. If you consider the Elite scopes to be the premium Bushnell product, as I do, then the Legend series is the top of the standard Bushnell line. After the Legend line comes the Trophy, Banner, and Sportsman lines. That huge selection of riflescope models helps to explain Bushnell's dominance in the "popular priced" scope market.
While lacking some of the "bells and whistles" of the upscale Elite 3200 scopes, such as a one-piece tube, Rainguard coating, and the FireFly reticle, the Legend line incorporates a number of worthwhile features. They are built on anodized aluminum alloy tubes, boast fully multi-coated optics and 91% light transmission, offer a reasonable 3.5" eye relief, wide field of view, and come with a matte black finish. Legend riflescopes are advertised as shockproof, waterproof, and fogproof. They are sealed and dry Nitrogen filled. To make them user friendly there are fingertip windage and elevation adjustments, and a Euro-style fast focus eyepiece.
For identification, "Legend" is stamped in large letters around the ocular bell and "Bushnell Legend" appears in smaller letters in gold on a band around the front of the objective lens and also on the left side of the adjustment turrets. There is a big gold "B" in a ring on the right turret adjustment cap. All of the "advertising" on this Legend scope definitely gives it a tackier appearance than the Bushnell Elite scopes that I have recently reviewed.
The Legend scopes are assembled in the Philippines, where some good scopes are being produced these days. That's good to see, as I have been there and my observation is that most Filipinos are good people and friendly to Americans. We have a lot of 20th Century history in common.
Included in the green Bushnell box, along with the scope, are scope caps and paperwork. The latter includes product registration cards (this can also be done online at: www.prodreg.com/bushnell) written in English, a written warrantee in English and French, a rather rudimentary instruction sheet in English, French, German, and Spanish, and an interesting "Shim Guide" in the same four languages.
The latter describes how to shim the front or rear scope bases, if necessary, to at least crudely align the scope with the rifle's bore. I found this latter kind of interesting, as the internal adjustment range of the 2-7x32 Legend scopes seems to be adequate. I would not think that mount shims would ordinarily be necessary, at least if the user chooses decent (Leupold, Redfield, Burris, Millet, or Weaver) mounts and rings.
The Legend series come with a Limited Lifetime Warranty against defects in materials and workmanship, provided that the scope is returned post paid and a check for $10 is enclosed to cover the cost of handling. They also ask that return shipping be prepaid.
This 2-7x Legend scope arrived at a fortuitous time, as I had a heavy barrel .17 HMR test rifle waiting for a scope. Of course, a 2-7 power big game scope may not be the best choice for a varmint rifle. However, the arrival of the Legend allowed me to switch a 3-10 power Weaver Grand Slam from my personal Winchester Model 70 in 6.5x55 SE to my Browning .243, which I had been wanting to do. That freed the rather bulky 4-12x42mm AO Simmons Whitetail Expedition that had been on the .243 for use on the .17 HMR test rifle. The 2-7x Legend then went on the 6.5x55 Model 70, where it is a good match. Voila!
I mounted the 2-7x Legend in the two-piece Leupold base and rings already on the rifle, and I had no problem boresighting the scope afterward. No shims were necessary.
I think that a 2-7 variable power scope is a very good choice for any hunting rifle in a caliber with the approximate ballistics of the .257 Roberts, .260 Remington, 6.5x55 SE, 7x57, 7mm-08, .30-30, .300 Savage, .308 Winchester, .303 British, and most .338 or .350 caliber medium bore rifles. At low power it offers the exceptionally wide field of view so necessary for woods or brush country hunting, and at high power it offers plenty of magnification to handle the occasional long shot at a target the size of a big game animal.
An added bonus is that a 2-7x32mm is noticeably trimmer than the average 3-9x scope, making for a lighter, better balanced, faster handling big game rifle. This is particularly important with traditional lever action rifles and today's lighter bolt action rifles.
Here are the catalog specifications for the Bushnell Legend 2-7x32mm riflescope:
Model # - 752732M
Finish- Matte black
Reticle - Multi-X
100 yard field of view - 56' at 2x, 16.5' at 7x
Weight - 11.6 ounces
Length - 11.6"
Eye relief - 3.5"
Exit pupil - 14.4 (2x) to 4.6 (7x) mm
Click value - 1/4 MOA
Adjustment range - 60" at 100 yards
Mounting length - 5.5"
2005 MSPR - $187.95 (Retail $129.99 at Midway U.S.A.)
The view through the 2-7x Legend sent for review is sharp and clear at all magnifications, with good contrast even in dim light. Sharpness falls off a little bit at the edge, but not enough to be noticeable unless you look for it. Field curvature and distortion are well controlled, as is lens flare.
The Bushnell Multi-X is one of the better Duplex type reticles, not too thick and yet easy to see in the field. It is a good reticle for a big game scope.
The windage and elevation adjustments click in (more-or-less) 1/4 MOA increments. They are not as crisp or positive as in the premium Bushnell Elite scopes, but they are acceptable.
The quality of internal assembly is something that cannot be discerned from the outside, yet it is of critical importance to the longevity of a riflescope, and ultimately the customer's satisfaction with the purchase. Sadly, this is an area where many scopes built to a low price point fall down, as construction quality and quality control are sacrificed on the alter of low production cost.
Customers cannot see what is inside of the tube, as manufacturers well know. This is one of those areas where the reputation of the manufacturer is important, because you've simply got to trust that your scope company is doing the right thing.
In any case, I encountered no serious problems with the 2-7x32 Legend at the range. The eyepiece was easy to focus, and nothing broke or fell off. I was shooting Sellier & Bellot factory loads with 140 grain bullets.
My only real criticism is of the windage and elevation adjustments, which tended to "overshoot" (correct more than indicated by the number of clicks) and also interacted with each other. It took a box and a half of cartridges (30 rounds) to center the point of impact between 2.5" and 3" high at 100 yards, which is how I zero a 6.5x55 rifle.
This imprecision would be unacceptable in a target scope, but is not such a big deal for a big game scope. Once it has been sighted-in with a particular load, the scope on a big game rifle is seldom readjusted.
The Bushnell Legend 2-7x32mm riflescope seems to be a good value for the price. The optics are good and it is a nice size for my Model 70 Featherweight rifle. I am going to purchase it for my personal use.