Bushnell Legend Scopes
By Chuck Hawks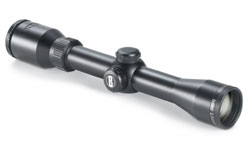 Illustration courtesy of Bushnell
If you consider the Elite scopes to be the premium Bushnell product, then the Legend series is the top of the standard Bushnell line. Below the Legend line are the Trophy, Banner, and Sportsman lines.
While lacking some of the niceties of the upscale Elite 3200 scopes, the Legend line manages to incorporate a number of worthwhile features. For example, they are built on anodized aluminum alloy tubes, boast fully multi-coated optics and 91% light transmission, offer a reasonable 3.5" eye relief, wide field of view, and come with a matte black finish. Legend riflescopes are alleged to be shockproof, waterproof, and fogproof. They are sealed and dry Nitrogen filled. To make them user friendly there are fingertip windage and elevation adjustments, and a Euro-style fast focus eyepiece.
For identification, "Legend" is stamped in large letters around the ocular bell and "Bushnell Legend" appears in smaller letters in gold on a band around the front of the objective lens and also on the left side of the adjustment turrets. There is a big "B" in a ring, also in gold, on the right turret adjustment cap. No one, given a good look, is liable to mistake this scope for anything else.
The Legend scopes are assembled in the Philippines, where some good scopes are being made these days. Included in the Bushnell box, along with the scope, are scope caps and paperwork. The latter includes product registration cards (this can also be done online at: www.prodreg.com/bushnell), a written warrantee, a rather rudimentary instruction sheet, and an interesting "Shim Guide.".
The latter describes how to shim the front or rear scope bases, if necessary, to at least crudely align the scope with the rifle's bore. I found this kind of interesting, as the internal adjustment range of the Legend scopes generally seems to be adequate. I would not think that mount shims would ordinarily be necessary, at least if the user chooses a high quality mount base and rings.
The Legend series come with a Limited Lifetime Warranty against defects in materials and workmanship, provided that the scope is returned post paid and a check for $10 is enclosed to cover the cost of handling. They also ask that return shipping be prepaid.
Most Legend scopes come with Bushnell's Multi-X reticle. The Multi-X is one of the better Duplex type reticles, not too thick and yet easy to see in the field. It is a very good reticle for a big game scope, and still useful in a varmint scope.
The windage and elevation adjustments click in 1/4 MOA increments. They are not as crisp as those in the premium Bushnell Elite scopes, but will suffice for most purposes.
The Bushnell Legend riflescope line includes, at this writing, 2-7x32mm, 3-9x40mm, 3-9x50mm, 4-12x40mm, and 5-15x40mm models. This is not an extensive line by Bushnell standards, but it should be sufficient to meet most shooter's needs.
The 2-7x32mm Legend offers a wide 56' field of view at 2x for woods hunting and enough magnification at 7x for any big game hunting purpose. The internal adjustment range is 60" at 100 yards. This often overlooked magnification range is one of the most useful for a general purpose rifle. And a 2-7x32mm scope is noticeably lighter and more compact than the ubiquitous 3-9x40mm models, so it has less negative effect on a rifle's handling qualities. I prefer a 2-7x scope on hunting rifles chambered for standard cartridges such as the .257 Roberts, 6.5x55, 7x57, .308 Win., .303 British, and 8x57. It is also a good choice for most medium bore rifles, and is popular on .338 and .350 caliber elk rifles.
The 3-9x40mm scope is the most popular model in most lines. 3x offers sufficient field of view for most purposes--it is the maximum power that I recommend for use in the woods--and while 9x is more magnification than the big game hunter will ever need in the field, it is nice to have at the rifle range. The 3-9x50mm is a special purpose scope, a type originally designed for use at night. Nighttime hunting is legal in many parts of Europe, but not in North America. Its larger objective lens admits more light, which is unnecessary under American hunting laws, but the scope is bulkier and heavier, more drastically degrading the balance and handling of the rifle. A scope with a 50mm objective is a good thing to avoid except for very special purposes. The internal adjustment range of the 3-9x Legends is a generous 80" at 100 yards. The 3-9x340 Legend should be a good choice for long range rifles chambered for cartridges such as the .243 Win., .25-06, .270 Win., and most magnum calibers from .24 to .32/8mm.
The 4-12x40mm and 5-15x40mm Legends feature a focusing front objective. These are varmint rifle scopes well suited to hitting small targets at extended ranges. The 4-12x Legend comes with the standard Multi-X reticle, while the 5-15x model is supplied with a Mil Dot reticle. The latter offers a finer center crosswire, which might be advantageous in a long range varmint scope.
The integrity of its internal assembly is something that cannot be discerned from the outside of a riflescope, yet it is of critical importance to its longevity. Sadly, this is an area where many lower priced scopes fall down, as construction quality and quality control are sacrificed on the alter of low production cost.
Customers cannot see what is inside of the tube, as manufacturers well know. This is one of the areas where the reputation of the manufacturer is important, because you've simply got to trust that your scope company is doing the right thing.
This Bushnell Legend line may indeed become one. They seem to be good quality scopes with excellent features at a more than fair price.