Bushnell Rimfire 3-12x40mm Riflescope
By Chuck Hawks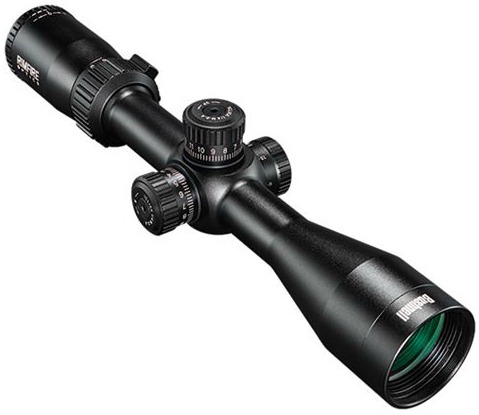 Illustration courtesy of Bushnell Outdoor Products.
Bushnell (www.bushnell.com) has been a force in the sports optics field for over 65 years. Today, Bushnell is one of some 30 brands owned by the holding company Vista Outdoor, LLC. Vista Outdoor is headquartered in Utah and has manufacturing operations and facilities in 10 U.S. States, Puerto Rico, Mexico and Canada. Vista Outdoor brands include Savage Arms, Alliant Powder, CCI, Federal Ammunition, Hoppe's, Outers, Speer, Weaver, Simmons, RCBS and Uncle Mike's, to name a few brands that should be familiar to Guns and Shooting Online readers.
Bushnell markets 10 riflescope lines, including their Rimfire Optics line. They make the following statement about their rimfire riflescope line:
"Rimfire shooters have unique demands. Those needs should not come at a sacrifice. Our new Rimfire Optics series delivers peak performance specifically for rimfire rifles. This family features rimfire-specific scopes with adjustable objectives for precision shot placement on small distant targets."
We mounted a Bushnell Rimfire 3-12x40mm riflescope on our recently reviewed .17 WSM caliber Savage B.MAG Target rifle. The factory mounted scope bases on the B.MAG are of the cross-slot (Weaver) type. We used Millett Angle-Loc windage adjustable steel rings to mount the Bushnell scope on the B.MAG rifle.
This Bushnell Rimfire 3-12x40mm scope, produced in the People's Republic of China, is a recent addition to the Bushnell Rimfire Optics line. Bushnell claims they maintain, "absolute product integrity and quality control throughout the entire design, production and delivery cycle of these riflescopes."
It features a one-piece main tube, multi-coated lenses, target type 1/4 MOA fingertip adjustment knobs, Multi-X (Duplex type) reticle, fast focus (Euro style) eyepiece and side parallax adjustment from 10 yards to infinity. It comes with replaceable, target type adjustment turrets and extra "ballistic" turrets calibrated for .22 LR and .17 HMR caliber rifles. We used the standard turrets.
Plastic lens caps are provided, but adjustment turret covers are not. Be careful not to accidentally change the windage or elevation settings. The Bushnell Lifetime Limited Warranty covers materials and workmanship for the life of the original purchaser.
The scope's external finish is a smooth matte black that goes nicely with the majority of rifles made today, which also have matte or satin finished metal parts. The scope's large zoom ring is easy to turn, but has enough resistance to stay where set. Ditto for the eyepiece focus ring and parallax focus knob.
The eye relief is a constant 3.9", regardless of magnification, which is more than sufficient for any rimfire caliber. The fast focus eyepiece has +/- 2 diopters of adjustment range and allows a generous eye box, both laterally and forward/backward.
The windage and elevation adjustments use a ball bearing and spring system to reduce wear, extend dial life and maintain accuracy. This dial design allows 100% adjustment range with no loss of motion. The 1/4 MOA adjustment clicks are easy to count when the knobs are turned.
SCOPE SPECIFICATIONS
Model #: 633124
Magnification: 3x to 12x
Objective lens diameter: 40mm
Main tube diameter: 1"
Parallax adjustment: Side
Focal plane: Second
Field of view (ft. at 100 yds.): 33' at 3x; 10' at 12x
Eye relief: 3.9"
Exit pupil: 13.3mm at 3x; 3.3mm at 12x
W & E adjustment range: 80mm
Mounting length: 4.6"
Overall length: 12"
Weight: 20 oz.
Country of origin: PRC
2016 MSRP: $181.95
In addition to yours truly, Rocky Hays, Bob Fleck and Jim Fleck participated in this review. The scope provided clear views of the target and the ranges marked on the side focus parallax adjustment knob appeared to be accurate. Sharpness was good across the field of view, as was contrast and color fidelity. Distortion was not noticeable.
The optical performance appears only slightly better at low power than at high power, which is very good for a scope in this price range. We used 3x for the initial sighting-in at 25 yards and 12x for final sighting-in and shooting groups for record at 100 yards with our Savage B.MAG Target test rifle.
When zeroing our test rifle, I did not find the windage and elevation adjustments to be particularly precise. Sometimes they delivered the desired correction and sometimes they apparently did little or nothing, requiring another adjustment to move the point of impact. This generally resulted in an excessive change when the adjustment finally took effect.
This sort of thing is not uncommon in many riflescopes and, while irritating, did not prevent me from zeroing the rifle. Once the rifle was zeroed to hit 1.5" high at 100 yards, to take advantage of the maximum point blank range of the .17 WSM cartridge, the scope held its zero throughout our test shooting.
Rocky thought the Multi-X reticle should be finer and incorporate a target dot. Jim agreed that a finer reticle would be appropriate for a target/varmint scope, although he did not recommend a target dot. I had no problem with the reticle at the range, but it is true that a fine reticle makes it easier to aim precisely at small varmints at long range.
Overall, our shooters liked this Bushnell Rimfire Riflescope. We think it is an appropriate choice for a rimfire varmint rifle.