Bushnell Trophy 3-9x40mm Riflescope
By Chuck Hawks with Bob Fleck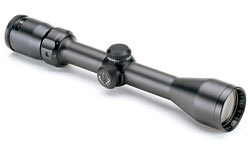 Illustration courtesy of Bushnell
Bushnell's reasonably priced (two star rated) Trophy scopes are positioned above the Sportsman and Banner centerfire riflescope lines and below the Legend and Elite lines. As such, they occupy the middle ground in the Bushnell scheme of things.
Bragging features include Bushnell's Amber-Bright high-contrast lens coatings, which are intended to, "help you discern deer brown from all the other browns in the woods." Whether this works we cannot say, but it's an interesting advertising line.
Also featured are multi-coated optics, one-piece main tube, fast focus eyepiece, and 1/4 MOA fingertip windage and elevation adjustments. The scope is dry nitrogen filled and alleged to be waterproof, fogproof and shockproof. Lens caps are included, along with Bushnell's usual warrantee. For a modestly priced, mid-line scope to boast such a combination features, some of which were not common or even available a decade or two ago, merely illustrates how far scopes have progressed in recent years.
Here are the catalog specifications for the 3-9x40mm Trophy scope as reviewed:
MODEL - 733948
RETICLE - Multi-X
FINISH - Matte black
FIELD OF VIEW (ft. @ 100 yds.) - 42 at 3x, 14 at 9x
WEIGHT - 13.2 ounces
LENGTH - 11.7"
EYE RELIEF - 3.4"
EXIT PUPIL (mm) - 13.3 at 3x, 4.4 at 9x
CLICK VALUE - .25" at 100 yards
ADJUSTMENT RANGE - 60" at 100 yards
MOUNTING LENGTH - 6"
We mounted the new Bushnell Trophy scope on a pre-1964 Winchester Model 100, .308 Win. caliber rifle that Bob had inherited from his Dad (a USN Pearl Harbor/WW II veteran), using the antique Bushnell base and rings that came with the rifle. Perhaps surprisingly, the mounting was accomplished without incident. The scope was then bore sighted using a Bushnell optical boresighter, and we were ready for a trip to the range.
As usual, our test shooting was done at the Isaac Walton gun range south of Eugene, Oregon. This outdoor facility offers covered bench rest shooting positions and target stands at 25, 50, 100, and 200 yards. It was summer (at last!) in Western Oregon, sunny with clear skies and high temperatures around 90 degrees F. Joining Bob and I at the range was Guns and Shooting Online regular David Tong.
Bob purchased some Federal Power-Shok factory loaded ammunition with a 150 grain Federal soft point spitzer bullet at a muzzle velocity of 2820 fps for this review, and that is the ammunition we used while testing the Bushnell Trophy scope.
We started, as always, with a target at 25 yards to insure that the first bullet fired at least hits the paper. It did, but pretty far from the "X" ring. Substantial cranking on the Trophy's 1/4 MOA windage and elevation knobs centered the point of impact at 25 yards.
Then we moved to 100 yard targets and finished sighting-in the scope/rifle combination. In doing so we found that the scope's adjustments were not perfect (they tend to overcorrect), but are close enough for zeroing-in a hunting rifle. The tactile adjustment clicks felt less precise that on Bushnell Elite scopes, but got the job done with a minimum of hassle.
The view of the target through the 3-9x40mm Trophy was completely satisfactory, and good for a scope in this price class. Eye position latitude is good and eye relief is adequate for rifles in the .308 class. Edge sharpness is visibly degraded compared to center sharpness, and neither is as good as the view through an Elite, but it is good enough for any purpose to which this scope might reasonably be put. Lens flare seemed well controlled; at least it did not cause us any problems on a sunny day at the range.
Mechanically, the Trophy seems to be pretty well made. Certainly the recoil of the .308 had no effect on it.
We rate this Bushnell Trophy 3-9x40mm riflescope a good buy. It is probably a better value, considering its lower price, than the Bushnell Legend that represents the next step up in the Bushnell line. If you want a significantly better Bushnell scope, we'd suggest that you go straight to an Elite 3200.