Bushnell Trophy Riflescopes
By Chuck Hawks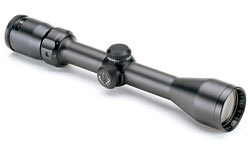 Illustration courtesy of Bushnell
Bushnell's Trophy riflescopes are positioned above the Banner riflescope line and below the Legend line. As such, they occupy the middle ground in Bushnell's scheme of things.
Apparently Bushnell takes this price point seriously, as they offer 1.75-4x32mm, 1.75-5x32mm, 2-6x32mm, 3-9x40mm, 4-12x40mm, and 6-18x40mm models with various finishes and reticles in the Trophy line. In all, there are some 14 different stock numbers for the various Trophy riflescopes.
Trophy scopes feature Bushnell's Amber-Bright high-contrast lens coatings, which are intended to, "help you discern deer brown from all the other browns in the woods." Whether this coating system is superior to others in the price class I cannot say, but it seems to work satisfactorily to suppress lens flare, which is what lens coatings were invented to accomplish.
The Trophy scopes include multi-coated optics, one-piece main tube, fast focus eyepiece, and 1/4 MOA fingertip windage and elevation adjustments. They are dry nitrogen filled and advertised as waterproof, fogproof and shockproof. Lens caps are included, along with Bushnell's usual warrantee.
The view of the target through our sample 3-9x40mm Trophy was completely satisfactory, and good for a scope in this price class. Edge sharpness is somewhat degraded compared to center sharpness, and neither is as good as the view through an Elite 3200, but it is good enough for any purpose to which this scope might reasonably be put. Mechanically, the Trophy seems to be pretty well made.
I consider the Bushnell Trophy riflescopes to be a good buy. They are probably a better value than most of the other scopes in their price range. If you want a significantly better scope, you'll likely have to spend considerably more money.