The Caldwell "7 Rest" Rifle Shooting Rest
By Randy Wakeman and Chuck Hawks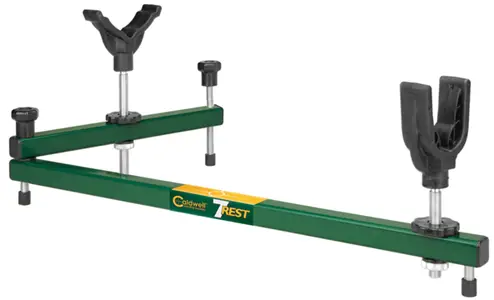 Illustration courtesy of Caldwell Shooting Supplies.
The new 7 Rest by Caldwell shooting supplies fills a niche in shooting rests and does it with lightweight, easy storage and a bargain price. It sells for under forty dollars online. What makes it so useful is the ambidextrous design with no frame directly beneath the rifle.
This is particularly important in the case of lever-action and extended magazine type rifles that require canting of the rifle to cycle it, in the case of a lever action, or you just need more clearance if the application is a high-capacity rifle with a magazine that extends vertically downward. If you want to shoot all day with your Henry lever gun, your Ruger 10/22, or any number of AR platform rifles, the 7 Rest is a very convenient, affordable solution.
The advertised product features include:
For all rifles, including AR-15's and lever actions
Ambidextrous - folds to accommodate right or left handed shooters
Stable design and steel frame construction
Overmolded supports are non-marring to gunstock's finish
Front and rear elevation adjustments
Ultra stable design
Maximum adjustability and versatility
Folds compact for transport and storage
Weighs less than three pounds
2009 MSRP $49.99
It does not take up much trunk space and could be transported or stored under many car seats, for that matter, as it folds up quickly and neatly. It weighs only 2 pounds, 15 ounces on our digital scale.
The "7" name is from the way this rest looks, like a seven, rather than the typical "T" type rests that are much more bulky. The 7 rest is light enough and handy enough that it can be easily carried and used on most any shooting table, bench rest, or other reasonably flat surface.
What it does not do is isolate you from recoil; any of the popular Caldwell "Lead Sled" series better fits the bill for high recoil applications. (Reviews of the Lead Sled, Lead Sled Plus, Lead Sled DFT and Lead Sled Solo can be found on the Outdoor Accessories page.) From rimfire through .223 and 7.62x39mm cartridges, or with any caliber rifle that doesn't kick too hard, this handy rest will prove ideal for many enthusiasts.
Convenient and affordable, if you shoot high capacity or lever action rifles, this rest is likely what you have been waiting for.