Caldwell Platinum Series G3 Stereo Hearing Protection
By Chuck Hawks and Randy Wakeman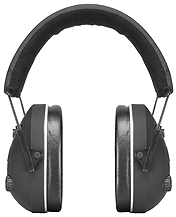 Illustration courtesy of Caldwell Shooting Supplies.
We prefer "earmuff" style hearing protectors (as opposed to earplugs) and for quite some time we have used the Caldwell Es-85 as our primary hearing protection. These low cost (2009 MSRP $34.99), stereo hearing protectors block out noise above 85db, while offering amplification of normal sounds and voices through built-in dual microphones that are controlled by a single volume knob. Although inexpensive, practically any effective, amplified hearing protector is superior to the passive type that leaves you essentially deaf the entire time they are worn.
The drawback to most electronic hearing protectors is their cost, which is often in the $150-$200 range. Thus, the affordable Caldwell Es-85 was quite a breakthrough in price. Ditto the subsequent E-Max ($39.99), which boasts a NRR of 25 db and the E-Max Low Profile ($44.99), both of which carry on the Caldwell tradition of reasonably priced electronic hearing protection.
When we heard about Caldwell's new, upscale Platinum Series G3 electronic hearing protector (product #864446), we requested a sample for a Guns and Shooting Online review. The new G3 boasts several improvements compared to previous Caldwell hearing protectors. These include advanced circuitry that allows continuous amplification while compressing and blocking loud noises (such as gunfire). There is no "cutting out" of the ambient sound, even at the moment a gun is fired. Independent microphones in each earcup provide stereo sound and each side has its own volume control, along with a red LED that glows when the unit is turned on.
One concern is the On/Off and volume control switches have a very soft click stop when turned off. They are easily brushed to the ON position, which may be a problem if the G3 is carried in a range bag with other loose stuff.
Each earcup holds three AAA cells to power its amplifier. The run time is advertised as approximately 250 hours on alkaline batteries.
A comfortable ear seal is provided by DualDensity Foam and the adjustable headband is padded and lined with SoftFleece fabric for long-term comfort. Indeed, we found the G3 to be very comfortable to wear; the most comfortable ear protector we have used to date. The G3 earcups have a flatter, less bulky profile than the Es-85 and most other ear protectors. Here is a summary of the G3's features:
Advanced "no cut out" circuitry for unsurpassed performance
True stereo amplification for maximum volume and clarity
Significantly improves hearing while protecting at the same time
DualDensity Foam delivers 21db NRR
Padded SoftFleece headband for maximum comfort
Compact, collapsible low profile design allows easy storage and transport
Soft touch finish helps protect against gunstock contact
Easily accessible battery compartments in each earcup
Extended run time of 250 hours with power on LED indicators
2009 MSPR $79.99
Perhaps most important from the user's point of view, the G3 is more comfortable to wear than previous Caldwell models. For one thing, its ear recess is deeper and roomier. The G3 is slim and offers quieter circuitry without annoying hiss or interference. The DualDensity Foam ear seals are effective and comfortable, even when the G3 is worn continuously for long periods.
Standing directly behind a .270 Winchester rifle on the firing line, we could notice no difference in the loudness of the shots between the old Es-85 and the new G3, but the G3 is more comfortable to wear and its advanced circuitry never cuts out ambient sounds. The G3's durable soft touch finish is a high-tech flat black that is less abrasive to gunstock finishes than earlier models.
While the G3 is roughly twice the price of previous Caldwell units, it costs only about half as much as many comparable hearing protectors from other manufacturers. Its performance is impressive.
2018 Update
The very soft "Off" click stop on the volume controls did prove to be a problem. Several times over the life of the G3 one or the other volume control was inadvertently brushed ON, without contact by human hands, thus draining the batteries in that side of the muff. Finally, in December of 2018, the volume control on the right earmuff gave out, refusing to turn off at all and marking the end of the service life of the ear muffs. Overall, they gave good service for nine years.