Caldwell XLA 9" to 13" Pivot BiPods
Black and Camo Models
By Randy Wakeman and Chuck Hawks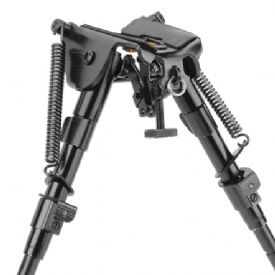 Black XLA. Illustration courtesy of Caldwell Shooting Supplies.
The Caldwell black #571429 and camo #445033 XLA Pivot BiPods are well-made, swivel-stud-mount bipods fabricated primarily of anodized aluminum. Pivot models allow the shooter to tilt the rifle on the bipod for use on uneven ground. Caldwell XLA bipods are also available without the pivot feature for about $10 less. The available finishes include black and an attractive brown/gold camo. Here are the advertised features:
Durable, lightweight design
Quickly attach or detach from rifle using the front swivel stud
Attachment point for sling
Maximum stability design
Pad to protect forend of gun
Spring loaded legs are notched to extend to multiple lengths between 9" and 13"
Folds for carrying
Weighs a mere 13 ounces
We mounted our bipod on a heavy-barrel Ruger .22-250 Varmint rifle in a few moments. There is a sling swivel stud on the rear of the XLA, so that you can still use your sling with the bipod mounted to the stud on the forend of your rifle. We found the XLA to be sturdy, easy to deploy (the legs are spring-loaded) and extremely stable. The legs are notched for easy indexing to a specific height. Like most bipods, the legs fold forward for storage beneath the rifle's barrel when not in use. The 9-13" XLA model is about the right height for use from a shooting bench or the prone position on the ground. It is not tall enough to allow shooting from sitting or kneeling positions on the ground. However, Caldwell offers XLA BiPod models with longer legs that are.
We particularly appreciated the nice job that Caldwell did with the flexible plastic feet. They are steady on rough ground. The legs are spring loaded, so extension is immediate and they lock into six positive positions. This is the pivoting model, so you can quickly compensate for up to 20-degrees of cant. A knurled knob at the rear of the base plate adjusts the tension on the pivot. Turn clockwise to increase tension.
The weight is about 3/4 pound and the textured/rubberized surface glued to the mounting plate both stops slip and protects your rifle's forearm finish. It is just the ticket for "walking varminter" type applications where you need quick access to a steady shooting platform. Ideal for .17, .204, .222, .223, .22-250, .220 and similar caliber varmint/predator rifles. We suspect Guns and Shooting Online .17 HMR fans will find it particularly handy for shooting sand rats and similar small rodents.
The Caldwell XLA Pivot Model BiPod is good product, well packaged, at an attractive 2012 MSRP of $64.99 in camo or black finish. It will help you get more out of your rifle anytime you want a mobile, quickly available, stable platform for long range shooting. Caldwell is a division of Battenfeld Technologies and you can visit their web site at wwwbattenfeldtechnologies.com