Caldwell Professional CrossWind Meter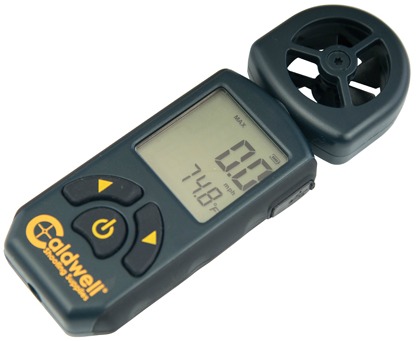 Illustration courtesy of Caldwell Shooting Supplies, Inc.
If you haven't already used a Caldwell Wind Wizard, you are missing one of the best wind meters on the market. The previously reviewed Caldwell Wind Wizard does everything that the average shooter could ask for at a reasonable price.
The question is, how do you improve a device that is already almost perfect. Well, the folks at Caldwell have done just that. Instead of a fixed anemometer, they installed one with a 90-degree rotating head that allows you to measure exactly how much crosswind is involved at your location and height above the ground. (Wind velocity increases with height above ground level and, of course, the wind direction and velocity may be different down range. -Editor)
You no longer need to face your meter into the wind and do mental calculations to determine how much windage compensation is required. Simply face the Caldwell Professional CrossWind Meter downrange, rotate the anemometer head into the wind and you have the crosswind value at your shooting position. It cannot be simpler than that.
As with the original Wind Wizard, this device measures/calculates: temperature, station pressure, barometric pressure, altitude, density altitude and wind chill factor. No, this is not a weather station and it is not supposed to be. It is simply a useful device for long range shooters and anyone interested in knowing the wind speed. It gives you the information you need to remain on target. Add the automatic power off function to save the battery in case you forget to turn the meter off and the LED backlight for low light conditions and you have a device that is as perfect as one can make it.
Features and Specifications
Operates on one CR2032 battery (included)
Wind Speed measurements in: mph, ft/min, km/h, m/s, or knots
Measures Max Wind Gust, Average Wind Speed and Current Wind Speed
Anemometer head rotates 90 degrees to calculate the applied crosswind to the projectile
Measures/Calculates: Temperature, Station Pressure, Barometric Pressure, Altitude, Density Altitude and Wind Chill
Features a Data Hold Function
Water Resistant
LCD backlight
Auto power off
Protective holster
2015 MSRP: $109.99
We found the Crosswind Meter to be especially useful in our blinds in Texas, where we could not step out to get a reading. We simply held it out the window, rotated the head and had our crosswind adjustment for our shots (when the deer eventually showed up). Knowing the proper crosswind adjustment is really critical when you are stretching the range with a muzzleloader.
The Caldwell Professional CrossWind Meter is well worth its MSRP. At the time of this writing, there is no other wind meter on the market with a rotating anemometer head. If you need to know the wind velocity wherever you might be, you can get yours at www.battenfeldtechnologies.com.