Caldwell Lead Sled Solo Shooting Rest and Lead Sled Weight Bags
By Rocky Hays, Randy Wakeman and Chuck Hawks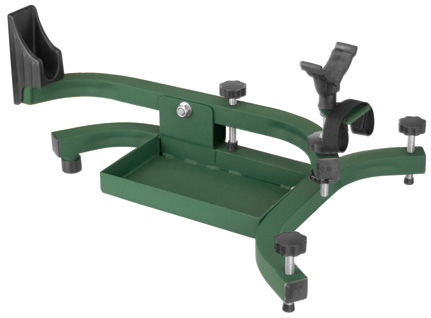 Illustration courtesy of Caldwell Shooting Supplies.
When the original Lead Sled came to us for review, some staff members were not satisfied. Don't get us wrong, it was a great device that did its intended job well and most of us got Lead Sleds of our own. However, the original was inconvenient to use with extended magazines or lever guns and it didn't fit the K.I.S.S. system (keep it simple, stupid). When Caldwell introduced subsequent Lead Sled models, the Plus and the DFT, they went the "more complicated is better" route and farther from K.I.S.S. Caldwell was not the only company that went that direction. At the SHOT Show, Rocky mentioned seeing a competing unit that had nitrogen-filled recoil shock absorbers and another unit that had a spring-loaded ratchet system.
The latest offering in the popular line of Caldwell Lead Sleds is the new Lead Sled Solo. In some ways, this is the best Lead Sled yet. It is super simple and it does its job even with extended magazine and lever action rifles. It has a fast, precise elevation system that pivots the entire gun. The control knob is in the center of the rest and is easily reached right or left handed. The Solo is a stable 3-leg design with leveling knobs on both front legs; a 1-piece, molded rubber cradle at the butt that we like a lot, and a rubberized "V" shaped front rest on a threaded post with adjusting knobs for elevation. There is even a Velcro tie-down strap. The Solo weighs 14 pounds and the retail price in 2009 is about $80.
The Solo's tray is designed for one 25-pound bag of shot and it will only hold one. However, there is nothing to stop you from throwing up to two more bags across the front legs if you are shooting a canon. (The larger Lead Sled models have trays that accommodate anywhere from one to four bags of shot.) The Solo's shot bag tray is totally exposed, so there is no need to slide the bag under the crossbar. The only two improvements we would like to see are an optional front post so a Caldwell front rest bag can be used (like the one on the original Lead Sled) and a tie-down strap at the butt so it would hold a nose-heavy target rifle in place.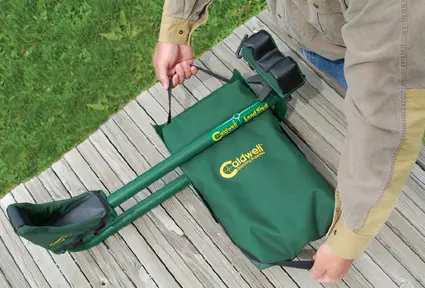 Large Weight Bag. Illustration courtesy of Caldwell Shooting Supplies.
Intended to complement any Lead Sled are Caldwell's new Weight Bags. The large version holds two 25-pound bags of lead shot or 20 pounds of loose sand and the single version holds an unopened 25-pound bag of shot. Closure is by zipper. These durable, water-resistant, 600 Denier Polyester Caldwell bags have a 1-inch nylon strap that wraps around lengthwise and provides a sturdy handle for carrying. (Only carry with handle on zipper side.)
If you have ever picked up a bag of shot, you know it is constantly changing shape and there's just no good way to get hold of it. This Caldwell weight bag is the easiest way we have seen to carry shot. In fact, we plan to get a few extra Caldwell bags to use when reloading shotgun shells; they work great for pouring an open bag of shot into the hopper.
The Lead Sled Solo is the bargain among recoil reducing shooting rests. It is ideal for AR and lever action rifles, providing plenty of clearance for extended magazines and lever throws. It is at its best with rifles that produce about 20 foot pounds or less of rearward thrust. In actuality, that means most rifles from .30-06 on down, depending on gun weight. What it isn't as suitable for is slug guns, the hardest-kicking magnums and patterning shotgun turkey loads. Though target shooting with the real heavy-kickers is not as popular as shooting .308 and .223 caliber rifles, if that is your application, you might be better off considering a Lead Sled Plus that can handle up to 100 pounds of lead, although rarely is more than 50 pounds (two bags) needed.
The Lead Sled Solo breaks through to a new price point for a recoil-reducing shooting rest. For moderate levels of recoil, fatigue from high-volume shooting is all but eliminated. It removes the sting from recoil without much of a sting to your wallet. Not only will it be a blessing to high volume shooters, it is a great way to introduce younger, lighter, more recoil-sensitive shooters to the sport without fear or flinching. Now, your son or daughter can shoot a .30-30 all day long without discomfort. Caldwell is a division of Battenfeld Technologies and their web site can be accessed at www.battenfeldtechnologies.com