Caldwell Precision Turret Rifle Rest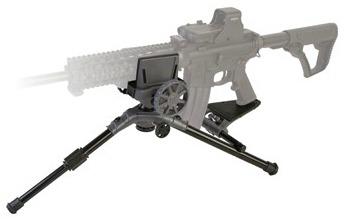 Illustration courtesy of Caldwell Shooting Supplies.
The Caldwell Precision Turret was designed primarily for AR-platform rifles, although it may work with other types. Conventional shooting rests do not take into account the extended magazines or the pistol grips on AR (and similar) rifles. A lot of modern sporting rifle (MSR) shooters opt for sand bags, instead of a front rest, at the range. They work, well almost, because making precise elevation and windage is problematic.
Caldwell has always been at the forefront of engineering designs when it comes to shooting rests. Given their history, it was no surprise that their engineers would design a shooting rest for MSRs.
With the Caldwell Precision Turret rest a thirty-round magazine does not get in the way, or impede your shooting. The adjustable foot between the rear legs provides a stable platform for the pistol grip. Once the rifle is locked into the fore end clamp (which is well padded to prevent damage to your rifle), you are able to utilize the unique tilt and swivel of this rest.
The fore end clamp and micro-adjustable pistol grip attachment to ensure stability of the gun while in motion. It is very much like what is found on the tripod of a light machine gun in the field. In short, with this rest you have a full range of motion to enjoy your shooting time at the range, as well as being able to make precise adjustments in elevation and windage.
Naturally, the rifle will shoot to a different place in the Turret rest than it does offhand. Changing the way a rifle is held changes the amount and direction it moves under recoil, which changes the bullet's point of impact.
Features and Specifications
Item number: 821400
Length adjustment: 22.4 inches
Width adjustment: 5.5 inches
Front leg vertical adjustment: Up to 6 inches
Ball bearing Panning system with 58 degree panning (swivel) arc
Adjustable and removable pistol grip attachment
Vertical adjustment of up to 1.5 inches
Fore end clamp for secure elevation and windage (Tilt and Swivel)
Individual knobs for precise tilt and swivel (panning) adjustments
2018 MSRP: $129.99
We fired multiple three and four shot groups for accuracy from a bench rest at 75 yards with a lever action Henry Big Boy color case hardened carbine using the Caldwell Turret Rest. The results with our reloads using Western powders were spectacular. We also found the rest's swivel and tilt features to be great fun at the range.
The 2018 MSRP of the Turret is $129.99, but with some searching on the Internet you can find it for a lot less. This rest is well made out of steel and heavy gauge aluminum and should provide many years of service.