Caldwell Rock BR Front Shooting Rest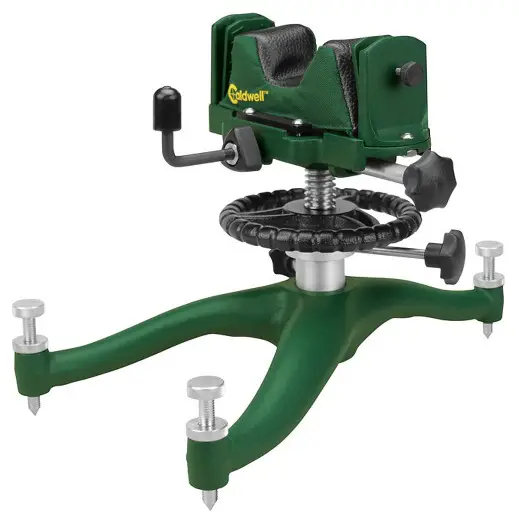 Illustration courtesy of Battenfeld Technologies.
Caldwell, a division of Battenfeld Technologies (www.battenfeldtechnologies.com) makes a variety of rests to fit just about every shooter's requirements. These range from the very basic Handy Rest NXT to the very sophisticated Fire Control Front Rest. All are well made and function as intended. With the addition of the Rock BR Front Rest, there is now one for every shooting venue.
The Rock BR was designed specifically for bench rest shooters. It incorporates a very precise elevation adjustment wheel and smooth windage adjustment cradle. This rest is not only ideal for bench rest shooters, it is also more than adequate for F-Class match shooting.
We found the Rock BR perfect for our everyday shooting activities at the range: practice, sighting in a new gun, or zeroing in a scope. We have accumulated several front rests over the years, some costing more than $500, and we sincerely question whether they are worth the money. Maybe, if you are a semi-pro or professional, you can justify those front rest devices that look like something out of a science fiction movie. For most of us, a solid, well built rest like this with a precise adjustment range is all we need.
The Rock BR comes with a three inch lobe bag you can fill for flat forend rifles and a medium filled bag for sporter style rifle forends. The cradle is the same as used on their Fire Control rests, which features a sturdy bag tensioning system for much improved forend stability. Very smooth and precise windage adjustments are possible on the cradle and the ball bearing rotational system for elevation is unmatched in the industry.
The adjustment rods and feet levelers are stainless steel and the built-in level is a nice touch, saving you the trouble of bringing your own. The 15.5 pound cast iron base is very solid with its offset triangular design. Maybe that is where they got the name "Rock"?
All said and done, this is an excellent rest and well worth the 2016 $239.99 MSRP. In fact, since we received it for testing, we haven't used anything else in our range tests and when checking our hunting rifles for the coming fall hunts.