Caldwell Stinger Shooting Rest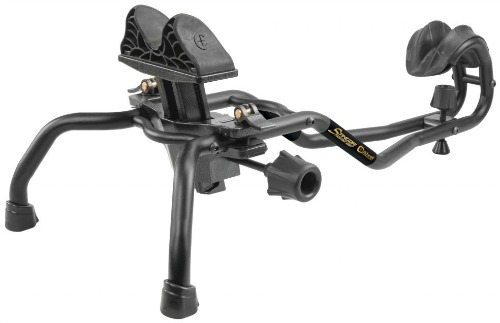 Illustration courtesy of Caldwell Shooting Supplies.
There are many occasions when we go shooting or hunting that we either do not want to lug a heavy shooting rest along, or it is just too inconvenient. However, on more than one occasion, we wish we had some sort of professional rest, instead of a backpack or rolled up jacket. It is under these circumstances that the Caldwell Stinger rest is ideal.
Incidentally, the source of the "Stinger" name becomes apparent when one sees the assembled rest. It really does resemble some sort of alien scorpion.
The Stinger is sold and shipped unassembled. Assembly is straight forward and will probably take 40-45 minutes without rushing. Two Allen wrenches are included for assembly. All of the parts fit correctly and all of the hex head bolts threaded easily.
The Caldwell Stinger Rest is strong, stable and versatile with a steel frame and all metal hardware; yet, it is reasonably lightweight (12 pounds) and easily carried with one hand. Whether you are simply verifying that your guns are still sighted in at camp, or drawing a bead on a prairie dog at several hundred yards, the Stinger is a useful piece of equipment.
The Stinger incorporates an innovative geared front elevation system. The height adjustment knob is spring loaded, which allows the shooter to make up to three inches of coarse elevation adjustment with one hand.
One inch of fine elevation adjustment is available via the rear knob. If this proves inadequate, as it sometimes does, a block of wood (or something similar) can be inserted under the rear leg.
New on the Stinger are the over-molded front and rear supports that not only protect the gun's finish, but are firm enough for stability when shooting. There is absolutely no wobble. If desired, the front cradle can be removed and replaced by a sand bag.
Positive cam locks allow the front rest to slide forward or backwards 3.5 inches on the frame, as required by your individual firearm. Unfortunately, there is no lateral (windage) adjustment, which would be a useful improvement. As it is, it is usually not difficult to tap the rear of the rest to the left or right with one hand.
Rubber feet keep the Stinger in place on a variety of surfaces. However, the recoil of centerfire hunting rifles will cause the rest to slide backward on the shooting bench.
The Stinger's dual tube steel frame bends sharply down in the middle to clear extended magazines in AR, Mini-14 and other such rifles. This also allows lever actions and falling block actions to be operated without lifting the rifle off the rest. The overall design of the Stinger allows the rifle to be shouldered normally.
Features and Specifications
Item #: 110033
3" of front elevation adjustment
1" of fine rear elevation adjustment
3.5" of lateral gun fit adjustment
Weight: 12 lbs.
Non marring front and rear cradle
Cam over front rest locks in place
Rigid steel tube frame
Perfect for extended magazines and lever actions
2017 MSRP: $119.99
At this point, it is incumbent upon us to let everyone know our personal preferences. When we are testing and working up precision loads for our guns, we use several of the more sophisticated Caldwell Rests, such as the Lead Sled DFT-2 or Fire Control Front Rest. However, after we develop our desired loads, we switch to lighter rests or bags, like the Stinger or Caldwell Tack Driver Bag, for sighting in our guns prior to hunting or target shooting.
With a 2017 MSRP of $119.99, the Caldwell Stinger is a bargain and a better deal than the generic (no-name) rests commonly found in most big box stores. If you look around online, you can find it for under $100, which is an even better deal.