Caldwell Tack Driver Rest Bag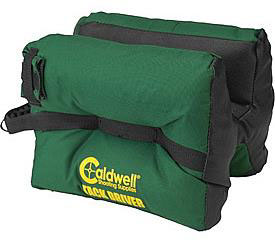 Illustration courtesy of Caldwell Shooting Supplies, Inc.
One can legitimately ask, why an article about a sand bag? After all, there are a lot of them on the market and a sand bag is a sand bag, right? Wrong! Like most shooters, we have used sand bags as rear rests and on top of our tripod front rest, or to steady the forend of our guns. (A bag of kitty litter, appropriately duct taped to prevent leaking, works pretty well for the latter. -Editor.) That being the case, why would someone want to spend the money for yet another bag?
The Caldwell Tack Driver is different from any bag we have ever seen. It is designed to "cradle" and grip the forend of your rifle. When used properly, the weight of the bag will reduce the felt recoil of just about any rifle. If you are shooting big bore or magnum guns, this is a real plus.
You can order the Tack Driver filled or unfilled. We recommend getting the bag unfilled and filling it yourself. That saves a lot of money in shipping expenses. The MSRP for a filled bag is $79.99, way too much to pay for someone else filling the bag with sand.
Now comes the filling sand. Shooters for years have used "heavy sand" for filling their rear bags and small front bags, as the heavy sand provided greater stability than beach or play sand. The question now arises in most folks mind, "What is heavy sand?"
Heavy sand is the generic name for mineral sands that possess a high specific gravity. There are a variety of types on earth. However, the two types normally used to fill sand bags are zircon, which is zirconium silicate, and chromite, which is iron chromium oxide. Both are mined throughout the world and used in a variety of industrial applications, including the manufacture of fire-resistant materials (zircon) and production of stainless steel (chromite). The term heavy sand comes from the fact that these materials are almost twice as heavy as the play sand you can buy at any hardware store. Hence, they are ideal for the smaller front bags used by shooters and the rear bags that provide stability in aiming.
However, we do not recommend filling the Tack Driver with heavy sand for two reasons. First and foremost is the weight. Our Tack Driver filled with play sand weighed in at 30 pounds. Fill it with heavy sand and you have a 60 pound "back breaker." Second, the cost of a 50 pound bag of play sand cost us a mere $3.50, while the going price for a 15 pound bag of heavy sand is $20. To fill the Tack Driver with heavy sand will cost almost as much as the bag itself.
With the Tack Driver, you don't need two bags or a front rest to sight in your rifle, it is a stand-alone unit that works better that separate bags ever did. It is ideal for range use or to take along on a hunting trip, in case you have to re-sight your gun in the field. This bag provides a very stable platform just about anywhere. It is heavy, but it comes with a built-in handle that makes carrying a lot easier than other bags we have encountered.
The bag is made of very heavy grade canvas with non-scratch/non-slip material over sewn on top to help "grip" the gun. The same material is sewn on the bottom of the bag to provide extra protection for the canvas. When filled, the Tack Driver is 11" from front to back, 8" high and 9" wide at the base. The eleven inch channel across the top, between the ears, provides a solid rest for just about any rifle. However, if you use a bipod on your gun, you will have to remove it if you wish to use the bag effectively.
To find out whether the Tack Driver actually reduced the felt recoil, Jim took his .300 Magnum Ruger M77 to the range. He loves to hunt with that gun, but does not like taking it to the range for pre-season practice. Any reduction in recoil would make Jim a happy guy.
From a purely subjective point of view, the recoil was considerably less. The thirty-pound Tack Driver did its job. We have no way of determining how much the perceived recoil was reduced. However, our afternoon at the range with the Tack Driver did not result in bruised shoulders. We were parched and sunburned from the New Mexico sun, but not banged-up.
With an MSRP of $44.99 (unfilled), the Tack Driver isn't cheap, but it is a bag that should go along on every hunting trip, just in case you need to take a few shots before heading out for deer or elk. It sure beats using a backpack as a rest.