Recommended Cameras, Lenses, Tripods and Filters
By Chuck Hawks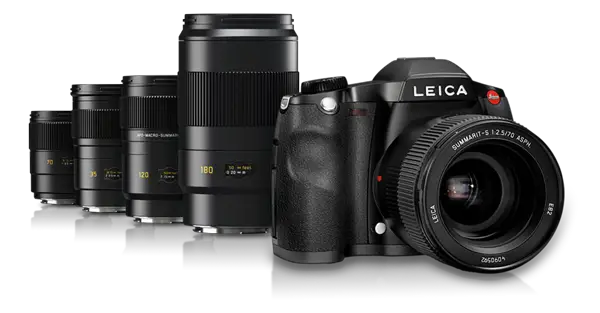 Leica S-System, medium format digital SLR. Illustration courtesy of Leica Camera AG.
The recommendations that follow are based on my combined 40 years of experience as a camera store manager, photography teacher and professional photographer, mainly in the landscape, wedding, travel and commercial photography fields. This is the photography equipment that I either own or would purchase for my own use if I were buying as I write these words.
I have written it before, but let me reiterate that the two most important features of any good camera are (1) superior design/materials/workmanship and (2) superior lenses. Every part in a camera or lens should be designed for durability, precision made from the best material for its specific job and assembled with care. The whole camera should be designed for easy operation and built for the long haul to the full extent allowed by its price point. (If a camera review does not emphasize these salient factors, ignore it!)
Any decent camera should allow user control of its three basic settings (focus, lens aperture and shutter speed). Otherwise, it is difficult or impossible to control the most basic technical elements of a photograph: movement, depth of field and the precise point of focus.
Most of a modern digital camera's so called "features," which are typically touted in advertising hype to impress the uninformed, are generally inconsequential and often detrimental to making good images. Features not directly related to making quality images should be eschewed. No photographic purpose is served by incorporating a telephone, calendar or GPS in a camera. These and many other pointless features merely increase the camera's complexity and cost, detracting from its primary purpose of making quality images.
Simple operation is preferable to a multiplicity of features, because it allows you to easily control the basic operation of your camera and then concentrate on the pictorial elements that make good photographs: viewpoint, composition, perspective, lighting, contrast, highlights and shadows, color and so forth. Unfortunately, most digital cameras are so complex that their owners use the very limited "green zone" setting and never actually learn how to operate their cameras.
Although most digital camera makers boast about the wide zoom range of their lenses (10x, 15x, 20x, etc.), the truth is that the wider the focal length range of any lens, the lower the picture quality. (All other factors, such as quality of design, materials and workmanship, being equal.) The reason is that a wider zoom range necessarily means more optical design compromises than a smaller zoom range. There is no free lunch in lens design.
That said, here are my recommendations in cameras and lenses, plus brief comments about tripods and filters. The lens recommendations are for general photography; if you have specialized photographic requirements, you probably already know what you need.
Compact Digital Zoom Lens Camera
I use Leica digital cameras, because I am convinced that they are the best made and have the highest quality lenses. My camera in this category is a discontinued Leica Digilux-1. The Leica Digilux-5 is the current model in this line. It features an excellent Leica Vario-Summicron 5.1-19.2mm zoom lens (35mm equivalent: 24-90mm) and has some serious camera features, such as auto or manual exposure control and an ISO hot shoe for external flash units. It is a top quality camera in the non-interchangable zoom lens category.
Full Frame (35mm format) Digital Camera System
The top of the line Leica M9 is the smallest, lightest and highest quality full frame, digital system camera in the world. It is certainly the best made and has the highest resale value. It incorporates a 35mm format (24x36mm, 18.5 million pixel) sensor in an all metal Leica M body with a coupled rangefinder/viewfinder and accepts Leica M lenses dating all the way back to 1954. (You will find a full M9 review on the Astronomy and Photography index page.) For photographers wanting a 35mm film camera body that accepts the same lenses as the digital M9, Leica offers the M7 and MP. I have used Leica M-series cameras with complete satisfaction for many years, including the M3, M5, M6 and M9.
Recommended Leica M lenses: 28mm, 35mm, 50mm, 90mm and 135mm.
The top of the line Nikon and Canon full frame DSLR's are also good cameras and the best choice for anyone wedded to TTL viewing. However, they are much larger, twice the weight, stunningly complicated to use and cost just as much as the M9.
Medium Format Digital Camera System
The Leica S-System DSLR body, about the size of a professional 35mm SLR, uses the new Leica pro format sensor (30x45mm format and 35.7 million pixels) that provides the classic 3:2 aspect ratio. Most Leica S lenses are available with or without a central leaf shutter, which you can probably live without unless you do a lot of daylight flash photography. (The camera body has a metal focal plane shutter that allows electronic flash sync up to 1/125 second.) There is also an adaptor available that allows the S body to accept Hasselblad H lenses.
Recommended Leica S lenses: 35mm, 70mm and 180mm (35mm equivalents: 28mm, 56mm and 144mm).
35mm Film Single Lens Reflex Camera System
I have owned and used Nikon F, F2, F3 and F4 cameras. The latest in the Nikon 35mm professional camera line is the F6. The Nikon F6 camera is probably the best made 35mm SLR on the market and it uses the same Nikon "F" bayonet lens mount, introduced in 1959, that was used in all previous Nikon F-series SLR's. F6 features include motorized film advance, auto or manual exposure and focusing, interchangable viewing screens and lenses. The F6 accepts a wide variety of Nikkor FX (full frame) lenses, including auto focus types AF-D, AF-I, AF-S, AF VR and manual focus types AI-P, AI-S and AI. The less expensive FM10 body serves as an understudy to the F6.
Recommended Nikkor lenses: 28mm, 35mm, 50mm, 85mm, 105mm Micro and 70-200mm zoom.
Large Format Camera System (Film or Digital)
My 4x5 Linhof is a Super Technika IV, but the current version is the similar Linhof Master Technika. This 4x5 camera body is also my nominee for the "World's Best Camera" award. Features include die case all metal body, triple extension bellows, two-stage drop bed, full movements front and back. Rotating, removable Graflock back accepts 4x5" sheet film holders, 120 roll film backs or a digital back.
Recommended lenses: 90mm Super Wide coverage, 135mm Wide coverage and 210mm Wide coverage. (Approx. 35mm equivalents: 27mm, 43mm and 65mm when used for 4x5" format.) The Nikkor, Schneider, Rodenstock and Fujinon brands are good. All lenses should be mounted in Copal flash synchronized shutters.
Starting large format photography out on a budget? A good Speed or Crown Graphic with a Graflock back and a decent 135mm or 150mm lens will take you a long way.
Tripods
The old saying among landscape photographers is that the difference between a pro and an amateur is that a pro always uses a tripod and the amateur never does. That pretty well sums it up. The tripod must overwhelm the camera with its size and mass if it is to keep it steady, so buy your tripod at least one size bigger than you think you need.
My favorite line of tripods is the Manfrotto line, distributed by Bogen in the U.S. Manfrotto legs and heads are available separately, so you can mix and match to get exactly the combination you need. Other good brands include Gitzo, Slik and Tiltall.
Filters
On Nikkor lenses I use genuine Nikon filters. On Leica lenses I use Leica, B+W, or Heliopan filters. On all other lenses I use B+W, Heliopan, or Hoya HMC filters.