Canon PowerShot SX-280: The best camera you will soon regret buying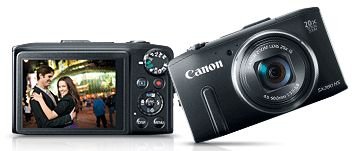 Illustration courtesy of Canon, USA.
Canon currently has two truly superlative small-sensor cameras, but this isn't one of them. While the Canon PowerShot SX50 HS and Canon PowerShot ELPH 330 digital cameras are both in the best of breed class, the 12.1 Megapixel SX-280 isn't.
Basic SX-280 Camera Specifications
Type: Compact digital camera w/built-in flash, 20x optical zoom and optical image stabilizer
Image capture device: 12.1 Megapixel, 1/2.3" CMOS
Lens focal length: 4.5mm (W) to 90mm (T)
Maximum aperture: f/3.5 (W) to f/6.3 (T)
Shutter speed range: 1 sec. to 1/3200 sec. (auto); 15 sec. to 1/3200 sec. (M)
Focusing systems: TTL autofocus, Manual focus
Total focusing range: 2" to infinity
Optical viewfinder: None
LCD monitor: 3" color TFT LCD w/100% image coverage
Sensitivity: ISO 80-6400
Shooting modes: M, Av, Tv, P, Auto and various special purpose modes inc. movie
Flash range: 1.6-11 feet
Flash recycle time: 10 sec. max.
Storage media: SD, SDHC, SDXC memory cards
Dimensions: 4.19" (W), 2.47" (H), 1.28" (D)
Weight: 8.22 oz.
2014 MSRP: $279.99
The SX-280 is polluted with largely meaningless features: WiFi, GPS, Hybrid Auto / Movie Digest are all battery-sucking little monsters of dubious utility. What they do is serve to illuminate what has never been the strong suit of this line, battery life, and that includes the SX230, which also has a GPS, but a 14x optical zoom.
What is worse is some of the most-touted improved features of this camera, which is both faster and slightly better in low-light than the 20x optical zoom SX260, are video-capability related. The reason this is bad is this camera, as released in April 2013, is deeply flawed by random video shutdowns and immediate low-battery (red light flashing) warnings in video mode. It should not have been rushed to release in this not ready for prime time condition. A firmware fix was eventually cobbled together and finally released on the Canon website months later.
While my example does not lock-up, the problems go well beyond what firmware can address. There are hardware systems flaws in this camera and no firmware can correct. The firmware update is provided with the standard "it is all on you" Canon disclaimer: THE SOFTWARE IS PROVIDED "AS IS" WITHOUT WARRANTY OF ANY KIND, EITHER EXPRESS OR IMPLIED, INCLUDING, BUT NOT LIMITED TO THE IMPLIED WARRANTIES OF MERCHANTABILITY AND FITNESS FOR A PARTICULAR PURPOSE. THE ENTIRE RISK AS TO THE QUALITY AND PERFORMANCE OF THE SOFTWARE IS WITH YOU. SHOULD THE SOFTWARE PROVE DEFECTIVE, YOU (AND NOT CANON, CANON'S SUBSIDIARIES AND AFFILIATES, THEIR DISTRIBUTORS AND DEALERS) ASSUME THE ENTIRE COST OF ALL NECESSARY SERVICING, REPAIR OR CORRECTION. Few read the contracts to which they agree. Yes, it is common language, but it is a long way from confidence-inspiring.
Nothing is perfect, as we all know. There are personal considerations, such as control placement and button size, that folks with smaller hands will find ideal, yet others will find difficult to use. I get this, for there is no such thing as one size fits all. Nevertheless, of the SX230 / SX260 / SX280 line, the SX280 remains the only one of the three released with a blatant, serious flaw. There is no dispute about this, for Canon refers to it as one of their "high-level advisories." Under shooting conditions with good lighting, the SX260 is just as good a camera without the headaches. Nevertheless, the speedier SX280, although it has the same 20x, F/3.5 - F/6.8 lens system as the SX260, does better in low light.
The SX280's retail price has dropped from its original $330 and it is now a bargain at about $239, or would be if it worked as promised. Already there are piles of lightly used and "as new" examples selling for $200 or less. Not a bad deal if video and battery life are totally unimportant to you. However, there are options: the Fuji FinePix F900EXR that has the same zoom range, even faster autofocus and captures RAW. In the bargain class 20X zoom the Fuji FinePix F850EXR, currently at $209 (less elsewhere), with a 920K LCD is hard to beat for the money. If optical zoom range is of prime importance to you, the SX280 is already outgunned by the 22x zoom range of the Nikon S9500, the 24x of the Olympus SH-50 iHS and the whopping 30x of the Sony DSSC-HX50V/B digital cameras.
If the SX280 performed as promised and worked as described by Canon, it would be a 4-1/2 star camera at a very good price. That's exactly what it doesn't do, so there is no way I can recommend it. It would only be an incremental improvement over the SX260, even if it worked flawlessly, which it does not. The case size, sensor, lens, battery and basic layout are unchanged. It is essentially the new DIGIC 6 processor that has been added, along with Wi-Fi. The HD Movie Digest and faster video frame rates just make the already very weak battery appear even weaker, with flawed circuitry that makes video attempts short, erratic and unreliable.
Though smaller, lighter, 10x zoom and less money, the ELPH 330 HS is currently Canon's best pocket camera. That one I am keeping. Its images are superb, which is what I want a camera to do with no hassle. However, if the well-known video / battery issues don't bother you, feel free to take your chances on a SX280. Buying used makes sense, for there is a quickly growing number of them.