Ambidextrous Hammer Spur from Carlson's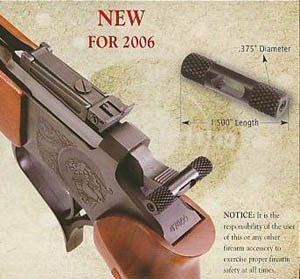 Illustration courtesy of Carlson's Choke Tubes.
Hammer guns such as the Thompson/Center Encore, Contender, and many others can be hard to operate with gloved hands, or with scopes that offer very little clearance between themselves and the hammer. Carlson's has taken a look at the situation, and offered an ambidextrous hammer extension that instantly solves all the issues you might have.
"Carlson's Hammer Expander" is feather light, installs in seconds, and fits most exposed hammer guns with flat blade hammers. This includes the Encore, Contender G2, H&R / New England rifles, Ruger pistols, and most Rossi / Uberti / Freedom Arms hammer guns. The only muzzleloader it won't fit is the T/C Omega.
Slide it over your hammer, tighten down the integral set screw, and you are good to go. It takes only seconds to install.
In Carlson's testing, other hammer extensions proved to be out-of-balance, consequently increasing trigger sear wear. This issue has been eliminated with the Carlson Hammer Expander. It is well made, feather-light, balanced, and ambidextrous. It makes any hammer gun easier to use.
It comes in either black or silver, has knurled ends, and sells for only $10.95 with a lifetime warranty. This one is as close to a "no-brainer" as it gets. Order yours today from Carlson's at (785) 626-3078 or e-mail them from their web site: www.choketube.com. You'll be glad you did!