Case Knives - 2018 Update
By Gary Zinn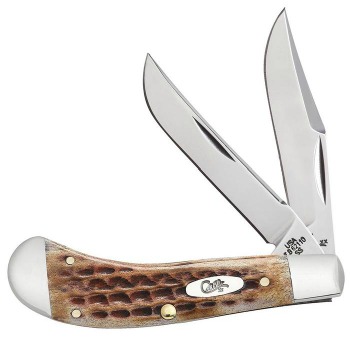 Case Saddlehorn #23654. Image courtesy of caseknives.com.
It has been 2-1/2 years since I last did an update of Case knife offerings and some things have changed in that time. In overview, Case has dropped the distinction between its "core" and seasonal product lines, streamlined its product offerings somewhat, and revamped its website.
Case terminology uses the terms knife pattern, knife model and knife family in an interrelated way. A knife pattern is a particular size and shape of knife handle frame, with specific blades installed (e.g., Trapper, Medium Stockman, Peanut, etc.).
A knife model is a particular knife pattern, finished out with a specific handle material. The knife pictured above, for instance, is a Saddlehorn pattern with stainless steel clip and skinner blades, finished with burnt brown bone, corn cob jigged, handle scales.
Finally, a knife family is a group of different knife patterns that all have the same handle treatment. For example, the burnt brown bone family includes knives in eight different patterns. (This is a new-for-2018 family of Case knives.)
Previously, the company maintained two types of product catalogs. The core catalog listed families of knives produced on an ongoing basis, while the spring and fall seasonal catalogs listed knife families that were intermittent, or single production runs. For 2018, though, this system has been dropped, replaced by a unified listing of the product offerings for the year.
Current product line
Case has always been, and remains, a predominantly slip joint folder knife manufacturer. This is illustrated by the current (July, 2018) online catalog (www.caseknives.com), which lists 360 slip joint folders, out of a total of 488 folding knife models, with only 63 fixed blade knives listed.
The knife models most produced include those on the Trapper (87 items), Medium Stockman (49 items), Mini Trapper (38 items) and Peanut (29 items) patterns. The predominantly slip joint folder theme is also reflected in the list of best selling knives; of 51 items listed, 47 are folders, 30 of which are slip joints. These best sellers include roughly two dozen knife patterns, with no more than five models in any given pattern.
Also featured on the website are new knife families, or models. The new families include the American Workman Red Synthetic, Black Canvas Laminate, Olive Green Bone, Smooth Curly Oak, Burnt Brown Bone and War Series Smooth Natural Bone. In addition to these new families, there are some additions of individual knife patterns to other families. All told, Case has introduced 80 new knife models for 2018.
To further define and describe the current Case offerings, I worked through the entire on-line catalog, making notes along the way. I tallied the number of items listed in the following categories.
Traditional style folding knives, including slip joint and locking folders - 337 items
Special folding knives, including theme knives (Boy Scouts of America, John Deere, Religious Sayings, etc.), commemoratives (War Series, John Wayne, etc.), gifts and collectables - 126 items
Fixed blade hunting, outdoors and fishing knives - 44 items
Household cutlery - 20 items
Contemporary style locking folders (TecX) - 25 items
My survey of the website also revealed that Case is currently listing 90 knife patterns in total, with 77 different handle material and color treatments (jigged, smooth, or textured handle surfaces) listed. Of course, particular handle options are available only on selected knife patterns. Handle materials used on selected knives include natural materials, thermoplastic synthetics, laminates and metals.
Changes from 2016-2017 Core and Spring 2016 product guides
I last reviewed the Case product line in the article Case Knives for Spring 2016. Comparing the information in the product guides at that time with the current information on the Case website, I find that in 2016 Case listed 18 knife families (i.e., handle treatments) that are no longer offered.
I noted above that there are six new-for-2018 knife families in the current product list, implying a net attrition of a dozen families. This does not hold up, though, because I count 64 knife families currently, versus 63 identified in the 2016-17 and Spring 2016 catalogs, combined. Obviously, some other knife families were added during the interim between the previous and current surveys.
I discerned little change in knife patterns. The only patterns I noticed being dropped between 2-1/2 years ago and now are the slip joint Seahorse Whittler and the fixed blade Desk Knife.
The only notable new knife patterns that appeared between the previous and current surveys are the Winkler and TecX knives. The Case Winkler knives, designed by Daniel Winkler, are upscale fixed blade hunting / outdoor adventure knives designed for those who favor the most rugged, high-performance knives. Currently there are five models in this high end series, with another soon to be released.
TecX knives are contemporary style locking folders, made in Taiwan (ROC) and marketed under the Case brand name. Handle profiles and sizes, blade patterns, locking mechanisms and handle materials vary among the 25 models. Time will tell whether a line of imported, contemporary locking folders bearing the Case name will gain traction in an already crowded market segment.
Remodeled Case website
The Case website has been streamlined for more intuitive use. Clicking "shop knives" on the home page reveals a page where you can then drill down further by broad categories of knife usage, general browse options, or featured items. Once you get into any of these pages, there is a list of filter options (11 in all) that will help isolate knives with any specific features of interest. The filters can be used singly, or in combination. You can also enter search keywords in a box at the top of the page.
Anyone familiar with the previous Case website may recall that the basic display of knife models was by family (handle treatment) groupings. This reference to knife families is not explicitly retained in the new website, but knife families are still grouped together. For instance, if you click "all knives" on the "shop knives" page, the resulting page will display the Abalone knife family (5 items) first, then the Amber Bone family (25 items), and so forth. Once you locate a particular knife model of interest, clicking on the model name or image will reveal more information about that specific knife.
I had used the previous website quite a bit and was familiar with it. At first, I was peeved that it had been changed, but I have gotten used to the new format and find it to be quite efficient.
Unfortunately, the "Case College" informational section of the old website has been eliminated. I wish this feature had been retained.
Conclusion
Other than launching the Winkler and TecX knife lines, Case has not done anything startling in the last 2-1/2 years. They have mostly concentrated on fine-tuning their bread and butter line of traditional style folding knives, along with some editing of their fixed blade offerings. Those who favor traditional knives in general, and the Case brand in particular, may rest assured that the company is still very much in the game.