Celestron C6-A XLT Telescope
By the Astronomy and Photography Online Staff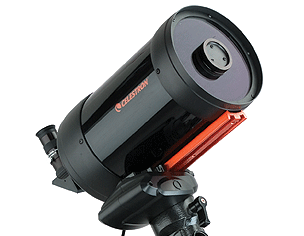 Illustration courtesy of Celestron International.
Celestron is an American company located in Torrance, California that is now owned by Synta Optical Technologies of Red China. The C6 was the first Celestron Schmidt-Cassegrain telescope (SCT) not actually manufactured by Celestron. Rather, C6's are made by Synta (in China) to Celestron's design and specification and shipped to Celestron for distribution, as are most Celestron telescopes today. (The exceptions are the C11, C14 and the EdgeHD telescopes, the optics for which are still hand figured and assembled in Torrance.) The first thing we did when we received our C6 was to give it a quick visual star test, which it passed with flying colors.
The C6 is a recent catadioptric (CAT) design and profits from Celestron's experience with the type. (Celestron began manufacturing SCT's in 1960.) Like other Celestron Schmidt-Cassegrain telescopes, the C6 is an f/10 optical system. It has a 150mm clear aperture and a 1500mm focal length. The C6-A XLT comes with a Vixen dovetail mounting rail attached and is available packaged with a CG-5 go-to German equatorial mount, or as an optical tube assembly (OTA) sans mount, which is the way we ordered our C6. We had suitable Celestron CG-4 (manual EQ) and Stellarvue MG (AZ) mounts on hand for this review and both accept a Vixen rail.
In addition to a full-length Vixen mounting rail, the C6-A XLT is supplied with a 1.25" visual back, 6x30mm finder scope and bracket, 1.25" prism star diagonal and 1.25" Plossl 25mm ocular, as well as an instruction manual and Celestron's "First Light" astronomy DVD. The telescope's notable features include a seamless aluminum optical tube finished in gloss black with orange Celestron logos on each side, a white water glass Schmidt corrector lens and Starbright XLT optical coatings on the corrector and both mirrors. It is an attractive optical tube. Collimation adjustment screws are provided for the secondary mirror, but we suggest that you not mess with them unless you really need to.
For decades, Celestron has offered the C5 (5" SCT), C8 (8" SCT), C11 (11" SCT) and C14 (14" SCT). More recently, the C6 (5.9" SCT) and the C9 (9.25" SCT) models were added to the line. The C6 is an especially interesting addition to the Celestron SCT line. It offers almost 1/3 more light grasp than the C5's 319x, yet remains a very compact optical tube assembly. The C6 weighs only about 2-1/2 pounds more and is three inches longer than a C5. Thus, the C6 is a lightweight and easy to set-up telescope that can be used on most of the same mounting systems, especially Celestron's CG-4 and CG-5 German equatorial mounts, as well as equivalent EQ mounts from a number of other manufacturers and alt-azimuth mounts with similar capacity. We are not implying that the C-5 is rendered obsolete by the C6, but the C6 should appeal to a substantial share of the same market.
Six-inch aperture Newtonian reflectors in the f/6.3 to f/10 focal ratio range are a mainstay in many intermediate telescope lines. Here again, the C6 represents powerful competition. It offers similar capabilities in a far more reliable, versatile and trouble free SCT design. The C6 is lighter, much more compact, easier to transport, easier to set-up and causes less stress on the mounting system than an equivalent Newtonian telescope. The C6's essentially sealed optical system is far less susceptible to the intrusion of dust and dew and will usually last decades longer under normal use before major maintenance is required. Purchased with a CG-5 mount as the C6-SGT, the C6 is only about $200 more (per 2010 MSRP) than Celestron's 6" Newtonian on the same mounting system. That should certainly give potential Newt purchasers food for thought. Again, while the C6 does not render the 6" Newtonian obsolete, it should reduce the Newt's market share.
Here are the specifications for the C6-A XLT optical tube assembly.
Item number: 91010-XLT
Clear aperture: 150mm (5.91")
Focal length: 1500mm (59.06")
Focal ratio: f/10
Visual back: 1.25" (2" star diagonal/visual back available from Celestron)
Optical tube: Aluminum, black
Highest useable magnification: 354x (60 ppi)
Lowest useable magnification: 21x
Limiting stellar magnitude: 13.4
Resolution (Rayleigh): 0.93 arcsec
Resolution (Dawes): 0.77 arcsec
Light gathering: 459x
Supplied eyepiece: 25mm Plossl (1.25" mounting barrel)
Magnification with supplied eyepiece: 60x
Angular field of view: 0.83-degrees
Linear field of view: 44' at 1000 yards
Secondary mirror obstruction: 2.2" (55.88mm)
Secondary mirror obstruction by area: 13.9%
Secondary mirror obstruction by diameter: 37.3%
Optical coatings: Starbright XLT
Optical tube length: 16"
Optical tube weight: 10 lbs.
2010 MSPR: $649.95 (approx. $400 online discount retail price)
The Vixen quick detachable rail is our favorite scope to mount attachment system for telescopes the size of the C6. It is strong, simple and easy to use, which is why it has become the de-facto standard in the industry. However, we noticed that, unlike the Celestron Omni XLT-102ED telescope that we reviewed last year, there are no stop bolts in the C6's Vixen rail to prevent it from sliding out of the mating Vixen dovetail in a mounting system. This oversight should be corrected. Should the clamp screw securing the scope's rail in the mount's dovetail slightly loosen when the scope was aimed upward, the scope could drop to the ground. Make sure your mounting clamp stays tight! Better yet, install bolts with protruding heads at both ends of the rail to prevent the scope from falling, even if the mounting system's clamp inadvertently loosens.
Although the C6 OTA only weighs about 10 pounds, because of its substantial light grasp and magnification potential we recommend using mounting systems rated for loads about twice the C6's actual weight. (Actually, we recommend that for any telescope!) We used the C6 on Stellarvue MG alt-azimuth and Celestron CG-4 German equatorial mounts. Both were entirely suitable for the compact, lightweight C6-A XLT optical tube assembly. Examples of other suitable mounts include the Celestron CG-5, Orion SkyView AZ, Orion SkyView Pro, Stellarvue M2, Synta EQ-5 and Vixen GP2. See the Astronomy and Photography Online article "Guide to Alt-Azimuth and German Equatorial Telescope Mounts" for additional mounting possibilities.
One of the most obvious improvements over older Celestron CAT's, which we noticed immediately, is the C6 focuser. This focuser operates smoothly and the backlash that plagues most SCT focusers has been practically eliminated. The previously bare metal focusing knob now has a rubber covering that improves its feel. The focuser still moves the primary mirror, but Celestron has apparently improved the design and/or tightened the tolerances since we last reviewed one of their SCT's.
The C6-A XLT comes with an inexpensive 25mm Plossl ocular that yields 60x magnification and a 0.83-degree field of view. This is a useful focal length eyepiece for many purposes, including terrestrial viewing. However, additional oculars are necessary to get the most out of this telescope. For astronomical observation, we would suggest the addition of Celestron 32mm Omni Plossl, Celestron 8-24mm zoom and Celestron 7mm X-Cel LX eyepieces (or equivalent oculars from other manufacturers) as a practical minimum. We also recommend replacing the cheap Plossl supplied with the scope with a 25mm Celestron X-Cel LX. (Celestron used to supply top quality Plossls with their telescopes, but this is no longer the case.) Fortunately, we had oculars in all of these focal lengths and many more, ranging from 40mm to 5mm, available for this review.
The star diagonal is retained in the visual back by a pair of fingertip set screws, rather than a compression ring with a single fingertip set screw. Ditto for the way eyepieces are retained in the supplied star diagonal. These dual retaining screw systems are comparatively clumsy and we much prefer compression rings tightened by a single fingertip set screw, particularly in the star diagonal, since oculars are changed frequently during a viewing session.
Astronomy and Photography Online staff members Jim Fleck, Bob Fleck, Rocky Hays, Gordon Landers and Chuck Hawks participated in this review. For a limited amount of terrestrial viewing in summer weather with lots of rising heat waves, we used 32mm Tele Vue Plossl, 25mm Celestron X-Cel, 18mm Celestron X-Cel, 17mm Celestron Plossl and 8-24mm Tele Vue Click-Stop Zoom oculars. All worked satisfactorily, depending on the conditions, subject and distance. For instance, it was easy to examine little clumps of green moss growing on the bark near the top of a tall fir tree at about 150 yards with the 32mm Plossl and ants walking along a branch of another tree at about 25 yards with a 17mm Plossl. The 18mm X-Cel allowed close examination of a bolt on a telephone pole about 75 yards away. Although it is overkill, the C6 would serve as an impressive "super spotting scope" for those who occasionally need one.
We found the 32mm Plossl, 25mm X-Cel and 8-24mm zoom oculars sufficient for casual backyard astronomical viewing of the Moon, Venus, Saturn and prominent deep sky objects, such as globular cluster M-13 in Hercules, Ring Nebula M-57 in Lyra and the "Double Double" in Lyra. The Milky Way was faintly visible from our semi-rural yard, to give you an idea of the ambient light pollution.
When we took the C6 to a dark sky site in the foothills of western Oregon's Cascade Mountains it really came into its own. As a known reference telescope, we used a Stellarvue SV115T (4.5", 800mm FL) apochromatic triplet refractor.
We immediately discovered that attaching the compact C6 to a CG-4 or Stellarvue MG mounting system is as convenient as attaching a small refractor and considerably easier than mounting our longer and heavier 4.5" Stellarvue SV115T APO. In addition, the C6's full-length Vixen mounting rail makes balancing the scope in the declination (or altitude) plane exceptionally simple.
The C6 has the light grasp to view countless deep sky objects and the focal length and resolution to split a myriad of double stars. Since its limiting stellar magnitude is 13.4 and its resolution is better than one arcsec, the seeing conditions will normally be the factor controlling what objects can be viewed from semi-populated areas of the United States, not the telescope itself.
Not surprisingly, we found that the refractor generally gave higher contrast views of relatively bright objects, while the C6's substantially greater light grasp (459x vs. 270x) allowed it to outperform the smaller aperture scope when viewing faint deep sky objects. Aperture rules the deep sky domain! Also, the C6's increased light grasp allowed the use of substantially higher magnification at the practical limit of about 35 power/inch (ppi) permitted by the seeing conditions. In the C6, a 7mm ocular provides 214x magnification at 35.8 ppi, while a 5mm ocular in the SV115T provides 160x at 35.6 ppi.
The C6's much longer prime focal length allowed for impressive, high magnification examination of features on the surface of the Moon. It allowed the use of longer focal length oculars to achieve essentially the same magnification as shorter focal length eyepieces gave in the refractor. For example, a 25mm eyepiece in the C6 (60x magnification) is approximately equal to a 13mm eyepiece in the SV115T (61x).
The problem of limited eye relief in short focal length oculars can be circumvented by purchasing premium oculars (which we use and highly recommend), such as Tele Vue Radians, which offer a consistent 20mm eye relief in focal lengths from 3mm to 18mm. Radians, however, sell for almost three times the price of Tele Vue Plossls! Big bucks refractors like the SV115T require big bucks eyepieces to fully exploit their capabilities.
The disadvantage of the C6's relatively long focal length is decreased field of view with any given ocular. Using 32mm and 40mm Plossl oculars, the relatively short focal length SV115T presented more impressive wide sky views of extended objects, such as the Double Cluster (NGC 689 & 884) and the Andromeda galaxy (M-31).
To achieve a wider field of view from their f/10 SCT's, Celestron offers an f/6.3 focal reducer/corrector (#94175) for a 2010 MSRP of $144.95 ($129 from OPT). This four-element, multi-coated optic screws directly to the rear cell of the telescope and, in the case of the C6, creates an effective focal length of 945mm. We did not have a focal reducer/corrector on hand for this review, but we have used them on Celestron C8 telescopes with good results. A Celestron focal reducer/corrector increases the versatility of any f/10 or f/11 SCT, from the C5 to the C14.
An accessory that any C6 owner should immediately purchase is a right angle, correct image finder scope, or at least a red dot finder like the Celestron Star Pointer, to replace the stock 6x30 straight through, inverted image finder. We cannot understand why straight through, inverted image finder scopes are supplied with most commercial telescopes. (Because they are cheap. -Editor) We find these inverted image finders confusing to use and it practically takes a contortionist to see through the finder scope when the C6 is aimed at high elevations. We also like to install a green laser pointer/finder, available from Celestron and others, on our telescopes. The green laser beam is an invaluable asset for quick telescope aiming and star hopping. Remember, it is impossible to view objects that you cannot find!
The Celestron C6 may be the best balance of portability, handling ease, light grasp and price ever offered to the amateur astronomer. It is an advanced level instrument that is as easy to use as any intermediate level, and most entry level, telescopes. Perhaps the best endorsement of the C6-A XLT is that one of our staff members immediately purchased one for his personal use after seeing our test scope.