Celestron Ultima LX 2" Eyepieces
By the Astronomy and Photography Online Staff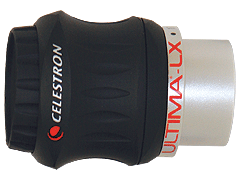 Celestron Ultima LX 32mm. Illustration courtesy of Celestron International.
The Ultima LX series are Celestron's deluxe, top of the line oculars. They are designed and engineered in the USA and produced overseas. We could find no indication of the country of manufacture, either on the Ultima LX eyepieces themselves or on the boxes they came in, but we believe they are produced by Synta, Celestron's longtime partner and now corporate owner, in Red China.
The Ultima eyepiece line was relegated to second place for a few years by the ultra-deluxe Axiom series. However, the Axioms failed to gain traction in the market place and have been discontinued, restoring the Ultima LX series to its accustomed place at the top of Celestron's eyepiece line-up.
The Ultima LX oculars are fully multi-coated, 2" eyepieces with 6-8 edge blackened lens elements and black, baffled interiors. They all feature a 28mm ocular lens, 16mm eye relief, 70-degree apparent field of view (AFOV) and twist-up eyecups. The Ultima LX 2" mounting barrels are anodized with a matte surface texture to provide a good grip for retaining screws and compression rings. Here is a summary of the features common to the line:
Fully multi-coated
70-degree AFOV
16mm eye relief
Twist-up eyecups
Mounting barrels threaded for filters
Parfocal across the line
Shock resistant rubber coating for a no-slip grip
Roll guard - shaped to prevent the eyepiece from rolling off flat surfaces
28mm clear aperture surface lenses for comfortable viewing
Top and bottom caps included
Two year limited warranty
Available focal lengths include 32mm, 22mm, 17mm, 13mm, 8mm and 5mm, a rational and nicely spaced selection of focal lengths. Only a very long focal length (40-55mm) for extra wide sky views is lacking from the Ultima LX line. You can assemble an (almost) complete selection of parfocal 2" oculars simply by purchasing the entire Ultima LX line, as we did.
This is a practical strategy, as the Ultima LX eyepieces offer premium performance at a very reasonable price. The 2011 MSRP is $139.95 direct from Celestron for all focal lengths except the 22mm and 32mm, which are $169.95. Quite a bargain for oculars comparable in quality and performance to some costing two or three times their price. Complimentary 2" diameter "sweeper" eyepieces (40mm plus) for locating objects are available from Meade (40mm Series 5000), Pentax (40mm XW) Tele Vue (41mm Panoptic), William Optic (40mm Swan) and Vixen (42mm LVW). All of these offer AFOV's from 60 to 72-degrees.
For added versatility, the 5mm, 8mm, 13mm and 17mm Ultima LX eyepieces come with dual diameter 1.25"/2.0" mounting barrels that allow them to fit in either size star diagonal. In our testing, the dual diameter Ultimas worked fine in an Astro Tech 1.25" Dielectric mirror diagonal, as well as in a Vixen 2" Dielectric mirror diagonal. (The big oculars looked a little strange in the 1.25" diagonal, however!)
Make no mistake, the Ultima LX oculars are physically large eyepieces. The largest of the line, the 5mm, is approximately 5.75" long (eyecup retracted), 3.1" in diameter and weighs 1-pound 6-ounces. As focal lengths increase, the physical length decreases incrementally, with the 22mm and 32mm eyepieces being the shortest and lightest, but they are still big. 2" star diagonals are also large and the combination may over-balance small telescopes. However, most telescopes provided with 2" or larger focusers can handle Ultima LX oculars. They were a good match for our Stellarvue SV115T (4.5" aperture) refractor and Vixen VC200L (8" aperture) catadioptric test telescopes.
The Ultima LX's twist-up eyecups, when raised, place the eye of non-eyeglass wearers at approximately the correct viewing distance. Leave the eyecup screwed all the way down if you wear glasses while observing.
These are easy eyepieces to look through, certainly at night for astronomical observation and even in broad daylight for terrestrial viewing. The 70-degree AFOV is excellent and about the maximum we prefer to use. Wider AFOV's cannot be appreciated without moving the head, which we find distracting. The view through an Ultima LX eyepiece is sharp and clear from center to edge, providing your telescope can deliver it. (Our Stellarvue and Vixen test scopes could.) Optical aberrations, flare and internal reflections are well controlled. We were able to review the entire Ultima LX line and if these eyepieces have a weakness, we failed to discover it.
To keep it all together, we found that a Winchester WGS-7703 multiple pistol case (approximately $80 from Cabala's) will comfortable accommodate all five Ultimas, plus a sweeper eyepiece and a 2" star diagonal, all laying on their side. This handsome case measures 18" x 14" x 4.5" (outside). Pelican and Zero Halliburton, among others, also offer suitable carrying cases.
The Celestron Ultima LX line are premium 2" eyepieces and they provide premium quality views. Unlike some lower priced eyepieces from competing brands, Celestron's quality control has always been top notch, assuring that the ocular you receive will be correctly manufactured. At current retail prices, the Ultima LX eyepieces are also a terrific value.