Champion WheelyBird Portable Clay Pigeon Thrower
By Randy Wakeman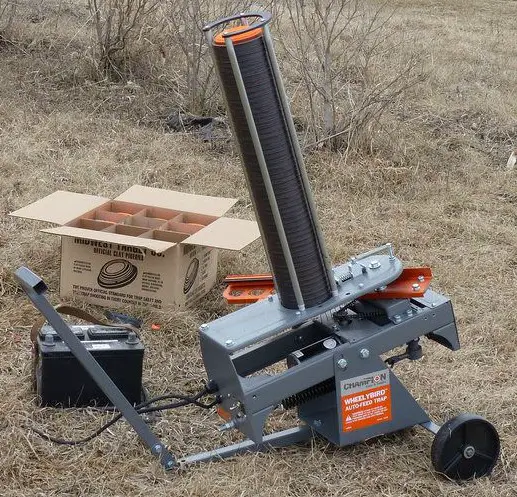 Photo by Randy Wakeman.
Champion claims the following features and benefits for their WheelyBird #40909 electric trap:
Compact size; smaller than our EasyBird Auto-Feed Trap with Trap Taxi
Quick, 2-second cycle time for continuous action
Adjustable launch angle, up to 30-degrees of elevation
Lightweight for easy loading in and out of a vehicle
50-target capacity, removable magazine fits standard-sized clays
25-foot release pedal cord accommodates various shooting positions
More than 3,000 throws from a fully charged 12-volt deep cycle battery
The WheelyBird comes with instructions and a DVD as well and has a typical 2014 discount retail price of around three hundreds dollars. It is easy to assemble, taking us only a half hour or so to put together and function test. I didn't find the DVD necessary, but its inclusion is a good idea, nevertheless.
It was assembled with just the slack taken out of the main spring and threw clays an average of laser-verified 52.5 yards after initial assembly. The 52.5 yard distance was straight line, ground to ground. It is in the general area of the 50 yard ATA target and can be cranked up to the 60 yard American Skeet target. It also throws in the Down The Line 45-50 meter range, but is not capable of the 70 to 75 meter Olympic Trap distance.
I did not check the speed with radar, but it is capable of throwing in the general ballpark of a 50 MPH bird. For the record, the NSSA rules are:
1. Check high house-set at 46.0 to 46.9 MPH. Stand on station 1 and aim gun at the top of the hoop. DO NOT TOUCH THE TRIGGER. Hold gun steady and throw a target through DEAD-CENTER (+ or - 6 inches) of hoop. Set spring tension within above speeds. A good machine with good targets will throw 4 consecutive targets through a 12" hoop under NO WIND conditions. The targets will strike level grounds 58-59 yards from high house. As shooting progresses, the transmissions warm the oil and the targets fall at 61-62 yards.
2. Check low house-set at 48.0-48.9 MPH. Aim gun at the top of the hoop. Targets will fall as above.
This is a bit more precision than normally expected from an economical portable trap. Suffice to say the WheelyBird throws good quality ATA / NSSA genre birds.
There is a simple limiter switch on the trap that needs to be adjusted in the event the trap throws more than one bird after initial assembly. That is what it did for me, throwing 6, 7 or 8 birds prior to adjustment. It is essentially set it and forget it and your Wheelybird may not need adjustment at all. I mentioned it here only because mine did.
The WheelyBird is fun, economical, easy to use and with the provided wheels is very easy to move around and easy to store. As the possibilities of positioning are endless, you can practice crossing and incoming birds at various angles, as you prefer and as your shooting area allows. You can also use a pair of WheelyBirds and set up your own station. You can insert smaller birds (90mm Midi) into the standard-sized 108 \'96 110mm birds, which will drop out when launched, mixing it up for doubles shooting.
It is hard not to appreciate the Wheelybird, for it works extremely well, just as advertised, is reasonably small, lightweight at just under fifty pounds and is both easy and fun to use.