Chapuis RGEX 9.3x74R Double Rifle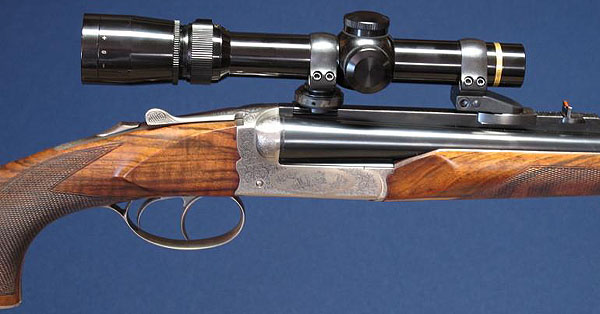 RGEX detail, shown with Leupold scope. Photo courtesy of GunsInternational.com.
Some years ago I was wandering around in a used bookstore in Caribou Maine. Being an avid collector of firearms and having a love of all things hunting, I was searching for a new book on the subject. Buried deep in the shop I came across a book that has brought me more enjoyment and indirectly cost me more money than any other. The book in question was African Game Trails by that quintessential US president, hunter and conservationist, Teddy Roosevelt.
Soon, that purchase turned into a collection of Capstick, Bell, Duckworth, Corbett, Rushby and many others. The one thing they all had in common was the use of that most exotic of African firearms, the double rifle.
For me, loving classic firearms, these books created in my mind a need to acquire a double barreled safari rifle of my own. I spent several years looking and saving for the time when I would be able to afford my own double rifle. I quickly eliminated from consideration the Baikals. I briefly considered a Sabbatti, but the reviews I could find on them were not overwhelmingly positive. My search for a used double did not turn up anything that I could afford and I remain somewhat skeptical of purchasing used guns online.
One day, in a small gun shop outside of Maxton North Carolina, I ran across a pair of Chapuis double rifles. One was a UGEX in 8x57 JRS Mauser caliber and the other an RGEX in 9.3x74R. I plunked down a considerable amount of cash (for me) and walked out with a brand new Chapuis RGEX double rifle.
Chapuis Armes has been in operation in France since the 1920's. The Company was founded by Jean Chapuis, who was the father of Rene Chapuis, the current owner. It is among the largest producers of double rifles in the Europe. However, they remain something of a mystery on this side of the pond.
The RGEX is a boxlock design with double under lugs. It comes with rust blued 22" barrels with double under lugs that are hand regulated in the traditional manner. The barrels are regulated with 285 grain Norma Oryx factory loads and a pair of test targets is included. Features include ejectors, double triggers, long tang trigger guard bow, steel grip cap, walnut butt plate and a non-automatic safety. Sighting is provided by a set of NECG fiber optic sights with an adjustable front sight. In addition, there are machined cuts for scope mounting on the quarter rib with blanks pre-attached. The stock is a nice slab of hand rubbed, oil finished Turkish walnut with a classic style British cheek piece and hand cut checkering on the pistol grip and beavertail forend. The engraving is a combination of floral and game scenes.
The rifle weighs in the area of 6 pounds, depending on wood density, and is built on Chapuis' 28 bore frame, making it very easy to carry. My guns double triggers break cleanly at a tad over 4-˝ pounds with very little creep or take up. Chapuis Armes firearms all come with a lifetime mechanical warranty.
If I have any complaints, they would involve the sights. While quite easy to use, I would have preferred a three leaf express rear sight and a gold bead front sight for a more traditional look. A minor complaint is that the locking case that the rifle comes in is made of ABS plastic. However, these minor economies do help keep the cost down, while still allowing you to get a well made rifle.
Shooting impressions
At only six pounds and chambered for the powerful 9.3x74R cartridge, the recoil does get your attention. The recoil velocity, in particular, is extremely high. I limited my range time with it to 10 rounds at a time to try and avoid developing a flinch. I shot a combination of Hornady 286 grain DGX and DGS factory loads. In general I have had good success with Hornady ammunition in my .375 H&H, .416 Rigby and .450/400 3" and all have patterned well in these single shot/bolt guns. However, my Chapuis was quit indifferent with them. That is not to say I would pass a shot up to 75 yards with them on a feral hog or bear, but with my average 50 yard groups at around 3-˝ inches, I am of the opinion that with this ammo it is not up to shooting much further.
As previously stated the RGEX was regulated with Norma 285 grain Oryx ammunition and I have some on order. The test targets showed groups measuring a scant ˝ inch at 50 yards. I would hope that the groups will significantly improve with the Norma ammo for which the rifle is regulated.
The NECG sights are quick and easy to use, coming up naturally for me and make it easy to snap shoot with some accuracy.
Conclusion
I would venture to say the Chapuis RGEX is a quality double rifle at what can only be described as a bargain price. I would compare it favorably to the Merkel 141 Petite Frame double and rate it above any of the Sabattis. It is several orders of magnitude superior to anything I have seen from Russia.