Choosing a Set of Celestron 1-1/4" Oculars
By Chuck Hawks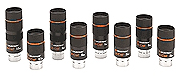 The X-Cel Series eyepieces.
Photo courtesy of Celestron International.
So, you want to buy a set of Celestron 1.25" (32mm) mount oculars. Maybe you own a Celestron astronomical telescope and you trust the brand, or perhaps your telescope came with (or you purchased) a set of "bargain priced" oculars that didn't turn out to be a bargain. You enjoy observing and realize the time has come to buy a set of high quality, name brand eyepieces. Celestron markets several ocular lines, so some decisions will have to be made to get the oculars that best suit your individual needs and preferences.
Alternatively, maybe you're just starting out and can only afford a couple of eyepieces right now. Celestron is a good ocular brand with which to start, as they have four good quality eyepiece lines. By choosing wisely you can minimize the expense of getting started and still get great views of both planetary and deep space objects. Keep reading, I will have some specific recommendations for you as we go along.
Celestron offers three pre-packaged 1.25" ocular sets. First, and easiest to eliminate, is the Astromaster Accessory Kit. This includes two eyepieces of inferior design, a cheap Barlow lens and a couple of 1-1/4" eyepiece filters in a cheap plastic box. Nothing in this set is useful, it's just sucker bait.
Next, there is the Observer's Accessory Kit. This contains Celestron's lower line 17mm and 6mm Plossl eyepieces, a two-element Barlow lens and three 1-1/4" eyepiece filters (red, blue and moon) in a better plastic case. The inexpensive 6mm Plossl is hard to view through and the red and blue filters will seldom be used, so the only useful elements are actually the 17mm ocular and the moon (neutral density) filter. You can buy a higher quality 17mm Plossl and a moon filter separately for less money, so pass on this kit.
The Telescope Eyepiece - Filter Set is the best of the packages and it is an easy way to get most of what you need. Unfortunately, the oculars are Celestron's lower line Plossls (not the top grade Omni Plossls); ditto the included two-element Barlow lens. The five oculars supplied in the set are fully multi-coated. Included are two short focal length Plossls, 6mm and 8mm, which are difficult to view through, because of their minimal eye relief and tiny field lenses. The other, more useful, focal lengths include 13mm, 17mm and 32mm. These, along with a set of six 1-1/4" colored eyepiece filters and a moon filter, are packaged in a decent, foam-filled, hard case.
The Telescope Eyepiece - Filter Set lacks a 24-26mm ocular and a zoom ocular. While the Set appears to be a good value for the bargain minded novice whose telescope came with a good 24-26mm Plossl eyepiece, choosing eyepieces individually from Celestron's more upscale Omni Plossl and X-Cel LX lines will result in a superior and more versatile ocular collection.
If you don't buy the Celestron Telescope Eyepiece - Filter Set with its fitted hard case, you will need to buy a case to hold your oculars. There are many possible sources, but two of the best are Zero Halliburton and Pelican. Be sure to buy a case large enough to hold not only your oculars, but also any other small accessories that you need or might remove from your telescope during transportation (finder scope, star diagonal, red flashlight, motor drive hand controller, etc.) A foam-filled case about the dimensions of the Pelican #1520 will usually do the job.
Celestron's top of the line oculars are the Luminos series with an 82 degree Apparent Field of View (AFOV). The optical set consists of six or seven lens elements (depending on the model) and is fully multi-coated for crisp, sharp views. The 31mm, 23mm and 19mm Luminos eyepieces come with 2" mounting barrels, while the 7mm, 10mm and 15mm oculars come with 1.25" barrels. The barrels are threaded for eyepiece filters.
The eye relief of the Luminos oculars varies with the focal length. For the 1.25" mounting barrel Luminos oculars that concern us here, the eye relief is 12mm for the 7mm and 10mm oculars and 17mm for the 15mm Luminos. They come with twist-up eyecups.
These are large and heavy oculars. The 1.25" models weigh 3/4 pound, so they are best suited to large telescopes (an 8" SCT, 4.5" APO refractor or larger) with heavy duty mounts to match.
The Ultima Duo oculars use eight lens elements in five groups. The lens elements are edge blackened and fully multi-coated. They feature a wide 68 degree AFOV and 20mm eye relief. Ultima Duo eyepieces are supplied with both 1.25" and 2" diameter mounting barrels. Focal lengths are 5mm, 8mm, 10mm, 13mm, 17mm and 21mm. All come with rubber fold-down eyecups.
These are essentially 2" mount oculars that are 60mm in diameter (about 2-3/8") and thus a bit oversize for use in 1.25" star diagonals. Celestron considers them an excellent choice for use with binoviewers. They give the person using a mix of 2" and 1.25" oculars a bit of extra convenience and are a good choice for someone looking to transition to 2" oculars. Integral 42mm threads for a T-mount adaptor make photography through the eyepiece convenient. Like the Luminos series, the Ultima Duo eyepieces are best for use in large telescopes.
Celestron also offers an 8-24mm Deluxe Zoom Eyepiece with interchangeable 2" and 1.25" mounting barrels. This large ocular has a 43 degree AFOV at 24mm and a 66 degree AFOV at 8mm. The eye relief is 15mm (at 8mm) to 20mm (at 24mm). This is in addition to their standard 1.25" 8-24mm Zoom Eyepiece, which is discussed below. I suggest reserving the Deluxe Zoom Eyepiece for use in 2" star diagonals.
Unless you have a large telescope and want oculars with 2" diameter mounting barrels, most Luminos and Ultima oculars should probably be avoided, due to their large size and weight that tends to over-balance small to medium size telescopes. Ditto the Deluxe Zoom Eyepiece.
Celestron's X-Cel LX and Omni oculars are probably the best choices for the person building a set of dedicated 1.25" oculars. The X-Cel LX line are short to medium focal length oculars excellent for planetary viewing. Focal lengths include 2.3mm, 5mm, 7mm, 9mm, 12mm, 18mm and 25mm. These are six element oculars with blackened lens elements and the AFOV is a uniform 60 degrees. The eye relief is a 16mm and they have twist-up eye cups. Threaded barrels accept 1-1/4" screw-in filters. Although they are more expensive, I prefer the X-Cel LX to the Omni plossls in equivalent (or very similar) focal lengths.
The Omni line is Celestron's deluxe Plossl design oculars. Focal lengths include 4mm, 6mm, 9mm, 12mm, 15mm, 20mm, 25mm, 32mm and 40mm. Omni's are fully multi-coated, edge blackened and baffled. Omni's go through a two-step anodizing process to prevent reflection from the top eyepiece barrel and come with fold-down rubber eyecups. Their threaded barrels accept 1-1/4" screw-in filters. The AFOV is 50 degrees for most focal lengths, while the eye relief varies with focal length.
As with all Plossl oculars, the eye relief is excellent with the long focal length eyepieces, but decreases with focal length. Short focal length Plossl's have uncomfortably short eye relief and are a poor choice for eyeglass wearers. The Celestron Omnis are very good Plossl oculars.
I was a Celestron dealer for many years and I have used their oculars for over 25 years in my personal telescopes. Here is how I would put together a complete set of Celestron eyepieces, using my needs and preferences as a guide. Of course, these may be different than your priorities, but I hope that the basic process will be instructive and makes reading this article worthwhile.
Long focal length oculars: 32mm to 40mm
The Plossl optical design is very good for long and medium focal length eyepieces, delivering a sharp, flat field and an apochromatic image. A large field lens makes the ocular easy to look into. Of course, the entire eyepiece must be manufactured and finished correctly to realize the design's full potential.
Celestron's Omni Plossl 32mm and 40mm oculars are high quality examples of the type, with machined, anodized aluminum, non-reflective bodies and multi-coated lens elements with blackened lens edges. They offer excellent sharpness, contrast and plenty of eye relief for eyeglass wearers. The 32mm Omni has 22mm of eye relief, while the 40mm Omni boasts 31mm of eye relief. Both have fold-down rubber eyecups to help keep stray light off of their large field lenses.
The apparent field of view of the 32mm Omni is 50 degrees and the AFOV of the 40mm is 43 degrees, due to vignetting caused by the 1.25" mounting barrel. The result of this difference in AFOV is that in any given telescope the 40mm and 32mm Plossls have essentially the same actual field of view. The 40mm is brighter, because it has a larger exit pupil, while the 32mm makes everything in the field of view larger.
These are good low magnification eyepieces. If you want to stay with Celestron 1.25" eyepieces, they are really the only choice, since the 1.25" X-Cel, Luminos and Ultima oculars are not offered in focal lengths longer than 25mm. Fortunately, the 32mm and 40mm Omni Plossls do a very good job.
Because the actual field of view is the same, most observers can get by with just one of these long focal length oculars. If your telescope has a medium to short focal length, say around 1000mm or less, I'd suggest the 32mm Plossl. Folks with long focal length scopes (1500mm and greater) will probably appreciate the greater exit pupil and therefore brightness of the 40mm Plossl.
Medium focal length oculars: 21mm to 26mm
Chances are that a 25mm Plossl eyepiece came with your telescope. It is probably an adequate ocular and, as long as you are satisfied with its performance, I can see no crying need to replace it.
If you did not get a good Plossl in the 24mm-26mm focal length range and are looking to purchase one, Celestron's 25mm Omni Plossl is a very good general purpose eyepiece. It is beautifully made and clearly superior to inexpensive Plossls.
Like all Plossl oculars, its symmetrical optical formula calls for four elements in two groups. The 25mm Omni's AFOV is 50 degrees and its eye relief is a generous 22mm, suitable for eyeglass wearers. Because its performance/price ratio is so favorable, it is the natural choice for anyone on a tight budget.
The 25mm X-Cel LX is a step up from the Omni Plossl. It is a six-element ocular that offers 20mm of eye relief, a 60 degree AFOV and excellent all-around performance. If your budget allows, the 25mm X-Cel LX is a fine choice.
The 21mm Ultima Duo is a high quality ocular that fills the bill for large telescopes. Fully multi-coated optics and eight optical elements in five groups provide excellent correction of chromatic aberration and field curvature. The apparent field of view is 68 degrees with 20 mm of eye relief. Particularly for those who wish to attach their camera to the eyepiece and photograph very bright objects, such as the Moon, Jupiter, Mars, Venus and Saturn, it is the best choice.
Medium-short focal length oculars: 12-18mm
Celestron's offers several 1.25" eyepieces in this useful focal length range. These include the 12mm and 18mm X-Cel LX, 12mm and 15mm Omni Plossl, 13mm and 17mm Omni Duo, and 15mm Luminos.
The premium 15mm Luminos is an excellent eyepiece for large telescopes. Its eye relief is 17mm, adequate for most eyeglass wearers. A 26mm field stop diameter makes the Luminos very easy to look into. Like all Luminos oculars, it features an extra-wide 82 degree AFOV.
The Luminos eyepiece body is made of polished and anodized aluminum. A rubber grip runs around the middle of the eyepiece, giving you a secure grip and an easy method for raising and lowering the retractable eyecup. The 1.25" mounting barrel is threaded to accept filters.
The 13mm and 17mm Omni Duo oculars offer excellent viewing with a full 20 mm of eye relief, making them the best choices for eyeglass wearers with large telescopes. The AFOV is a very generous 68 degrees and fold-down rubber eyecups are standard.
The 18mm and 12mm X-Cel LX oculars offer a 60 degree AFOV, 16mm of eye relief and twist-up eyecups. These are sharp, high contrast oculars with adequate eye relief for most eyeglass wearers. Many observers, including me, find their 60 degree AFOV ideal for comfortable viewing. The X-Cel LX oculars are reasonable in size and weight, designed specifically for 1.25" star diagonals.
The 15mm Omni Plossl has a 50 degree AFOV and 13mm eye relief. It is a sharp and contrasty ocular that offers more magnification and weighs less than the 18mm X-Cel LX. It is a reasonable choice for those who do not wear eyeglasses when viewing, or who want the extra magnification of the shorter focal length.
The 12mm Omni Plossl also has a 50-degree AFOV, but a more restricted 8mm eye relief, which borders on being uncomfortably short even for those who do not need eyeglasses. In a 12mm ocular, I recommend the X-Cel LX.
Short focal length oculars: 2.3mm to 10mm
The selection of 1.25" eyepieces is extensive in this focal length range. Celestron offers focal lengths of 7mm and 10mm in the Luminos line; 5mm, 8mm and 10mm in the Ultima Duo line; 2.3mm, 5mm, 7mm and 9mm in the X-Cel LX line and 4mm, 6mm and 9mm in the Omni line. All of these Celestron short focal length oculars provide good to excellent optical performance in their respective focal lengths, but they are not created equal.
The majority of Celestron telescopes have a medium focal ratio (f/9 to f/11) and adequate focal length, so they do not need very short eyepieces for high magnification. They will be beyond their useful magnification with oculars shorter than about 7mm in most seeing conditions.
The Luminos oculars have an 82 degree AFOV, which should be wide enough for anyone. The 7mm ocular has a 15mm field stop and the 10mm ocular has a 17mm field stop, so they are easy to look through. The eye relief of these two Luminos oculars is 12mm, which is fine for those who do not wear eyeglasses, but not so good for those who do. Both have a catalog weight of 12 ounces.
The 8mm and 10mm Ultima Duo eyepieces feature the line's usual 68 degree AFOV and 20mm eye relief. They offer excellent views and are comfortable for both eyeglass wearers and those who do not need glasses.
The entire X-Cel LX line is designed for a 60 degree AFOV and 16mm eye relief, so it is generally acceptable for eyeglass wearers. They combine sharp, wide-field views without noticeable lateral color error and a reasonable price. Internal light scatter is well suppressed, important for planetary and lunar observing where high magnification is most often useful. Especially in the short focal lengths, the X-Cel LX series is my preferred way to go in 1.25" oculars.
The short focal length Omni Plossls have a 50-degree AFOV. As the focal length decreases, so does the eye relief and exit pupil of Plossl oculars, which makes short focal length Plossls distinctly less enjoyable to view through than the X-Cel LX eyepieces. The 4mm and 9mm Omni oculars have only 6mm of eye relief and the 6mm Omni has 5mm of eye relief. None of these are suitable for eyeglass wearers.
Due to their symmetrical design, Plossl oculars are particularly subject to internal reflections from one optical group to the other when viewing bright subjects, such as Jupiter and Venus. I suggest spending the extra money for X-Cel LX oculars in these short focal lengths.
Zoom ocular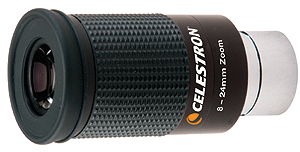 Celestron 8-24mm Zoom Eyepiece. Photo courtesy of Celestron International.
This choice is easy in the 1.25" size. It is Celestron's four element, fully multi-coated, 8-24mm Zoom Eyepiece that has an AFOV of 40-60 degrees (40 degrees at 24mm and 60 degrees at 8mm, the opposite of what you would expect) and offers 15-18mm of eye relief. This means the zoom is at its best at the shorter focal length settings.
Zoom oculars have improved tremendously during the years that I have been telescoping. Once regarded as an optically inferior gimmick, the performance of the better zoom eyepieces has been upgraded to the point they must be taken seriously.
This is the same evolution that has occurred during my lifetime in zoom camera lenses and zoom riflescopes and it has been made possible by tremendous advances in computer aided lens design and improved anti-reflection lens coatings (multi-coatings). The user reviews of Celestron's 8-24mm eyepiece have been positive and it is relatively inexpensive.
Zooms are handy for quick looks and for determining the correct eyepiece focal length that the subject and seeing conditions will allow for detailed observation. They are also useful when several people are using the same telescope and want to see the subject at various magnifications or fields of view. A zoom ocular is a useful addition to any eyepiece set and it tends to get more use than the buyer initially expects.
For the beginner on a tight budget or the traveling astronomer, the 8-24mm zoom can be a worthwhile alternative to initially buying individual oculars in its focal length range. If you have an Omni Plossl 32mm ocular and a 25mm X-Cel LX or Omni, an 8-24mm Zoom can complete your starter set. You can head into the field for some dark sky observing without being at any great disadvantage or breaking the family budget.
Barlow lens
A 2x Barlow effectively doubles the focal length of whatever ocular you put in it, but it does not affect the eye relief of the ocular. (Technically, it doubles the focal length of the telescope, not the ocular, but in terms of magnification it is the same thing.) Superficially, this seems like a good deal.
However, the price for this increase in magnification is making the light pass through more glass, which is never good, and doubling the focal ratio. For example, your f/8 telescope becomes an f/16 scope when you use a 2x Barlow lens!
If you have a reasonable set of oculars you don't need a Barlow lens and the beginner just starting out would be well advised to forgo purchasing a Barlow lens until he or she has acquired a viable eyepiece collection. In other words, I am suggesting that a Barlow is not necessary. Consider It a luxury item that you can delay acquiring. However, everyone seems to have a Barlow lens and eventually you probably will, too.
Celestron offers three 1.25" Barlows. These are the Omni 2x and X-Cel LX 2x and 3x models. (They also catalog a Luminos 2", 2.5x Barlow that is beyond the purview of this article.) If you want a Barlow, stick with one of the 2x models. A 3x Barlow unacceptably reduces the focal ratio of your telescope.
The Omni Barlow is the least expensive. It is fully multi-coated and has blackened lens edges, but it is a standard two-element design. This means that it will introduce lateral color error, even if your telescope and oculars are apochromatic. For this reason, I avoid two-element Barlows.
The X-Cel 2x Barlow is a three-element, apochromatic, fully multi-coated Barlow. This is a real improvement over the Omni Barlow, offering sharp, high contrast images that are virtually free of color fringing. For most users, the X-Cel LX is the best choice in a Barlow lens. Remember, though, the astronomer on a budget can skip a Barlow lens altogether.
Here is a suggested complete set of 1.25" Celestron oculars:
40mm Omni Plossl
32mm Omni Plossl
25mm X-Cel LX
18mm X-Cel LX
12mm X-Cel LX
9mm X-Cel LX
7mm X-Cel LX
5mm X-Cel LX
8-24mm Zoom Eyepiece
Here is a starter set of 1.25" Celestron oculars for someone on a budget:
32mm Omni Plossl (or 40mm Omni Plossl for 1500mm+ focal length telescopes)
25mm Omni Plossl
8-24mm Zoom Eyepiece