Choosing a Hunting Vehicle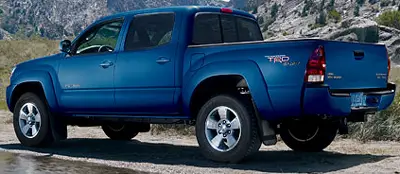 Toyota Tacoma. Illustration courtesy of Toyota Corporation.
I recently read the excellent Guns and Shooting Online articles about ideal hunting vehicles. (See the Outdoor and Shooting Accessories page.) During the last Christmas season I had the misfortune of needing a new vehicle. I thought I would share my thoughts on the vehicle purchasing process with my fellow Guns and Shooting Online readers. For my new vehicle I set out some criteria, which I think also bear on the topic of a hunting vehicle, as I intend to use my vehicle hunting.
The vehicle should have four wheel drive or all wheel drive. My daily drive is a scooter, which I do not like driving in icy conditions. Since one of the most critical uses for the new vehicle would be driving in those icy conditions, four wheel drive would be a big plus. This would also be handy in bad road conditions often found in remote hunting, camping or fishing areas.
The vehicle should be able to carry a goodly amount of cargo, including a large object, such as a grill. It should also be able to tow a trailer or carry a hitch mount scooter carrier. It also desirable to carry some of this cargo inside, locked away and out of the rain. My scooter is great for day to day commuting, but occasionally something big, or multiple items, need to be moved. The vehicle should be able to haul them.
The vehicle should be common, supported by an extensive nationwide dealer network. Having previously owned a BMW and at present owning a Volvo, I have grown very tired of mechanics refusing to work on them, not knowing how to fix them and parts taking days or weeks to arrive. The new vehicle should be a popular model that any mechanic, in even small rural communities, will be familiar with and for which auto parts stores will stock parts. This is something that is even more essential for a vehicle intended for hunting or fishing, as often the best places to find game are the worst places to find exotic auto parts and bouncing over logging roads can induce things to break.
The vehicle should not be too big. There can be too much of a good thing and I wanted my new vehicle to be handy to drive and park. This is essential for U-turns on narrow, unimproved hunting roads. While fuel economy is nice, this was not my most important concern, as the scooter will be used for daily driving.
After considering these criteria, I decided that a mid-size pickup or SUV would be best and an all wheel drive station wagon would also be suitable. These vehicles are big enough to carry a substantial payload, yet reasonably handy. Small SUVs seemed to have insufficient capacity, while the wheel base of full size trucks and SUV's is overly long.
Ford, Chevrolet, Dodge, Toyota and Honda are common in my area and likely to be supported anywhere. They all seem like excellent vehicles.
For trucks I considered both extended cab and crew cab versions, as a back seat is a very handy feature. Also, the driver's seat can recline much farther than in a regular cab, very handy at a rest stop or for camping out of your truck.
For both types of vehicles I considered a larger engine to be desirable, within reason. A small truck or SUV should have a high torque, six cylinder motor and a mid-size vehicle should have a V-eight. Smaller motors can leave the vehicle working too hard, especially on steep grades or when it is fully loaded and limit towing capacity. However, ginormous turbo-super-supremes are overkill.
In addition, there are comfort and convenience features that I find desirable in a vehicle, some of which can be added later:
Leather seats - Leather is easy to clean and seems to be less prone to searing flesh or gluing to it than vinyl. It also just seems nice. I like leather seats in a vehicle, just as I like a walnut stock on a rifle.

Cassette player - When bouncing around in far off lands your CDs can skip horribly and you may not like either one of the two radio stations you can half receive. The cassette player can play your cassettes, and also be used with an adapter for your mp3 players. Satellite (XM) radio is also a nice feature is such circumstances.

Running boards - These are handy for getting in the vehicle at the end of a long day and also for standing on when loading and unloading the vehicle.

Dome light - Surprisingly, not all vehicles come with this handy device for finding stuff in the dark. Map lights, also handy for their intended purpose, are not an adequate substitute.

Vent visors - These let you crack the windows to air out the vehicle and enjoy the fresh breeze, without winding up with a vehicle full of leaves and twigs. Also, they help when the sun is at the top of your side window.

Heavy duty bumper guard - Helps protect the front of your vehicle from errant deer and branches and can be a handy place to tie things, like a desert water bag. (Not or heavy objects or long trips.)

Roof racks - Handy for tying-down lightweight, but bulky, items.

GPS - Generally useful for navigation and for things like finding the nearest Wal-Mart, gas station or hospital.

Car chargers - So your cell phone and other devices do not die on long trips.

Fog lights - Generally handy for finding your way in fog. They also provide more light to the side, helping you spot potential hazards like deer and dogs.
I also consider features such as cruise control, heater, air conditioning, power windows, power mirrors, power door locks, power sliding rear windows, cup holders, arm rests and power sunroofs extremely useful. Two-tone paint jobs and pin stripes make me happy.
There is also one feature worth mentioning that Iíve discovered I do not like. Heavy tinting on side and rear windows can make seeing to the side and rear challenging at night and backing a substantial vehicle more of an adventure than necessary.
After that it just became a matter of looking for a used vehicle that met the criteria with features I liked, in good shape and at a price I could afford. Examples of suitable vehicles include the Toyota Tundra and Tacoma; Ford F-150, Explorer, Expedition and Ranger; Chevrolet Silverado, S-10 and Tahoe; Nissan Titan, Frontier and Xterra. In the end, I wound up with a Ford Lariat 4x4 Crew cab with a 5.4 liter V8.