Choosing the Right Pack
By Adam Gubar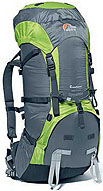 Lowe Alpine Contour backpack. Illustration courtesy of Lowe Alpine.
One of the most important decisions in the backcountry, if you choose to wear a backpack, is the pack you wear. Especially if you are on a tight budget, the pack should represent a significant investment, as it is also an item that can make or break your trip. Certain high-end models can even cost as much as your rifle.
There are three basic types of packs: internal frame, external frame and frame-less. Each has its own merits and limitations. Internal frame packs are typically the most comfortable. These use a flexible sheet of aluminum inside to give them strength. They generally have the most secure and adjustable suspension systems.
External frame systems employ an aluminum or steel tube frame onto which a separate ruck and shoulder straps are attached. External frame packs typically have the largest internal capacity and are easier for attaching accessories such as weapon scabbards. However, this is accomplished at a weight premium and rigid construction that is harder on the back. The external frame tends to push the posture forward causing "GI back," the stooping effect many soldiers get after carrying 70+ pounds around in external frame packs for extended periods.
Frame-less packs are essentially knap sacks, or the book bags seen on schoolchildren everywhere, and are by far the most affordable. These packs are often one-third the weight of even the lightest internal frame pack, but are not as comfortable on long hauls. They have the smallest internal capacity of any of the packs available. These are mostly used on single day excursions or people looking to shave every possible ounce.
Whatever you decide, there are few issues to keep in mind. The first is proper fit. All packs are not created equal. Make sure the pack is appropriate for your size and build or you will have nothing but problems including sores, muscle strain and fatigue. Internal and external frame packs use a suspension system and require a certain amount of measuring that frame-less packs do not. Think of the suspension system as being similar to a weight lifter's belt. Part of the purpose is to keep the back aligned, providing support and helping to prevent traumatic wrenching. The most common error is that people choose a pack based on how tall they are head to toe. Unfortunately, too many people find out only through injury that this is not correct.
A pack should be measured against the torso, not the whole person. Measure from the small bump at the base of the neck that protrudes when the head is craned forward to the base of the spine just slightly above the keester. This will provide a reasonable idea what length a new pack should be.
The other important measurement is the kidney pad and the belt. The belt should distribute the load of the pack across the top of the hips. This way, the large bones and muscles of your legs are doing the majority of the work to support the pack, not your back and shoulders. The kidney pad and belt should be broad to provide maximum comfort and textured to allow your body to breathe underneath it. Top manufacturers, such as Gregory and Lowe Alpine, have specifically designed their products to account for the physical differences between men and women with gender specific models.
Never buy a pack without first wearing it. Bring a couple of water jugs and a heavy jacket with you to the store. See how the pack feels. Get the suspension system set for your particular dimensions and stroll about. Notice if your gait or posture changes. Stooping, swaying and lumbering are signs of a pack that is too large. Itching, rubbing or scratching is indicative of a poor fit, or possibly poor construction.
Your pack should be able to expand or contract with your needs. The more configurable your pack, the less stress will be involved. Key features to look for are compression straps for keeping loads from shifting, internal hydration bladder sleeves, rain covers, internal dividers, external attachment points (including webbing, shock cord, pockets or mesh), easy access and external compartments. Many packs offer detachable day packs, useful if you are hiking in to set up a base camp from which to hunt and specific attachment points for items such as trekking poles or shooting sticks, water bottles, GPS units and sleeping bags. There are even packs with built-in rifle scabbards >that fit a variety of weapons.
Test different brands and even different styles of the same brand. Learn what is best for your needs. All of the top brands are extremely durable and are backed by significant warranties, so feel free to experiment. Remember, your pack is your home for the time you are in the field.