COAST FL75R Rechargeable Headlamp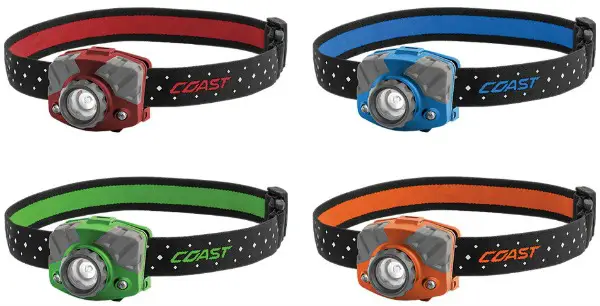 Showing four of the five color options (black not shown). Illustration courtesy of COAST Products, Inc.
With the advances in LED technology, the variety of headlamps has literally exploded. They come in all sizes, luminosity and price. You can find them from less than $20 to over $200. That brings us to the question, which one of the dozens available should you select?
We feel the following criteria are essential for a headlamp that is suitable for hunters, campers, hikers and amateur astronomers:
1. Do not consider the cheap bargain headlamps you find at the checkout lines of the big box sporting goods stores; they are better suited as toys for your kids.
2. The unit should use conventional AA or AAA batteries. Our reasoning for that is availability. A lot of units use CR123A, CR2032 or CR2016 batteries, which can be difficult to find in a lot of locations. (However, it is easy to carry spare batteries, especially if they are no bigger than AA size. -Editor)
3. The light must have a minimum output of 200 lumens and preferably the ability to focus out to 100 yards on high output.
4. The unit must be tough enough to survive the impact of a fall, being stuffed into the bottom of a backpack, or dropped into the back of a vehicle. The inexpensive units ($15 - $30) look good in the store, but are constructed from cheap plastic that will crack over time, even if you manage not to drop them.
5. There should be a low output setting and a red LED to preserve night vision when required.
6. Finally, it would be nice if the unit has more than a one year warranty.
When you look at these criteria, the majority of the headlamps drop out. We previously tested and reviewed the COAST FL85, which met those specifications and determined it was the best headlamp on the market for the price.
How do you make a good headlamp better? Make it rechargeable, while retaining the ability to use conventional batteries. That is what COAST has done with the FL75R. It meets all of our criteria above and includes a Li-Ion battery pack.
The primary control button on the front turns on the unit and controls the high or low lumen output. A twist of the bezel gives you the ability to switch from a wide floodlight beam to a long distance spot beam.
The second control button switches the unit to a fixed red LED light, which is very useful when you do not want to destroy your night vision, but still need some illumination. Amateur astronomers require this feature.
You are not going to break this unit, unless you decide to use it as a hammer. The FL75R carries ANSI/FL1 and IPX4 Weatherproof ratings. Finally, the reflective safety strap is very beneficial during night use.
FL75R SPECIFICATIONS
High Output: 530 lumens, beam distance 511 ft, runtime: 2.25 hours
Low Output: 65 lumens, beam distance 177 ft, runtime 11 hours
Color Options: black, red, green, blue and orange
Weight: 3.2 oz.
Batteries: LI-ION Pack or 3xAAA (all included)
LI-ION Pack Charger: Ion pack can be charged inside or outside of the headlamp
Warranty: Limited lifetime
2017 MSRP: $105.00
Now, we have a choice between COAST headlamps. The FL85 uses AAA batteries only, while the FL75R uses either AAA batteries or a Li-Ion battery pack.
Since we bought both, we do not have to worry about which one to purchase. Our only question is who gets to use which headlamp in the field. Mary likes the FL75R (she keeps it recharged from her truck), while I like the FL85, since I always carry extra batteries in the field. Either way, one cannot go wrong with these COAST headlamps.