Coast G19 Penlight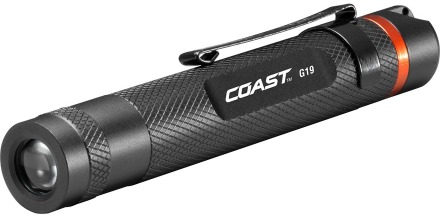 Illustration courtesy of Coast, Inc.
With the development over the past few years of high output LEDs, there has been a race among flashlight makers to produce units with more and more lumen output. While this is all well and good, they have often overlooked that there is still a need for the penlight suitable for pocket or purse.
At the 2015 SHOT Show we were pleased to discover that Coast has not forgotten that need. Their small G19 penlight puts out an impressive 54 lumens from a single AAA battery. It is lightweight, weighing in at only two ounces, yet constructed from high strength aluminum.
This is not one of those cheap lights that you find at the checkout stands of grocery or big box stores. This is a well constructed, heavy duty, impact and water resistant flashlight.
Features and Specifications
Fixed inspection beam: a near perfect circle of consistent and smooth light
Unbreakable LED with a 54 Lumen light output
2.5 hour run time
20 meter (65 ft.) beam distance
Length: 4.02 in. / 10.2 cm
Weight: 2.0 oz. / 56.7 g
0.6 inch diameter
1 AAA battery (included)
Meets ANSI/FL1 Standards
Lifetime Warranty against defects in materials or workmanship
2015 MSRP: $11.99
The most amazing aspect of the G19 is the MSRP of only $11.99. Yep, you read that right. It costs less than twelve bucks. I have no idea how the folks at Coast did it, but this has got to be the 2015 bargain of the year. At that price one can afford to buy half a dozen and keep one in the truck, car, desk, tackle box, backpack, fanny pack, range bag, briefcase and, of course, in your pocket or purse.