Coast HP7 LED Flashlight (#19279)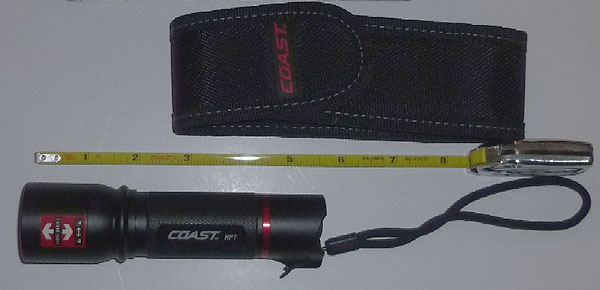 Illustration courtesy of Coast, Inc.
The Coast HP7 is a four AAA cell powered, 5-1/2 inch long flashlight that produces 207 lumens of light, a 3.5 hour run time and has a 187 meter beam throw, according to ANSI FL1 standards. It is also a lot more than what the basic specs promise. At the low power, it is a 20 lumens output light, with a 20 hour burntime and a 20 meter beam.
Aside from the aluminum bodied light itself, it comes nicely presented with batteries, lanyard and a well-designed holster. To turn the light on there is a well-recessed rubber button at the back of the case that is unlikely to be hit accidentally. The beam is quickly focusable, just by sliding the bezel in and out, and is locked into place with a quick twist. All the way in, you have a flood pattern, completely extended, you have a spotlight.
Light output: High - 207 lumens; Low - 20 lumens
Runtime: High - 3 hours 30 minutes; Low - 20 hours
Beam distance: High - 187 meters; Low - 22 meters
Power source: 4 - AAA batteries (included)
Construction: Aluminum casing, Rubber rear switch; Impact and water resistant
Modes: High and low output
Weight: 7.2 ounces (including batteries)
Length: 5.54 inches
Diameter: Body 1.24 inches, Bezel 1.49 inches
This unit is called out as #8407 in the Coast catalog. It appears that this light is offered in a few different packaging options contingent on retailer. There is a bubble pack version sold at Lowe's that is the same light (according to Coast), but in a titanium colored case, to cite one example. The HP7 as tested has an O-ring seal at the end cap, so it is water-resistant and is also ANSI FLV1 impact resistant rated at one meter. My only gripe is the knurling on the flashlight body itself. For a hunting light, I'd like to see a deeper, grippier, checkered texture than what is currently on the aluminum body.
I'm impressed with this light, a far cry from the genre of "battery brand" type lights that seemingly exist only to try to sell batteries. Coast is to be commended for following and explaining ANSI FL1 standards. Like many products, what they might be touted as doing can be whatever is printed on the box. For example, "Run time" is tested with fresh batteries from 30 seconds after the light is turned on until the light output reaches 10% of the initial measurement. It isn't until your light goes dead, at least not according to the FL1 standard.
The HP-7 retails for $110, but can be had for about half that from the usual sources. It is an impressively bright, well-designed light. It can be stood on end in "candle mode," for example, which you can't do with many similar lights. The generous run-time, compact size, and instantly variable beam diameter makes this one of the most practical, versatile lights of this type I've seen.