Coast TX14R Rechargeable Tactical LED Flashlight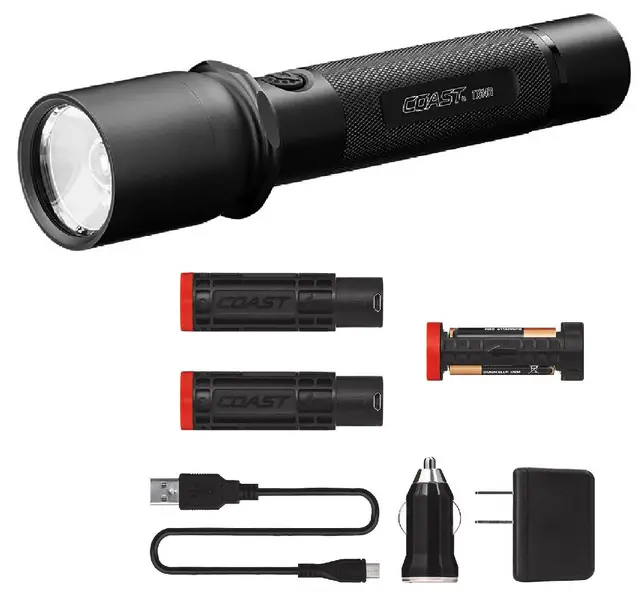 Illustration courtesy of COAST Products, Inc.
Over the past ten years, we have tested and reviewed more than a dozen flashlights. Most functioned quite well with excellent price points. However, during that time, the one brand that consistently exhibited the highest quality and greatest durability was COAST. And, no, we are not on their payroll. They just make excellent products.
With the introduction of the TX14R, they have produced what may well be the perfect flashlight for every application. The TX is a complete unit that comes with both AC and DC adapters for charging, plus the essential USB cord to connect them to the unit. Also included are two rechargeable batteries, so that while one is being recharged, you still have the use of the other.... AND, as an emergency back up, they included an adapter pack with 4-AAA alkaline batteries (also included).
This unit is perfect in size and shape for law enforcement and/or military personnel, It is lightweight, weighing only 8.8 ounces and compact enough to be unobtrusive on the belt, about 7 inches in length. It features a high beam of 900 lumens and a low beam of 165 lumens (with the rechargeable Li-ion batteries). It is somewhat less with the backup alkaline battery pack (565 lumens).
If the luminosity of this unit was not enough to convince you of its benefits, add in the long range focus from flood light to spot light. For good measure, there is a strobe.
As with all Coast units, it has a lifetime warranty against defects and is tested and rated to ANSI/FL1 standards. ANSI FL1 standard requires that the light withstand repeated 3 meter drops on hard surfaces and still function. Although not subjected to IPX8 submersion tests, we fully expect the unit to be waterproof for operations during inclement weather because of its typical Coast construction and O-ring seals.
As readers who are hunters, campers and backpackers have already surmised, the TX14R is also perfect for us. You can recharge the light with the battery pack installed via the charging port below the tail cap of the unit. Turn the tail cap about 1/8th of a turn counterclockwise and pull to expose the charging port. When charging, the batteries will display a series of flashing green lights... when the unit is fully charged, they remain steady. You can also charge the Li-ion battery pack separately and outside of the flashlight. It has the same charging light pattern.
The focus feature of the TX14R functions by sliding the head of the light forward for tight spot beam and rearward for the broad flood beam. By pressing the quick cycle switch (button), you switch from high beam, strobe and low beam, in that order. There is also a momentary illumination feature, whereby you partially depress the on/off button with light pressure (not fully depressed for a full click). This feature allows for a quick on/off illumination in certain critical or special situations.
Specifications
High Beam Output: 900 lumens with Li-Ion Batteries
High Beam Distance: 1381 ft. / 421 m.
High Beam Runtime: 4 hours 15 minutes
Low Beam Output: 165 lumens with Li-Ion Batteries
Low Beam Distance: 600 ft. / 183 m.
Low Beam Runtime: 8 hours
Alkaline Battery Pack Output: 565 lumens
Beam Distance: 1102 ft. / 336 m.
Beam Runtime: 1 hour 30 minutes
The MSRP of this unit is $160, which puts a dent in most folks pocketbooks. However, it is available from several online retailers for about $100, which makes it an excellent bargain. Especially when you consider the versatility and durability of the unit. We recommend this unit to everyone who is looking for that one flashlight that does it all.