Coast POLYSTEEL 600R Rechargeable Flashlight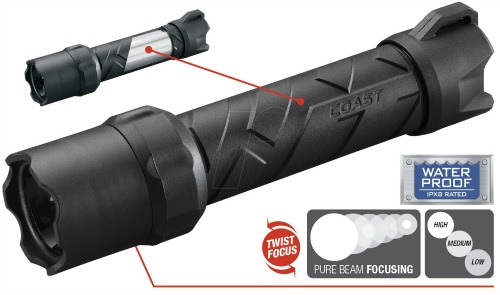 Illustration courtesy of Coast, Inc.
How do you make one of the best flashlights on the market even better? Add a rechargeable feature. That is exactly what the folks at Coast did with their Polysteel 600, now the 600R. When Coast informed us that they had added a rechargeable feature via a Lithium battery pack, but keeping the alkaline battery option, we had to try one.
We have bought and tested dozens of flashlights over the years, ranging from the cheap ones found at the checkout counter of every sporting goods store in the country, to the high end tactical ones marketed to the military. For the money, we have never found a better one than the Polysteel 600.
We were not disappointed. While the Lithium mode does not have quite the lumen output of the original Polysteel 600 (530 lumens vs. 610 lumens), with alkaline batteries the output jumps to 710 lumens.
Combine this high output with the Pure Beam Focusing unique to Coast and you have a flashlight that rivals and outperforms most units rated at 1K lumens. To this day, we still do not fully understand how their pure beam technology works, except that they have been able to focus more coherent light on target than their competitors.
If the lumen output of the 600R were not enough to sell us, the construction certainly did. It has a stainless steel core that is wrapped with a textured nylon polymer. We have no doubt that this light would survive the toughest environment that any outdoorsman might encounter and still keep working.
There is an additional benefit for sportsmen. The rechargeable battery pack features a charging port that allows for the external charging of other devices that utilize standard USB inserts.
It meets IPX8 (waterproof) and ANSI FL1 (drop) flashlight standards. Only one other flashlight that we have tested has ever met those standards and it did not put as much light on target as the POLYSTEEL 600R. IPX8 standard requires that the light be watertight (waterproof) at depths of three meters. ANSI FL1 standard requires that the light withstand repeated three meter drops onto hard surfaces and function correctly.
The optional polymer casing colors permit one to earmark individual 600Rs for specific locations. That way, it is easier to keep track of multiple units. After you try one, you will definitely want to procure additional lights.
Features
Pure Beam Focusing Optic
Twist Focus Technology
Polymer options available in black, red, blue, green or orange
IPX8 (FL1 standard 3m drop & 3m waterproof)
Lithium battery pack and charger included
4 x AA batteries (included)
Specifications
With Lithium Batteries
Lumens: High - 530, Medium - 155, Low - 42
Runtime: High - 5 hours 45 minutes, Medium - 9 hours 30 minutes, Low - 35 hours
Beam Distance: High - 685 ft.(209 m), Medium - 354 ft. (108 m), Low - 193 ft (59 m)
With Alkaline Batteries
Lumens: High - 710, Medium - 245, Low - 73
Runtime: High - 2 hours 15 minutes, Medium - 5 hours 15 minutes, Low - 40 hours
Beam Distance: High - 810 ft.(247 m), Medium - 465 ft. (142 m), Low - 255 ft (78 m)
Construction: Poly casing over stainless steel core
Overall length: 8.12 inches (in spot mode)
Weight: 12 oz.
Diameter: 1.87 inches
Power source : 4 x AA batteries or Lithium battery pack
2017 MSRP: $90.00
If you can find a better flashlight for the price, buy it. However, we are convinced that there are none that match the quality and versatility of the Coast Polysteel 600R. In fact, it is time to order a couple more for our trucks.