Colt Single Action Army and Cowboy Revolvers
By Chuck Hawks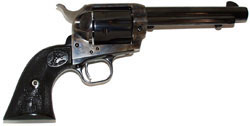 Illustration courtesy of Colt's Mfg. Co., Inc.
The Colt Single Action Army (SAA) was introduced in 1873. It became the most popular handgun on the American Frontier and the definitive firearm of the Old West.
The Colt SAA adopted by the U.S. Army in 1873 was in caliber .45 Long Colt. U.S. Army revolvers had 7 1/2 inch barrels, and the inspector's initials (and often date) were stamped into the grips. The U.S. Ordinance Department's test board concluded: "the Colt revolver superior in most respects, and much better adapted to the wants of the Army than the Smith & Wesson." The U.S. government procured over 37,000 Colt SAA's over the next 19 years.
Various Colt SAA models were built from 1873 to 1940. Production was reinstated in 1956, the beginning of the "2nd Generation" of SAA's. 1976 saw the introduction of the "3rd Generation" (New Model) SAA's, which are still being made as I write these words in 2006. The differences between one generation and another are minor.
Over the years Colt has produced SAA variations under the names Peacemaker, Frontier Six-Shooter, Bisley, Bisley Target, Flattop Target, New Frontier, Buntline, and possibly others. Collectors often refer to various models as Buntline, Long-Flute, Rimfire, Sheriff's, Storekeeper's, and U.S. Martials.
.45 Colt was the official U.S. military caliber, and has also been the most popular caliber in civilian versions of the revolver, but many other calibers have been offered over the long lifetime of the SAA.
The calibers recently offered are .45 Colt, .44-40 WCF, and .357 Magnum/.38 Special. In the past many other cartridges have been offered. Altogether, some 30 different SAA calibers appear in Colt records.
Barrel lengths of 4 3/4 inches, 5 1/2 inches and 7 1/2 inches have always been the most popular, but several others have been produced over the years. Current production is supplied with 4 3/4 inch and 5 1/2 inch barrels. 7 1/2 inch barrels are available by special order.
Colt SAA revolvers have been produced with a myriad of metal finishes. Most common is a combination of blued steel with a color cased frame. Gold and silver plated examples were turned out by Colt to special order, and various combinations of nickel, silver, gold, color case, and blue have also been produced.
Standard grips were walnut or black hard rubber. Exotic woods, metals, ivory, mother of pearl, stag, and probably other materials were also used for SAA grips. Grips were smooth, checkered, or carved in various patterns. Colt logos, Colt medallions, and the American eagle are found on most SAA grips, but not by any means on all.
Engraved SAA's are fairly common. Colt offers A, B, C, and D factory engraving patterns. Grade "C" engraving (75% coverage) is the most popular. Many unique SAA's have been produced, some for historically significant figures such as General George Patton. The latter ordered his famous engraved SAA with nickel finish and ivory grips in 1916 and carried it through WW II.
Of course, most of the famous frontier personalities of song and story used the SAA after it was introduced. These include famous lawmen such as Wyatt Earp as well as outlaws like Frank and Jesse James. Plenty frontier notables and gun fighters are associated with the famous Colt. The SAA also became the favorite handgun of legions of anonymous peace officers, cowboys, farmers, miners, shop clerks, and gamblers.
Modern Colt SAA Revolvers
Colt SAA revolvers of the modern period (since production resumed in 1956) have been produced as Single Action Army and Buntline models. Standard models have a round top frame; barrel lengths are 4 3/4, 5 1/2, and 7 1/2 inches. The Buntline model came with a 12 inch barrel but was otherwise similar to the regular SAA.
The modern SAA remains true to its heritage. It is a traditional Colt single action powered by flat springs. It is properly and safely carried with the hammer down on an empty chamber. Nothing has changed in this regard since 1873, nor should it. Any single action revolver with the hammer down on an empty chamber is absolutely safe. It cannot be fired unless it is first manually cocked.
The SAA uses a hammer mounted firing pin, and a loading gate in the right side of the frame gives access for loading and unloading. The steel ejector rod housing is located on the lower right side of the barrel, aligned with the loading gate.
The fluted cylinder is easily removed for cleaning. It is removed from the right side of the frame.
The typical SAA with a 5 1/2 inch barrel is 11 inches in overall length and weighs 42 ounces. The current Single Action Army is an expensive revolver with a very high quality finish, assembled in the Colt Custom Shop.
The SAA New Frontier
A modern version of the flat top target SAA was introduced in 1961 as the New Frontier. A presentation version was made for President John F. Kennedy, who had coined the term "new frontier" during his 1960 election campaign.
The New Frontier has a flat top frame. The top strap of this frame is considerably more substantial than the rounded top strap found on standard SAA models. The sights consist of a white outline, target-type fully adjustable rear and a serrated ramp front with a square top blade. Calibers offered were .357 Magnum, .44 Special, and .45 Colt. Serial numbers end with the letters "NF."
The production of 2nd Generation New Frontier models ran from 1961 until production of all 2nd Generation SAA's ceased in 1975. But the model was reinstated in 1978 (a 3rd Generation SAA) and continued until the New Frontier was finally discontinued in 1983.
In 1984 SAA revolvers became available only from the Colt Custom Shop, and the New Frontier model is not available at all. This is a pity because the SAA New Frontier was Colt's only big bore hunting revolver.
The Colt Cowboy
An offshoot of the standard SAA is the Colt Cowboy single action revolver . . . Externally the Cowboy is a SAA clone dimensionally identical to the original. This all steel revolver comes with a traditional blue metal finish and a color cased frame. The grips are walnut.
Internally, however, it uses a new mechanism that incorporates coil springs and a transfer bar ignition system. Unlike all SAA models it is safe to carry a Colt Cowboy with all six chambers loaded. In this respect the Cowboy is more like a Ruger Vaquero than a traditional Colt single action. The Cowboy loads in the traditional manner with a half-cock hammer position. As the name implies, the Cowboy model was inspired by the sport of cowboy action shooting and intended to give competitors (or anyone else) a chance to own a genuine Colt SA revolver at a price far below that of a new SAA.
The Cowboy is available in .45 Colt caliber only. It comes with a 5 1/2 inch barrel and weighs 42 ounces. You will note that these specifications are identical to the Single Action Army.
Note: A full length review of these revolvers can be found on the Product Reviews page.