The Column, No. 122:
The .32 Winchester Special Returns to the Model 94 Rifle Line
By Chuck Hawks
To Winchester's credit, the reborn Model 94 lever action rifle is already being offered in calibers .30-30, .38-55 and .25-35. Now, for 2018, the iconic .32 Winchester Special has been added to the line.
The .30-30 Winchester has always been the most popular caliber in the Model 94, but for decades the second best selling Model 94 caliber was the .32 Winchester Special. I understand that over a million Model 94's have been sold in .32 Special and the cartridge itself is still a strong seller on most ammunition lists.
My first new centerfire hunting rifle, a 1963 Model 94 purchased when I was in college, was a .32 Special. I am sure Model 94 fans will appreciate the return of the .32 Winchester Special.
For decades there has been a debate between the legion of .30-30 fans and .32 Special partisans about the relative merits of their respective favorites. Winchester summed it up nicely in their old catalogs by calling the .32 Special, "perfect for black bear." I am inclined to agree with the implication that while the classic .30-30/150 grain load is about as good as it gets for deer hunting and kicks a bit less, the traditional .32 Spec./170 grain load is superior for black bear and larger animals. (Yes, I am aware of the .30-30/170 grain FP load at only 50 fps slower than the 170 grain .32 Spec. offering.)
Hornady LeverEvolution ammunition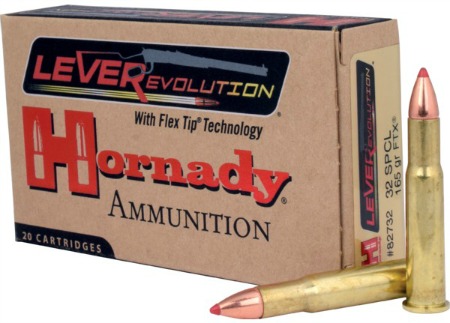 LeverEvolution .32 Special ammunition. Illustration courtesy of Hornady.
Hornady recently added .32 Win. Spec. to its LeverEvolution ammunition line. This load comes with a 165 grain FTX polymer tipped spitzer bullet at a catalog muzzle velocity of 2410 fps and muzzle energy (ME) of 2128 ft. lbs. If Winchester needed further encouragement to reinstate the .32 Special in the Model 94 line, this Hornady LeverEvolution load should have done the trick.
Of course, conventional .32 Special factory loads using 170 grain Flat Point bullets at around 2250 fps are offered by Winchester, Remington, Federal and other ammunition manufacturers. However, the Hornady LeverEvolution loads for traditional lever action rifle cartridges are not only extremely accurate in most rifles, they have appreciably increased the potential of these cartridges. Loaded to higher velocity with FTX spitzer bullets of superior ballistic coefficient (BC), the LeverEvolution loads flatten trajectory and put more energy on target, increasing killing power.
The velocity (fps) and energy (ft. lbs.) numbers for the Hornady LeverEvolution .32 Winchester Special load look like this from the muzzle to 300 yards:
2410 fps/2128 ft. lbs. at muzzle, 2144 fps/1685 ft. lbs. at 100 yards, 1897 fps/1318 ft. lbs. at 200 yards, 1669 fps/1020 ft. lbs. at 300 yards
If one accepts 1200 ft. lbs. of energy on target as reasonable for an elk cartridge, this is a 200+ yard elk load. Here are the Hornady trajectory figures:
-0.9" at muzzle, +3.4" at 100 yards, 0 at 200 yards, -13.1" at 300 yards.
Clearly, in terms of both trajectory and energy on target, this is a serious 200+ yard elk and Class 3 game load. It puts almost exactly the same energy on target at 200 yards as the traditional 170 grain FP load does at 100 yards!
The Winchester Model 94

Illustration courtesy of Winchester Repeating Arms.
The latest generation of the Angle-Eject Winchester Model 94 rifle is the perfect home for the hot .32 Special LeverEvolution cartridge. These are probably the best Model 94 rifles ever. They combine the latest Angle-Eject action that allows easy, low overbore, riflescope mounting with what is probably the best fit and finish ever seen on a standard production Model 94 rifle.
The .32 Special is now being offered across the Model 94 line, including the Carbine (20" barrel), Short Rifle (20" barrel) and my personal favorite, the Model 94 Sporter Rifle. This deluxe version comes with a 24" barrel to extract the full catalog velocity from factory loaded ammunition.
Guns and Shooting Online has previously reviewed Winchester Model 94 Sporter Rifles in calibers 25-35, .30-30 and .38-55.
Needless to say, we are anxious to test the new .32 Special version of the Model 94 Sporter, which we have already requested from our friends at Winchester. Watch the Guns and Shooting Online Product Reviews index page for the upcoming full length review.