The Column, No. 134:
The Happiest New Gun Owners
An estimated 8.4 million American citizens bought their first firearm in 2020, with another 3.2 million Americans buying their first gun in just the first half of 2021. No one should be surprised that there is an ammunition shortage that looks to continue for the next couple of years. Have you ever wondered who is the happiest with their new purchases? Here are a few models and brands that have satisfied their new owners the most.
Ruger 10/22 rifle

The Ruger 10/22 is an icon among .22 rimfire rifles. A .22 rimfire is just plain fun, cheap to feed, accurate, very low recoil. Everyone should have one, and it is hard to find anyone that isn't happy with theirs.
Syren Shotguns

About half of the new gun owners are women. For decades, female shooters have been largely stuck with "boys" firearms and clothing, which rarely is a completely satisfying approach. The Syren brand of shotgun pulls from the second largest shotgun manufacturer in Italy, Caesar Guerini / Fabarm, to finally offer female optimized shotguns. There is little more important than gun fit, and Syren has made clay target sports and wingshooting far more enjoyable for the ladies over the last several years.
Savage Accu-Stock Bolt Action Rifles

They are accurate, affordable, reliable, and Made in the USA. It is hard to go wrong with a Savage Model 10 and 110 bolt action, and the Accu-Stock and Accu-Fit enhancements have just made them more desirable.
S&W M&P 15, Ruger AR-556 semi-auto rifles

The Armalite platform rifles have been around since the 1950s. An old design by now, they are easy to shoot, easy to hit with, and are excellent for home defense, varmints, hogs, and are popular for target shooting as well. Low recoil and good accuracy appeals to everyone, and they fit most men and women well. There are several good examples out there under a thousand dollar sticker price. While I personally favor the Ruger Mini-14 as a utility rifle, the AR-15 is America's most popular, useful, all-around rifle.
Sig P365 handguns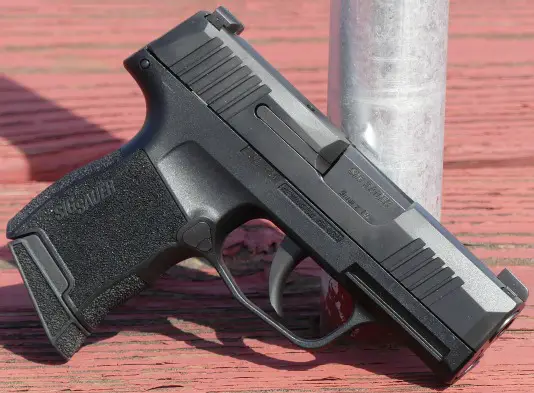 The Sig P365 and P365 XL handguns are what I recommend most as carry and personal defense handguns and their owners are happy. Naturally, there are several other very competent 9mm offerings out there, but Sig changed the market with the introduction of the P365.
Common calibers and gauges
With the scarcity of ammunition, those who go with common calibers and gauges have far more choices and are a lot happier than those with obscure chamberings. The folks with .270 Winchesters are likely to be a lot less frustrated than those with the .323 Super-Snorter. This is a trend likely to continue for the next few years, at least.