The Column, No. 34:
Susannah Clary Sets New National Shooting Record!
By the Guns and Shooting Online Staff
Susannah Clary with shooting legend J.J. Conway at the 2007 F-Class Nationals. Photo by Jim Clary.
Susannah Clary, of the Guns and Shooting Online Competition Department, was recognized by the NRA for establishing a new national junior shooting record in F Class Open long range rifle competition at the 2007 F Class National Championships. The 2007 F Class nationals were held at the NRA Whittington Center in New Mexico on September 13, 2007 and are covered in Column No. 30 as well as in a pair of articles in the "Competition, Marksmanship" section of the Rifle Information Page. Here is Susannah's certificate from the NRA: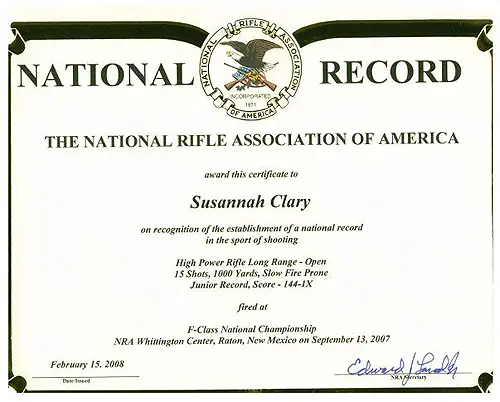 We here at Guns and Shooting Online are deeply proud of Susannah's achievement. In addition to her association with Guns and Shooting Online, Susannah has been selected to be a member of the Savage Arms Shooting Team, so we expect that you will be hearing more about Susannah Clary in the months to come. She is a young, intelligent, articulate and very attractive representative of the shooting sports. She is also an accomplished big game hunter and, best of all, she is one of us!