The Comfort Cling S91 Holster from Clinger Holsters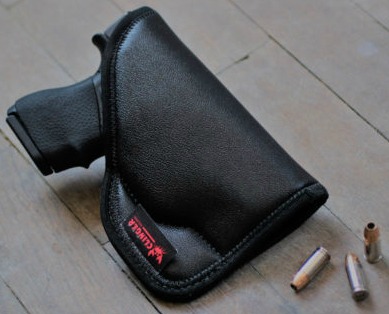 Photo courtesy of Clinger Holsters.
Clinger Holsters is best known for their value priced Kydex concealed carry holsters. However, they have just released a new clipless holster, which is named the "Comfort Cling." It sells for only $19.99 (2017 MSRP) and comes with a money back guarantee. That's right, if you do not like it you can send it back within two weeks for a full refund, no questions asked. You will like it, though.
Clinger holsters are also covered by a lifetime warranty. If your holster ever breaks down, they will repair or replace it for free (except for clips and screws).
The initial Comfort Cling model is the S91, which fits a wide variety of single stack, concealed carry pistols. These pistols are listed on the clingerholsters.com website. (More holster sizes are coming soon.) Here is what the Company says about the Comfort Cling S91:
"This is a clipless holster that clings where you stick it. You will not find a more comfortable holster. The Comfort Cling has a GEL-like core that completely dissipates the sharp edges of your gun.
It works as an IWB holster (inside-the-waistband). It also works great as a pocket holster. You can use it to stow your handgun in a glovebox or safe, as well. The trigger will be safely covered by your Comfort Cling holster.
So how does it work? The Comfort Cling holster has three layers:
1) Non Slip Exterior Layer: The exterior layer is a non slip fabric. When you put the holster in your waistband or pocket, it will stay behind when you draw your handgun. It is very durable (unlike other clipless holsters on the market) and designed to provide years of service.
2) GEL-like Middle Layer: We have designed a cushion material that has the feel of GEL, yet weighs less than foam. You will not feel any of the sharp edges on your handgun with this cushion barrier.
3) Low Friction Interior Layer: Ballistic nylon provides a very tough, durable interior for your handgun. It is low friction so that your handgun will slide out easily."
I tried an S91 with two 9x19mm pistols I use regularly, a Remington R51 and a Walther PPS M2. The S91 works extremely well, as the outside of the holster is grippy and clingy, but the inside is smooth for an easy draw.
The muzzle end of the holster is open, so dirt and moisture will not collect. The heavy duty perimeter stitching is unlikely to ever become a problem.
How you carry is up to you, of course, but for me this holster works best at the small of the back and it is extremely comfortable. The only pistol that I did not like using it with was an old IJ-70A Makarov .380 that has a snaggy, elevated rear iron sight.
For popular models, such as the Smith & Wesson M&P Shield, Ruger LC9, or Sig 230/232 series, most users will find this holster ideal. It is easy to use, comfortable and quick to insert where you want it. The Comfort Cling S91 holster is an excellent choice in a no-clip style of holster for inside the waistband or pocket use.