Comp-Tac Competition International Holster
By Chuck Hawks
Photo courtesy of Comp-Tac.com
Gregg Garrett was raised as a USAF brat. Encouraged by his parents, he learned to shoot early in his life. Soon after high school graduation, Gregg scored a scholarship and studied dance at the Houston Ballet Academy. He went on to dance with the Houston Ballet, performing around the world for several years.
In his early 30s, Gregg moved on to acting in films and TV series, generally action roles involving gun play and shooting. A nationally ranked foil and saber competitor, he also performed as a swordsman in supporting roles. He still occasionally serves as a technical advisor for TV shows and movies.
Gregg has attended numerous investigative and shooting courses and today holds more than a dozen licenses as an instructor in rifle and handgun disciplines. While working as a bodyguard, he found it impossible to economically and promptly obtain a satisfactory holster for the S&W Model 19 revolver he was required to carry concealed. (The turnaround time for a custom built holster was six to eight months.)
Consequently, Gregg bought a sheet of Kydex at a hardware store and, using a heat gun, formed it into a useable, if crude, holster he dubbed the "folded taco." Some of his executive protection teammates appreciated his creations low profile and minimal bulk and asked Gregg to make them similar folded taco holsters.
Around the same time, in 1996, Gregg became an active IDPA shooting competitor and he made his own Kydex competition holsters. Other competitors liked what they saw and commissioned Gregg to build them holsters. Soon, he was in the holster business, working out of his garage.
Four years later, Gregg hired his first employee and in December 2000 the fledgling Comp-Tac (Competition and Tactical) company officially came into existence by opening its website (www.comp-tac.com). Comp-Tac Victory Gear, LLC has grown rapidly ever since, producing affordable, comfortable, fast and safe holsters for competitors and self-defense shooters. They also offer belts for their holsters, as well as magazine pouches and clips for flashlights and pepper spray.
Comp-Tac holsters were brought to my attention by Jim Shultz of Shultz Media Relations, the public relations firm representing Comp-Tac. Like many shooters, I had been having trouble finding an adequate holster for the Glock 40 Gen4 MOS 10mm long slide pistol reviewed by Guns and Shooting Online last year. This pistol wears a Leupold DeltaPoint Pro miniature prismatic red dot sight and, as many owners of pistols equipped with optical sights know, holsters are not thick on the ground for such pistols.
I asked Jim if Comp-Tac made a holster for this pistol and, as it turns out they do. He promised to have a sample sent to me for review and this article is the result. Incidentally, both right and left hand holsters are available. Being right handed, I requested the former.
The package from Comp-Tac arrived promptly and, upon opening, I found a Competition "International" model holster for the G40 long slide pistol. (In addition to Competition holsters, the Comp-Tac holster lines also include Concealed Carry, Tactical, Women's and Holsters for Guns with Lights or Lasers.) Here is what Comp-Tac says about their International holsters:
"The International is an outside the waistband holster with a modular mounting design giving the user 16 holster options in 1. Designed to be worn at 3:00 this holster is perfect for competition shooting, concealed carry or general use. The International's all-Kydex body provides a rigid material that is custom fit to each firearm and maintains its shape even with the pistol un-holstered. The smooth, low friction surface allows for a fast draw and easy one-handed re-holstering of the firearm. The all Kydex body will not bend or stretch over time and is impervious to sweat and solvents. The raised lettering on the front of the holster specifies the make and model your holster accommodates, so you will never forget what gun it goes with."
Just don't leave the holster in a closed, locked car in the hot sun, as excessive heat might warp the Kydex. This holster is precisely molded to fit a G40 long slide pistol, just as would a custom made leather holster. It is clearly not a generic holster. The 2017 MSRP is a reasonable $64.99
The holster comes with three mounting systems, all formed from black Kydex. There is a belt mount (shipped attached to the holster), a paddle mount and a drop-offset, which sets the pistol away from the body and drops it to a lower position when used in conjunction with the belt mount or the paddle mount. The drop offset is made with a cross brace to keep it stable during the draw. It is claimed to be especially appropriate for many female shooters. All three mounts are completely rigid when mounted to the holster. (The International Holster modular mounting system will also work with the Black-Tech Tek-Lok, Safarieland ELS and Blackhawk Quick Disconnect systems.)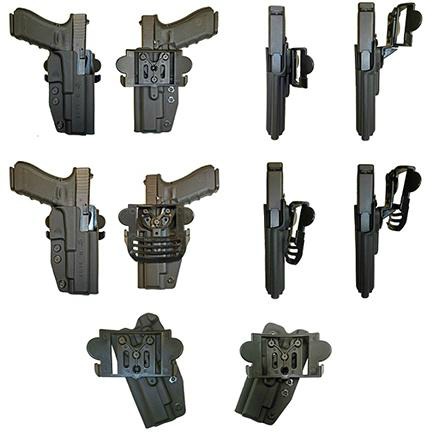 The belt, paddle and drop-offset mount alternatives. Illustration courtesy of Comp-Tac.com
Since I consider the big Glock 10mm Auto long slide to be primarily a hunting pistol, I used the belt mount. The mount is secured to the holster by three Allen head screws. A small hex wrench, along with all required mounting hardware, is included with each holster.
Multiple mounting holes are provided on the back of the holster to allow the holster to be attached to the mount with no cant, a muzzle forward rake (popularized by Jeff Cooper), or a grip forward (FBI) rake. I chose the muzzle forward rake, as this allows the gun to be worn in the cross-draw position that I prefer in the field, as well as the conventional "three-o'clock" strong side position for which the holster is primarily intended. The belt mount has a pronounced curve, intended to make it comfortable when the holster is worn on the hip.
The belt mount is designed to accommodate 1.5" or 2.0" wide belts, but not interchangeably. The belt slots are basically sized for two inch belts, but there are plastic tabs that restrict the opening for 1.5" belts. To use a two inch belt, you break off these tabs. Once removed, the tabs cannot be replaced, so be sure before you remove them. Since I normally wear a 1.5" wide Wilderness Tactical Products belt, I left the tabs in place and the mount worked fine.
Gun retention is entirely by tension, there is no retention strap on the standard International holsters. If you need a thumb-break retention strap, order a holster from the "International Duty Holster" line.
The tension on the holstered pistol is adjusted by three Allen head screws beneath the barrel in the holster edge. Thick rubber spacers are compressed as these tension screws are tightened to pull the edges of the holster closer together. (Use the same provided wrench you used to attach the holster mount.)
Being curious and not too bright, I completely removed the tension screws, which is not a good idea. When fully expanded, as when someone removes the screws, the rubber spacers are very difficult to compress enough to reinsert the adjustment screws. I wound up using a large vise-grip locked next to each screw hole to compress the spacer enough to get the adjustment screw started.
Once I got the screws back in place, I used an inside micrometer to get the gap approximately equal for all three spacers when partially tightened. I then adjusted the retention tension by holding the holstered pistol upside down over a soft surface (a pillow on a bed) and trying to dislodge the pistol from the holster. When I figured it was tight enough that I could fall down a hill head over heels wearing the holstered pistol and not lose it, but I could still draw the gun with one hand, I called it good for field use.
It now takes a strong pull to draw the pistol, but in an emergency I will still have a pistol to draw. Someone interested in the fastest draw would undoubtedly set the holster tension lighter.
The G40 is a large pistol and the Comp-Tac International holster with its belt mount for the G40 is a fairly bulky holster. This is not a rig for concealed carry, it is intended for competition or field use.
The holster carries the pistol sufficiently clear of the body to make drawing convenient. The belt mount precisely fits either 1-1/2" or 2" belts and the holster does not move around while being worn, or when the gun is drawn.
Perhaps the best feature of the Comp-Tac Competition International holsters is that the front is cut down to the front of the holstered pistol's ejection port. This allows most pistols equipped with reflex red dot sights to be used in the holsters just as conveniently as pistols equipped only with iron sights. The sight rail is 1/2" tall to accommodate tall front sights and suppressor/optic co-witnessing sights.
I found the International to be a secure and comfortable rig for extended wear. It does not overly restrict the wearer, allowing easy movement for climbing, hiking and stalking. Although primarily intended for strong side hip carry, the mounting system is versatile and allows several options.
Unlike most companies these days, the helpful folks at Comp-Tac encourage customers and potential customers who have questions to call and they include a card with their telephone number with their holsters. They also provide their phone number on the Comp-Tac.com website: 866-441-9157. Comp-Tac holsters and accessories can be purchased direct from the Comp-Tac.com website, from national dealers including Midway USA and Optics Planet, or from local dealers in all 50 states.