Compared: Benelli, Browning and Girsan Inertia Autoloading Shotguns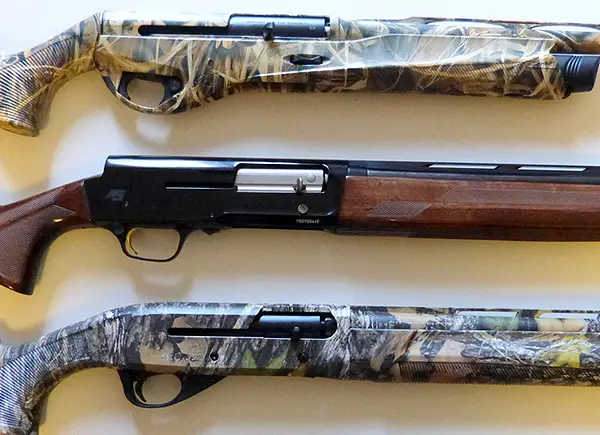 Top to bottom: Benelli, Browning and Girsan Shotguns. Photo by Randy Wakeman
Ostensibly due to the expiration of the Bruno Civolani patents, there are more and more "inertia" autoloading shotguns being introduced, beyond what is offered by Beretta Group affiliated brands. This is a comparison of three: the Benelli Vinci, Browning A-5 Hunter, and the Girsan MC312. All are 12 gauge with three inch chambers, have 26 inch barrels and are autoloaders based on the Civolani action.
Price
Benelli Vinci, Realtree Max-4 Camo: $1469 MSRP, about $1300 discount retail
Browning A5 Hunter, walnut: $1559 MSRP about $1300 discount retail
Girsan MC 312, Mossy Oak Break-Up Camo: $699 w/ free shipping
Weight as tested
Vinci, MAX-4 Camo: 7 lbs., 1 oz.
A5 Hunter: 6 lbs., 8 oz.
Girsan: 7 lbs., 2 oz.
Trigger pull as tested
Vinci: 5 lbs.
A5: 6-3/4 lbs.
Girsan 5-1/2 lbs.
Warranty
Vinci: Five years
A5: Five years, 100,000 rounds
Girsan: Five years.
Choke tubes supplied
Vinci: Five Crio Plus
A5: Three Invector DS
Girsan, Five Mobil Choke
Shell handling
Vinci: Speed Unloading
A5: Speed Loading and Unloading + Magazine Cut-off
Girsan: Conventional M2 style
Rib and bead(s)
Vinci: raised rib, red front and small silver center bead
A5: flat rib, red front bead and large white center bead
Girsan: flat rib, red front bead
Shell intensity capability without adjustment
Vinci: 1 oz. and up; 3 inch chamber
A5: 1 oz. and up; 3 inch chamber
Girsan 24 gram – 54 gram; 3 inch chamber
All three shotguns had no issues with factory Federal Top Gun 1 oz., 1180 fps loads.
Subjective recoil
The Vinci was the softest shooting, followed by the Girsan, with the A5 having, by far, the harshest recoil.
Safety placement
Vinci: front of the trigger guard
A5: back of the trigger guard
Girsan: back of the trigger guard
Recoil pad
Vinci: ComforTech stock system
A5: Inflex Pad
Girsan: Ergonomic Rubber
Barrel
Vinci: Standard bore, chrome-lined, cryogenically treated
A5: Browning oversized bore "Invector DS," lengthened forcing cones
Girsan: Standard bore, chrome-lined.
Benelli Vinci
When the last batch of of autoloaders came out (Benelli Vinci, Browning Maxus, Beretta A400 series and Remington Versa-Max) the Vinci was the most problem-free. Of that group, currently, the minor hiccups have been removed from the Browning Maxus (primarily trigger-related) and Remington Versa-Max. The Beretta A400 line-up still has nagging issues, inclusive of soft parts.
While the questionable aesthetics of the Vinci seem to equally enthuse and appall, it is a soft shooter, reliable and in general very good product. The safety reach can be a bit too long for some shooters.
Browning A-5
Browning's entry into the inertia autoloader has been a hard gun to love. Based on two reviewed examples, a trigger job is mandatory. Sighting straight down the barrel, the center bead obscures the front bead, fully with a 26 inch barrel and mostly with a 28 inch barrel. (If you "figure 8" the beads, as intended, nothing is obscured. - Editor.) The genuine walnut stock makes the gun easier to look at than most.
Compared to the other two models discussed here, the Browning is both low in weight and high in recoil. Only three choke tubes are supplied, two of the three do not perform anywhere near as marked, so aftermarket tubes are essentially mandatory.
Girsan MC 312
This is the first shotgun from Girsan. It is made in Turkey, which can be a bad thing in the case of several previously tested models (Stoeger, Huglo), or a good thing as was the case with the Weatherby SA-08.
In the case of the Girsan, it was a pleasant surprise, with build quality and machining well done, right at the Benelli Montefeltro level. At approximately $600 less than the A5 or Vinci, it is hard not to call it both an impressive value and a very pleasant surprise. Available through Bud's Gun Shop.