The CRKT Karen Hood Chopper (KHC)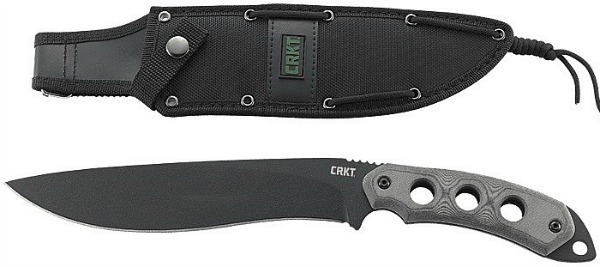 Illustration courtesy of Columbia River Knife & Tool, Inc.
This is a blade that is long overdue in the CRKT line. Whether you are in the scrub oak country of western Pennsylvania, or the rain forest of the Pacific Northwest, there are times you get into brush that calls for a blade big enough and tough enough to cut through it all. Most of us do not carry machetes with us when we venture into the wilderness and our regular belt knives just won't cut it (pardon the pun).
Karen Hood, who resides in Coeur D'Alene, Idaho recognized the problem and set out to design a blade that would take care of the toughest brush and camp chores. Her Chopper is between a "standard" machete (whatever that is) and a belt knife in size.
The Chopper is well designed, utilizing principles of ergonomics and physics that make it capable of delivering maximum force to the point of impact. For example, the blade is poised at a perfect 12 degree drop to maximize chopping power. Such design criteria are a bit foreign to those of us who never took those classes in college. However, the result is a blade that is comfortable to use and efficient at completing the task it is asked to perform.
The heavy 5mm (approx. 7/32") thick, full tang blade is made of 1095 carbon steel, which has the virtues of being inexpensive, strong, easy to sharpen and can take an extremely sharp edge. 1095 steel drawbacks include low to medium edge holding, low abrasive resistance and low corrosion resistance. Knife blades should be thick to avoid breaking. 1095 is frequently used in chopping blades and survival knives.
To help combat rust the KHC's blade comes with a black powder coat finish. Clean and rinse the knife after every use, dry the blade and protect it with a light coat of machine oil.
The handles can be removed and the tang wrapped with para-cord, if you prefer. I'll keep it the way it is, as Karen knew what she was doing when she designed this blade. CRKT has included a tough stitched and rivet reinforced nylon sheath with the Chopper.
Specifications
Style: Fixed blade knife w/sheath
Blade Length: 9.125 in. (231.78 mm)
Blade Steel: 1095 High Carbon Steel, HRC 56-58
Blade edge: Plain
Blade Finish: Corrosion Resistant Powder Coating
Blade Thickness: 0.197 in. (5.0 mm)
Weight: 15.5 oz.
Handle: Polished Resin Infused Fiber
Sheath: Reinforced nylon
Overall Length: 15.199 in. (38.6 cm)
Country of origin: USA
2018 MSRP: $375 (Sale price $150)
The Karen Hood Chopper is an emergency survival knife that should be a part of your kit if you are venturing into the wilderness. It is not as capable as a machete, but it is lighter, easier to carry and superior to an ordinary sheath knife.
The KHC, which is made in America and comes with a lifetime warranty, is not cheap. Even the autumn 2018 sale price of $150 may give some readers pause, but remember, the great outdoors can be very brutal and unforgiving. You only have one life, and it is better to have a blade like the KHC in an emergency and not need it, than to need it and not have it.
Editor's Addendum
A "standard" machete should have a blade long enough for the tip to just brush the ground when the user is standing with his or her arm down at the side. (Most of the native jungle people I have seen are short.) This is so the user can take the head off of a poisonous snake as it strikes at the ankles, a point explained by my Panamanian friend who taught me about machetes. (Machetes were originally designed for use in hot, jungle climates.)
As a resident of the Pacific Northwest rain forest who has used a machete to chop new paths through dense undergrowth and small tree limbs in Western Oregon, I will opine that the blade on a PNW machete can be shorter than a jungle machete, as we have few dangerous snakes.
The KHC's 9-1/4 inch survival blade should do for trimming the occasional limb overgrowing an existing trail, but it is not going to be sufficient for creating a path through heavy undergrowth. You would exhaust yourself constantly bending down with such a short knife long before you reached your destination. Nor will it be easy to cleave heavier branches with a single, fluid stroke.
The machete I have owned since the 1970s is 23-1/2 inches long with an 17-1/2 inch blade. I am 5' 10" tall and I would not have it any shorter. The longer the blade, the more it can cut per swing.
The aluminum handle of my machete is smooth, oval in cross-section, fills the hand and is gently contoured to help prevent blisters. There is a pronounced single hilt to keep fingers off of the blade and an even more pronounced crow's beak butt (with a lanyard hole) to keep the machete from slipping from the hand as your grip tires. Like the handle itself, both the hilt and crow's beak are thick and smoothly rounded. To prevent abrasion, your hand should never be in contact with blade thickness steel, or sharp (90 degree) corners.