AMJ Pacific Wool Crusher Hat
By Chuck Hawks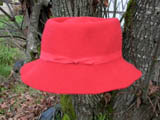 Photo by Jerri Graff.
AMJ Pacific is based in Portland, Oregon. AMJ Pacific manufacturers their products in U.S.A. Their company motto is, "We cover the Northwest."
This is a genuine 100% wool crusher hat. Like all crusher hats, it can be rolled into a compact package and stuffed into a daypack or hunting coat pocket. When unrolled, the crusher takes the shape of a "bucket" style hat.
I have used a red crusher as a big game hunting hat for a long time. This type of hat offers decent protection in moderate weather. The brim helps to keep the sun (or the rain, as the case may be) out of the eyes. Because it is wool, it helps to keep the head warm even when wet, and because the material is thin it is not insufferably hot in warm weather.
This is not the best hat choice for extreme temperatures. In very hot weather it will be too warm, and in freezing weather it will not be warm enough. But in typical Pacific Northwest Fall weather it is just about perfect.
The AMJ Pacific wool crusher has a stitched-in imitation leather inner band and a decorative red ribbon around the crown on the outside. Otherwise, the entire hat is made from a single piece of material. There are no seams to leak or fail. Used only during hunting season, these hats will last for years.
I have never been a particualr fan of the popular "baseball" cap, as it gives no protection to the ears or neck. The crusher is easier to carry and provides far better protection without being burdensome. I bought mine at my local Bi-Mart membership department store.