The Custom Built Rifle
By Chuck Hawks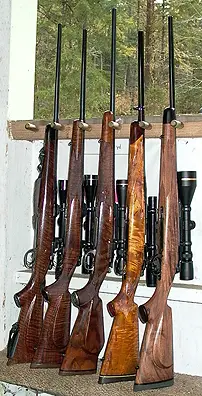 A rack of stunning custom built rifles on Mauser 98 type actions. From left: 7x57mm Mauser 98, 7x57mm Husqvarna HVA, .270 Mauser 98, .358 Mauser 98, .30-06 Model 798 Remington at far right. The three rifles at left wear high grade American black walnut stocks, the blond stock (2nd from right) is Oregon myrtle wood and the Model 798 is stocked in English walnut. Photo by Chuck Hawks.

Custom built rifles are far more popular than bespoke shotguns in North America, which is peculiar when you think about it. Perfect stock fit is crucial to top performance with a shotgun, while most shooters can shoot about as accurately in the field with a rifle built to factory dimensions as they can with a rifle stocked to their measurements.

This is due to the inherent difference in the way shotguns and rifles are employed. A rifle has sights that are carefully aligned with a (normally) static target; it is the alignment of the sights and target that determine where the bullet hits, not the shape of the rifle's stock.

A shotgun, on the other hand, is swung ahead of a flying target and fired while in motion. The stock of a shotgun is the rear sight, in that it aligns the gun and the shooter's eye with the target. The shooters attention is entirely on the target, he never sees the gun except as an elongated blur at the bottom of his field of view.

Never the less, it is the custom rifle about which most well healed American shooters dream. Perhaps this is due to our heritage as "a nation of riflemen." There is a sense of satisfaction in owning something unique, made specifically for the owner. Particularly when that something is superior both functionally and aesthetically. For many hunters and sportsman, the Holy Grail of firearms is a custom built hunting rifle.

Perhaps we should define what is and is not a custom built rifle. It is not starting with a factory made rifle and mating it with off the shelf aftermarket parts, as is common with Ruger .22 Autoloaders and AR type rifles. These are assembled rifles.

It is not replacing a factory stock with a prefabricated replacement, or just modifying the barrel or action of a factory built rifle. The result is a modified, sporterized or customized rifle.

Neither is it ordering a rifle from a laundry list of options; that is, at best, a semi-custom rifle. Semi-custom rifles can be quite nice and without question satisfying to own. E.R. Shaw, Nosler, Brown Precision and American Hunting Rifles, for example, offer fine semi-custom rifles, sometimes with special features.

Some of the major rifle manufacturers, such as Browning, Remington, Savage, Weatherby and Winchester, have in-house custom shops that can turn out semi-custom rifles. One advantage possessed by a major manufacturer's custom shop is easy access to whatever action types their company offers. The Browning custom shop, for example, offers semi-custom BAR self-loaders and the Remington custom shop can build a semi-custom autoloading or pump action rifle.

Anyone who does not enjoy the kind of detail planning that goes into a true custom built rifle would be well advised to consider a semi-custom rifle. However, semi-custom rifles are not quite the same thing as bespoke rifles, anymore than ordering a top of the line luxury car with a long list of options creates a custom automobile.

A true custom rifle is typically ordered from an individual rifle maker or a small custom shop. It is built by one or more fine craftsmen to the exact specifications, measurements and wishes of the customer. It is a bespoke, one of a kind rifle not available from any catalog, parts list or manufacturer. Many of these custom gunmakers belong to and can be located through the American Custom Gunmaker's Guild.

Some custom rifles are created entirely by one artisan who does all the wood work, metal work, parts fabrication, engraving, gunsmithing, finishing and assembly himself. That is the way Guns and Shooting Online's Gunsmithing Editor, Rocky Hays, builds a custom rifle.

Other bespoke rifles are a group effort, usually coordinated by an action specialist / custom gunsmith who does the final assembly. Members of the team, in addition to the custom gunsmith, commonly include a stock maker (who also probably does the checkering and stock finishing) and an engraver.

The barrel, if not part of a barreled action, is usually ordered from a specialty firm, such as Kreiger, Pac-Nor, Lilja, etc. The gunsmith does the required installation, including threading, chambering, cutting to the desired length, crowning, polishing and (usually) all of the metal finish. Occasionally, if an unusual or exotic finish is requested, the final metal finish may done by a specialist.

There are very real advantages to a custom built rifle. One is the ability to specify an unusual, obsolete, or wildcat caliber that is simply not offered by the big factories.

Ordering a custom rifle allows the shooter to specify the stock dimensions that give him or her maximum comfort when shooting. This minimizes the subjective effect of recoil.

Another important factor is that pride of ownership usually leads to confidence in the field. Confidence is a factor in the success of practically any endeavor.

Length of pull, drop at comb and heel, pitch, cast off, Monte Carlo and cheek piece (if desired), type and style of grip (full pistol grip, semi-pistol grip, straight hand, thumb hole, etc.) can all be specified. The shape (round, squared-off, pear) of the forearm cross-section as well as its length, taper and tip style are selected by the prospective owner. So is the type of pistol grip cap (if applicable), butt plate or recoil pad. Look at the differences between the stocks of a Winchester Model 70 Featherweight, Remington Model 700 BDL and Weatherby Mark V Deluxe to get an idea of the possibilities.

A custom rifle stock should be aesthetically pleasing to the shooter. (It also doesn't hurt if it inspires admiration in others.) The type and grade of stock wood is chosen or a laminate specified, along with the type of butt plate/recoil pad. Checkering lines per inch, pattern and coverage is done to order. Decorations, such as stock carving, contrasting forearm tips, inlays, pistol grip caps and line spacers of contrasting color can be included as desired, as well as the type of finish.

Most of these choices disappear, of course, if the customer chooses a synthetic stock. Synthetic stocks are off the shelf items, which is contrary to the entire concept of a bespoke rifle. Since a stock designed specifically for the individual customer is a key defining characteristic of a custom rifle, a rifle with a stock ordered from a manufacturer's catalog is, at best, a semi-custom rifle rather than a true custom built rifle.

Barrel manufacturer, length, contour and twist can be specified to fine-tune the rifle for the desired handling qualities, caliber and bullet weight. So can the method of bedding the barreled action in the stock. The user (within reasonable limits) can determine the approximate weight, length and balance of the finished rifle.

The customer can specify any type of action he or she desires. Some type of falling block or bolt action is chosen for most custom-built rifles. The Ruger No.1, Sharps 1874 and 1877, Winchester/Browning 1885 Low Wall and High Wall, Farquharson and Dakota Model 10 are probably the single shot actions most commonly used in North American custom rifles.

Customers planning custom bolt guns often choose Remington 700, Weatherby Mark V, Weatherby Vanguard, Winchester Model 70 or commercial Mauser 98 type actions, but there are many possibilities. Just the five actions mentioned in this paragraph offer many combinations of cartridge handling (controlled or push feed), lock-up (twin or multiple bolt lugs), bolt throw (90 degrees down to 54 degrees), extractor type, ejector type (receiver or bolt mounted), bolt removal, safety, and action length (magnum, long, intermediate, short or super short).

Internal magazines may be blind or incorporate a hinged floor plate. If the action chosen does not incorporate a satisfactory trigger, an appropriate after market trigger assembly can be substituted.

The barreled action and other metal parts can be finished to the customer's specification. Possible choices include (but are not limited to) hot bluing (polished, satin or matte), rust blue, nitre blue, Teflon coated, Parkerized, polished or matte stainless steel and a variety proprietary finishes, such as Cerakote, in clear or a variety of colors. Adornments include engraving, precious metal inlays, bright parts (such as a polished bolt body in the "white"), plated parts (such as a gold plated trigger) and engine-turned parts.

The type of iron sights, or the lack of them, is another option. Ditto the type of scope (or other optical sight), mount and rings fitted to the rifle. The custom builder is not limited to what happens to be on hand at the local sporting goods store.

Now, let's see how a hypothetical custom rifle is conceived. Let's say I want a woods rifle in .338x57 O'Connor caliber. This is a wildcat cartridge not available from any gun company. A rifle in .338x57 O'Connor that weighs around eight pounds or a bit more (empty) with a 22 inch barrel, including scope, should strike a reasonable compromise between recoil, handling and portability.

The .338x57 O'Connor was designed primarily for use in magazine rifles. I believe that the Winchester Model 70 (controlled feed) is one of the best bolt actions ever designed for a hunting rifle and it is commonly available, so that is the action I would choose.

The Model 70 is made from forged and machined steel. The barrel comes with a coned breech. It has an open top receiver with a wide loading/ejection opening that makes reloading fast and easy. Its flat bottomed receiver incorporates an integral recoil lug. The one-piece bolt body has a bolt handle designed for use with a telescopic sight. There is a full length extractor for controlled feed and to give maximum purchase for yanking out stuck cases. The single stage trigger mechanism is fully adjustable.

The Model 70 handles escaping gas well, is strong, accurate and looks good. It was Jack O'Connor's favorite action, which seems appropriate for a wildcat cartridge he originally suggested.

I prefer a steel, one-piece trigger guard and floor plate iron with a hinged magazine floor plate. I would like a reasonable amount (about 50% coverage) of American-type scroll engraving on the receiver rings, scope rings, trigger guard, pistol grip cap and magazine floor plate. I also like a gold plated trigger with a smooth face and two gold rings inlayed around the muzzle of the barrel.

The .338x57 is based on the 7x57 Mauser case, which has a standard .473" rim diameter and .046 rim thickness, so no bolt face modifications will be necessary. I want plenty of latitude for bullet seating, so a standard length action should be used. The trigger should be adjusted to release at 2.5 pounds with no discernible take-up, creep or over-travel.

This is a medium velocity (MV 2400-2450 fps), medium bore cartridge, so a 22", No. 2 (sporter) contour barrel would be appropriate. That should provide good balance and reasonable weight. A twist rate of 1 turn in 10" will stabilize all .338 caliber bullets. Because I would be using a scope sight exclusively, no iron sights are necessary.

I want the barreled action full length bedded in the stock. This usually provides the best accuracy with sporter weight barrels. (Free floating usually provides the best accuracy with heavy barreled varmint and bench rest rifles.)

I would want the barreled action and other external metal parts (except the bolt body and extractor) finished in a highly polished, deep luster blue. This is sometimes called a "Weatherby Blue" in the trade. The bolt body should be left in the white and engine-turned. The bolt handle should be polished and blued and the bolt knob should be smooth. After finishing, all external metal surfaces should be clear Cerakote protected for weather and scratch resistance.

My favorite stock material is European thin-shell walnut, which is often referred to as English, French or Spanish walnut. I want extra fancy (AAA grade) wood with basically straight grain through the wrist of the stock and feathery figure in the butt stock.

I would like a modern classic style stock designed for use with a low mounted scope. It should have a straight, fluted comb and a shadow line cheek piece that flows into the comb. The wrist should be slender and oval in cross section, with a fairly open pistol grip curve, no palm swell and a steel pistol grip cap. I also like a slender, tapered forearm that is slightly pear shaped in cross section with a simple rounded tip. The stock should incorporate a bit of cast-off and a touch of twist for easy mounting and fast sight alignment at my shoulder. The length of pull should be 13.75 inches, drop at comb .70 inches and drop at heel .70 inches.

I would like an ebony forend tip and a black Pachmayr Decelerator recoil pad. I prefer a generous amount of 24 line-per-inch, three panel checkering in a fleur-de-lis pattern that wraps completely around the forearm. The Winchester Style B checkering could serve as inspiration. No inlays or line spacers in the stock. The stock should be finished with many thin coats of hand rubbed oil, buffed and waxed to a gloss finish. Inletted quick detachable sling swivel bases should be fitted.

This is intended to be a woods rifle, so the scope selected should offer a big field of view. A Leupold VX-3 1.75-6x32mm variable would be my choice, mounted as low as possible with steel Leupold bases and rings.

The foregoing is an overview of the kind of thought that should go into a custom built hunting rifle. Before such a rifle can be ordered the customer must carefully select a builder willing and able to produce the rifle he wants. Then, the buyer and the builder need to work out all of the details, including the action tuning required, specific checkering and engraving patterns, price and delivery time, etc. For the prospective owner, planning and ordering a custom rifle can be a time consuming and expensive undertaking, but ultimately very rewarding.