Mauser 98 Custom-Built 7x57mm Rifle
By Chuck Hawks with Bob Fleck

Custom Mauser 98 7x57mm rifle with Simmons Master Series Pro Hunter 3-9-8x40mm scope. Photo by Bob Fleck.
Guns and Shooting Online Technical Advisor Bob Fleck purchased the custom-built 7x57 Mauser 98 that is the subject of this article at a local Eugene, Oregon gun show. The price was right and the workmanship first rate. In fact, before we left the show, several other attendees asked about the rifle and if it was for sale.
At the time of purchase, we suspected that this rifle had been built by our friend Larry Brace, the famous Eugene custom gun maker and one of the founders of the Gun Maker's Guild. Larry had passed away after a long battle with cancer a couple of years previously. This rifle has the workmanship and finish typical of Larry Brace rifles. In addition, the Mauser Model 98 was one of Larry's favorite actions and 7x57 one of his preferred calibers. However, when we got the rifle home we could not find a signature on this rifle and, to the best of our knowledge, Larry signed all of his rifles. Thus, the maker of this fine custom hunting rifle remains a mystery. This is unfortunate, as whoever built this rifle deserves credit for a job well done.
This elegant rifle's polished and blued barreled action is stocked in high-grade (approximately AA) black walnut. Strangely for a rifle of this quality, the stock is not checkered. Apparently, the person who originally commissioned this rifle didn't like checkering. The bedding and overall workmanship are excellent. The stock is of the "modern classic" style, with a slender forend that terminates in an ebony tip, gently curved (open) pistol grip and a straight comb intended for use with telescopic sights. No iron sights are fitted. The comb is fluted and the cheekpiece is of the shadow line variety. In the underside of the stock, near the toe, is a little trapdoor that conceals a space inletted into the stock for four extra cartridges. The stock finish is multiple coats of oil, hand rubbed until it gleams. The pistol grip cap and buttplate are bakelite and the latter is checkered. Studs for detachable sling swivels are provided.
This is a restrained, handsome and functional stock. The rifle balances between the hands and its ergonomics and handling are about as good as a bolt action rifle can be. The single stage, approximately three-pound trigger breaks clean and without fault. Visually and in style, it is similar to the Larry Brace built 7x57 featured in the article "Husqvarna 7x57 Custom Built Rifle." (See the Rifle Information page for that article.) Immediately below is a photo showing Bob's 7x57 Mauser at far left; the rifle next to it (second from left) is Chuck's Larry Brace built Husqvarna 7x57.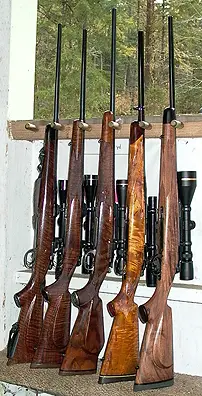 From left: Bob's custom 7x57 Mauser 98, Chuck's 7x57 Husqvarna by Larry Brace, Chuck's .270 Mauser 98 by Larry Brace,
Bob's .358 Mauser 98, Chuck's Remington/A.I. 798 custom. The three rifles at left wear high grade American black walnut stocks,
the blond stock (2nd from right) is Oregon myrtle wood and the A.I. 798 is stocked in English walnut. Photo by Chuck Hawks.
The commercial Mauser 98 action is a controlled feed, turn bolt action with a fixed, receiver mounted ejector, one-piece bolt and internal box magazine that is integral with the receiver. The flat-bottomed receiver has a large loading/ejection port and an integral recoil lug. The receiver/magazine box is machined from a block of forged steel, as is the one-piece bottom metal and trigger guard. Many Mauser 98 rifles have blind magazines, but this custom rifle incorporates a hinged, steel magazine floorplate. The barreled action is highly polished and luster blued.
The Mauser 98 action is the most copied of all rifle actions. The bolt locks into the receiver with two front locking lugs (there is also a third, safety lug at the rear) and the striker is cocked on opening. There is a large bolt guide, machined as part of the bolt, which runs in a slot in the rear receiver ring. Escaping gases from a pierced primer or split case head are directed away from the shooter's face. Cartridges are staggered in the box magazine to increase capacity.
The M-98 has long been a top choice for custom-built hunting rifles, not because of its more than adequate strength and accuracy, but because it is so reliable. This feeding and functioning reliability has particularly endeared it to those who hunt dangerous game and those who journey far from civilization, where a rifle failure could spell the end of a once in a lifetime hunt. Most of the "improved" versions of the Model 98 that abound today, which includes the great majority of commercial bolt actions, are inferior in design, refinement and quality to the original. Their real "improvement," from the manufacturer's point of view, is reduced production cost.
The 7x57mm Mauser caliber is both a classic and a worldwide favorite. It is only moderately popular in the U.S., but is quite popular with custom rifle customers and builders, as well as the Guns and Shooting Online staff. There is, in fact, very little big game hunting for which the 7x57 would be inappropriate. It is an excellent mountain rifle cartridge, a fine African plains game cartridge and a suitable all-around (CXP2/CXP3) hunting caliber in North America. The 7x57 combines mild recoil, good killing power and excellent accuracy in a moderate size case. It also shoots as flat as the great majority of hunters can use. Launch a 139-140 grain spitzer bullet at 2700 fps and the maximum point blank range (+/- 3") is around 268 yards.
The 7x57, introduced back in 1892, is the cartridge that established many of the specifications that have since become standard for non-magnum calibers, such as the rimless bottleneck case shape that headspaces on the shoulder and the .473" rim diameter. Despite its age, the 7x57 looks like, and performs like, a modern cartridge. The 7mm-08 Remington, for example, merely duplicates 7x57 ballistics in a necked-down .308 case. In North America, hunters can choose among 7x57 factory loads from Federal, Hornady, Norma, PMC, Remington, Stars and Stripes and Winchester, among others. The Hornady factory load favored by both Chuck Hawks and Bob Fleck for use in their 7x57's uses a 139 grain BTSP InterLock bullet at a muzzle velocity of 2680 fps and muzzle energy of 2216 ft. lbs.
Perhaps the most famous exponent of the 7x57 (often called the .275 Rigby by the British) was W.D.M. Bell, the famous ivory hunter. Bell used a .275 Rigby (7x57mm) rifle with 175 grain FMJ bullets and brain shots to harvest the majority of his (well over) 1000 bull elephants. Not that we recommend the 7x57 for modern elephant hunting conditions, but Bell's record illustrates what the mild mannered 7x57 is capable of accomplishing in the hands of a cool shooter.
Another famous hunter (actually huntress), Eleanor O'Connor, used her 7x57 rifles to bag a multitude of big game animals around the world. It was her favorite caliber and she thought that husband Jack O'Connor's favorite caliber, the .270 Winchester, kicked too hard. She had a point, as the 7x57 seems to kill as well with less fuss.
Guns and Shooting Online contributor (see the Hunting Stories page) and African PH Leon Viljoen has written, "For those in the know, the 7x57 Mauser is one of the finest flat trajectory rifles around. At a distance of 200-300 meters it has no equal." For more about the 7x57 cartridge, see the Rifle Cartridge, Rifle Information and Reloading pages.
Here are some basic specifications for the custom 7x57 Mauser 98 that is the subject of this article:
Type - Bolt action repeater
Action - Mauser Model 98
Magazine capacity - 5 rounds in internal box magazine with hinged floorplate.
Barrel length - 24.6"
Sights - None; drilled and tapped for scope mounts
Trigger pull - approx. 3 pounds
Safety - Two position slider at right rear of receiver
Stock - Black walnut, approx. AA grade, with ebony forend tip
Length of pull - 13"
Overall length - 43.5"
Weight - 7.5 pounds
At the present time, this custom 7x57 wears a Simmons Master Series Pro Hunter 3-9x40mm scope in quick-detachable mounts, which has provided excellent service. The rifle shoots as good as it looks, consistently delivering three-shot, 100 yard groups between 1" and 1.5" from a bench rest, outdoors, with Hornady factory loads. It has become Bob's "go to" rifle, the kind of rifle that inspires absolute confidence in a hunter. He has used it to take a variety of game, including a full curl Corsican ram and a 200+ pound boar with impressive tusks.
In summation, this 7x57, loving crafted by an unknown maker, delivers exactly what a custom-built rifle should. It is attractive and completely functional, extremely reliable and very accurate. It fits Bob perfectly, feels slender in the hand, is light enough to carry long distances and heavy enough to shoot accurately while minimizing recoil. It engenders pride and confidence in its owner. Compared to an ordinary factory built rifle . . . well, there is no comparison!