Larry Brace Custom Built Mauser 98 .270 Rifle
By Chuck Hawks
Left side of Custom M-98 rifle with Leupold VX-III 2.5-8x36mm scope. Photo by Chuck Hawks.
A Larry Brace .270 Winchester caliber rifle is the subject of this article. Larry Brace, gun maker laureate of Eugene, Oregon, passed away about a year prior to my writing this article, after a long battle with cancer.
Before we go too far, here are some of the basic specifications of this beautiful, custom built .270:
Type - Bolt action repeating hunting rifle
Action - Mauser 98 pattern commercial action
Caliber - .270 Winchester
Barrel - 24", medium contour, 1:10" twist
Magazine capacity - 4 cartridges w/hinged magazine floor plate
Metal finish - Rust blued; engraving by George Sherwood
Stock - AAA fancy grade walnut, hand checkered 22 lpi, glossy finish; includes detachable sling swivel bases and Pachmayr Old English butt pad
Trigger mechanism - 2.25 pound release, fully user adjustable
Safety - Two position
Sights - None; receiver drilled and tapped for scope mounts
Length of pull - 13 5/8"
Overall length - 44 3/4"
Weight - 8.25 pounds bare
The Barreled Action
Right side of custom Mauser 98 rifle. Photo by Chuck Hawks.
The rifle is built on a commercially manufactured "large ring" Mauser Model 98 type bolt action. The Model 98 uses a forged and machined, flat bottomed receiver with an integral recoil lug. It is intended for standard (.30-06 length) cartridges like the .270 Winchester. Bolt rotation is approximately 90 degrees.
Like all M-98 actions it has dual front locking lugs, a rear safety lug, full length extractor and blade type ejector. It is a true "controlled feed" action. Because of the Mauser extractor, cartridges should be loaded into the magazine and fed into the chamber from there.
This particular M-98 action was made in Spain. The serial number has a "Z" prefix, which indicates manufacture in 1954, according to the Spanish year of manufacture date codes published in the 25th Edition of Fjestad's Blue Book of Gun Values. It looks, and operates, like an FN Mauser action.
The rifle's single stage trigger assembly was made in Finland and is so marked. It is fully adjustable for over-travel, sear engagement, and weight of pull by means of tiny screws secured by lock nuts. The trigger itself is wide to minimize the subjective pull weight and grooved to prevent slipping. Larry had the trigger adjusted for a crisp 2.25 pound release as measured by my RCBS Premium trigger pull gauge, and I left it alone.
The typical Mauser bolt release is located on the left side of the receiver and the safety is a slider at the right rear of the action. This two-position safety locks the trigger but not the bolt, which can be opened to empty the chamber with the safety in the "on" position.
The slightly pear shaped bolt knob wears very fine checkering divided into five small areas. These are located on the front and back sides, left and right sides, and the bottom. Very tricky. Sometimes gun makers do things just because they can.
The bolt body and handle are blued, with the extractor polished and left in the white. The steel magazine follower has been engine-turned. Also left in the white were the one-piece bottom iron, hinged magazine floor plate, and trigger guard. The magazine floor plate release is mounted inside the front of the trigger guard, fits perfectly, and keeps the floor plate securely closed. This traditional Mauser 98 magazine floor plate release is probably the most convenient of them all.
The white bottom metal is intended to show off the engraving on the bottom iron, magazine floor plate and trigger guard, which were skillfully executed (and signed) by the late master engraver George Sherwood. The engraving is done in a tasteful floral and scroll pattern. G&S Online engraver Rocky Hays applied engraver's ink to bring out the detail. Very few hunting rifles are graced with engraving of this quality.
Engraving by George Sherwood on bottom of custom M-98 rifle. Photo by Chuck Hawks.
The barrel is a tapered, 24", medium contour item with "L. Brace, Gun maker, Eugene, Ore." engraved on the right side and "Caliber - .270 Winchester" engraved on the left side. There is a small symbol that may be a proof mark or the barrel maker's logo on the top of the barrel just forward of the front receiver ring, but it is not one that I recognize.
The barrel and receiver have been rust blued, unusual for a modern rifle. Rust bluing is a more costly, and much more time consuming, process than the common hot chemical blue process. Larry did a lot of rust bluing and the process does provide more protection for the barreled action than the typical hot blue finish.
The Stock
The stock is made from what I would describe as extra Fancy (AAA) grade American black walnut. There is a 2-1/2" walnut forend tip of contrasting color but similar grain, attached at a 90-degree angle and without a line spacer. The stock finish appears to be some sort of high gloss varnish, probably synthetic. This finish was no doubt chosen to bring out the grain of the fancy wood, which it does. I waxed it and left it at that.
The stock design is, for my purposes, nearly ideal. It is a conservative Monte Carlo, pistol grip style with a fluted comb and a raised, shadow line cheekpiece. Imagine what you'd get if you subjected a Weatherby Mark V Deluxe stock to a major redesign by someone from the modern classic school and you'll have the idea.
Buttstock of custom Mauser 98 rifle showing shadow line cheekpiece. Photo by Chuck Hawks.
The slender pistol grip has a smooth, comfortable curve devoid of any hook at the end. There is a palm swell in the right side of the grip. The equally slender forend is tapered, slightly flattened on the bottom and rounded at the tip. The result is an attractive yet very functional stock designed for use with a telescopic sight and comfortable to shoot from an improvised rest. It comes quickly to the shoulder and aligns the shooter's eye properly with the scope and the target. It also handles recoil well.
The comb slants gently downward from rear to front to minimize the effect of recoil on the face, as per the Weatherby model. Comb height is correct for use with a telescopic sight and no iron sights are supplied. This stock also incorporates a little bit of cast-off and twist to make mounting faster and more comfortable for a right handed shooter. The stock fits both Rocky Hays and I, who are of essentially average height and build, quite comfortably.
The generous checkered areas on the forend and pistol grip are recessed. The checkering is done in a borderless Fleur-de-lis style cut 22 lines to the inch. The forend checkering wraps completely around the stock and pretty much fills the area between the front sling swivel stud and the forend iron.
Forend of custom Mauser 98 rifle showing checkering detail. Photo by Chuck Hawks.
I consider 20-24 lpi checkering to be optimum for a hunting rifle and 22 lpi checkering to be the golden mean. It is attractive, comfortable and functional. If cut too fine, checkering's function as a non-slip gripping surface is compromised. If cut too coarse, checkering becomes abrasive.
Pistol grip of custom Mauser 98 rifle showing checkering. Photo by Chuck Hawks.
The bottom of the pistol grip is protected by an ornate German silver grip cap with a blank central space upon which the owners initials could be engraved. I gave the cap to our Rocky Hays so that he could apply a flat black ceramic coating (more durable than powder coat or plating) that I felt would better complement the rifle's rust blued barreled action. When I got the grip cap back, Rocky had engraved my initials ("CH") and filled the letters with two ceramic colors (transparent red and flat black). Rather than simply turn the whole cap black, he ringed the initials with a flat black "doughnut" to reduce the silver surface area of the grip cap. This is certainly the fanciest grip cap to be found on any of my firearms. It is, by itself, a work of art.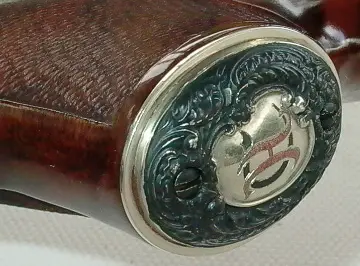 Custom pistol grip cap by Rocky Hays. Photo by Chuck Hawks.
The barreled action is tightly glass bedded in this stock for its entire length. No "floating barrel" shortcut to simplify bedding was taken here! Larry Brace was especially noted for his stocks, and this rifle displays a fine example of his work.
The Scope
Pat Mundy of Leupold graciously offered to provide a new Leupold VX-III 2.5-8x36mm riflescope for this article. Leupold scopes and mounts are made in the U.S.A. by proud craftsmen who, like us, are shooters and hunters and it shows in the design and quality of the products that they produce.
This particular scope was supplied with a Custom Ballistically Matched Reticle. This is a variation of the familiar Duplex reticle intended for a 200 yard zero that incorporates secondary aiming points for 100, 300, 400 and 500 yards. Naturally, this reticle must be custom built for use with a specific load. In this case, I asked for the reticle to be made for the Winchester Super-X factory load using the 130 grain Power Point bullet or a reload using the Hornady Interlock SP bullet (BC .409) at a MV of 3050 fps. This handload approximates the typical 130 grain factory loads supplied by Winchester, Federal, and Remington. (See www.leupold.com for additional details about available Leupold custom shop reticles.)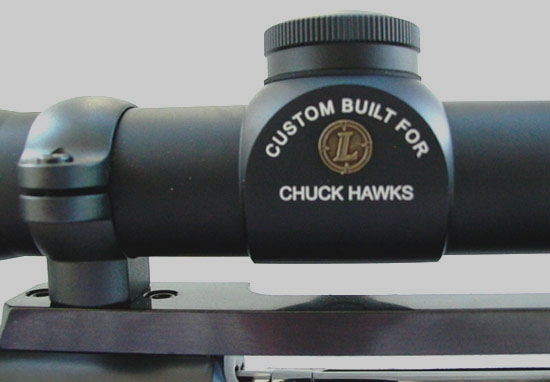 Leupold front mounting ring, massive one piece base and adjustment turret of VX-III scope
with Custom Ballistically Matched Reticle. Photo by Chuck Hawks.
There is a complete review of the Leupold VX-III 2.5-8x36mm scope on the Product Review Page and an article about this scope and its special reticle on the Scopes and Sport Optics Page, so I will keep my comments here brief. It came with Leupold's extremely durable matte black finish, which I thought would complement the rifle's subdued rust blued barreled action. Like all VX-III scopes, the optical and built quality are outstanding. It is a very bright scope and easy to look through due to its generous and non-critical eye relief. It is also lighter and more compact than the ubiquitous 3-9x40mm scope, making a trimmer and better handling rifle/scope package.
The magnification range of 2.5-8x is ideal for any all-around big game hunting cartridge, specifically including the .270 Winchester. The low magnification of 2.5x provides the large field of view required for fast shots at close range, while the upper magnification of approximately 8x is adequate for shots on big game animals far in excess of the maximum point blank range of any commercially available hunting cartridge.
Like me, Larry Brace was a fan of Leupold scopes and mounts and the receiver of this .270 came drilled and tapped for the Leupold STD one-piece FN Mauser scope base (#49988). Leupold machined steel bases and rings are my favorite mounting system and Leupold matte finish rings perfectly complement the VX-III scope.
Leupold mounts minimize the number of screws required and thus reduce the chances of something coming loose in the field. The screws supplied with Leupold bases and rings are of the Torx head variety, which allows them to be securely tightened with the supplied Torx wrench and largely eliminates the possibility of damaged screw heads. A rifle with this pedigree deserves the best in sighting equipment and it just doesn't get any better than a Leupold scope in a Leupold mount.
The .270 Winchester cartridge
Winchester introduced the .270 in 1925. They simply necked-down the .30-06 case to accept .277" diameter bullets and a star was born. The .270 became one of the most popular hunting rifle cartridges ever designed. It is a consistent top 5 selling rifle cartridge, usually trailing only the .30-30 and .30-06 among big game hunting cartridges. It is a world-wide, all-around hunting cartridge. .270 rifles are popular in South America, Europe, Africa, Asia and Australia, as well as North America. Ammunition can be purchased wherever the private ownership of firearms is allowed and big game animals are hunted.

.270 Winchester cartridge. Illustration courtesy of Hornady Mfg. Co.
Typical .270 factory load ballistics show a 130 grain bullet (SD .242) at a MV of 3060 fps (formerly 3140 fps), a 140 grain bullet (SD .261) at a MV of about 2950 fps and a 150 grain bullet (SD .278) at a MV of 2850 fps. These factory load ballistics were developed in 24" test barrels.
All three of these .270 bullet weights have been used to take hoofed animals ranging in size from tiny African dik dik to giant Alaskan moose. Actually, I have not found much difference in practical killing power between the three bullet weights, although it seems sensible to me to use the heavier 150 grain bullets for the largest game. Otherwise, I tend to use 130 grain bullets for pretty much everything in a .270 rifle.
There are also some hotter loads available. Federal offers a High Energy load that advertises a 140 grain bullet at a MV of 3100 fps, as does Hornady in their Light Magnum line. Also in Hornady's Light Magnum line is a 130 grain SST bullet at a MV of 3215 fps. Norma offers a 130 grain bullet at the old standard MV of 3140 fps and Winchester their 130 grain Power Point Plus bullet at 3150 fps. Winchester also catalogs loads using their 150 grain Power Point Plus bullet at 2950 fps and 150 grain Partition Gold bullet at a MV of 2930 fps.
For subdued recoil, try the Remington Managed Recoil load that uses a 115 grain PSP Core-Lokt bullet at a MV of 2710 fps. This is the same bullet used in Remington 6.8mm SPC factory loads. An alternative would be the Hornady Lite Low Recoil load that advertises a 120 grain bullet at a MV of 2675 fps.
The .270 shoots as flat as a magnum and hits almost as hard. Its advantage has always been its high velocity and flat trajectory, coupled with good killing power and tolerable recoil. This makes accurate bullet placement easier, especially as ranges increase. For more on the .270 Winchester cartridge, see the Rifle Cartridge Page.
Ammunition
Winchester/Olin was kind enough to send a supply of Winchester Super-X 130 grain Power Point factory loads for testing (MV 3060 fps). Also on hand were some Federal Premium Vital-Shok factory loads using 130 grain Nosler Solid Base bullets (MV 3050 fps).
I had time to turn out some handloads using the 130 grain Hornady InterLock Spire Point bullet seated to a COL of 3.21" in front of 60.5 grains of Reloader 22 powder (MV 3050 fps). The latter were loaded in Winchester brass and used WLR primers.
Shooting Results
The test firing was done at the Izaak Walton gun range south of Eugene, Oregon. This outdoor facility offers covered bench rests and target stands at 25, 50, 100, and 200 yards.
I used Hoppe's Crosshair sighting-in targets at 100 yards for shooting the groups recorded here. Firing was done from a Caldwell Lead Sled weighted with 50 pounds (2 bags) of lead shot. This provides a very steady rest and greatly attenuates recoil. For record I fired 3-shot groups, letting the barrel cool down between groups. Here are the shooting results:
Winchester, 130 grain Power Point -
Smallest group = 9/16"; largest group = 1-7/8"; mean average group = 1.10".
Federal, 130 grain Nosler Solid Base -
Smallest group = 11/16"; largest group = 2-7/8"; mean average group = 1.68".
Handload, 130 grain Hornady SP -
Smallest group = 1-1/4"; largest group = 2-3/8"; mean average group = 1.79".
This rifle obviously prefers the Winchester Super-X 130 grain Power Point factory load and shot good groups with it. Based on these results, that will be the standard hunting load for this rifle.
The groups over 2" were generally my fault with obvious flyers, with the exception of the 2-7/8" group shot with the Federal Premium 130 grain factory load. This group was triangular in shape, but the largest group in the test and I didn't call any fliers. The other groups fired with Federal ammo were considerably smaller, as you can deduce from the results above.
Clearly, the initial handload that I selected was not this rifle's cup of tea. Still, the results were satisfactory for big game hunting. I will do additional load research at my leisure and find a reload that (1) this rifle likes better and (2) also duplicates the ballistics of the Winchester Power Point factory load. I have generally had good luck with IMR 4831 powder in .270 rifles, so that might be a good place to start.
Conclusion
The bottom line is this is the nicest rifle I have ever had the pleasure of owning. The Leupold VX-III riflescope and its Ballistically Matched Reticle really complete the package. How could I not be pleased as punch with a Larry Brace custom rifle, engraved by George Sherwood, detailed by Rocky Hays and topped by a Leupold scope custom built for yours truly?