CVA Optima V2 Black Nitride Muzzleloading Rifle

Illustration Courtesy of Blackpowder Products, Inc.
The original version of the Optima was introduced back in 2002 and immediately took the muzzleloader world by storm. It was the first affordable, break-open action muzzleloader. Until that time T/C pretty much had a lock on the break-open action market, but they were priced beyond the budget of many muzzleloader shooters. With the entry of the Optima into the market place, everything changed. Muzzleloader shooters could now afford a break-action gun that was reliable and did not break the bank.
It was not long before other companies jumped into the market with break-open guns, but CVA had such a lead that in the twelve year period from 2002 to 2014, despite very intense competition, they sold more muzzleloaders than any other brand in the country.
I loved the original Optima, although I did find myself hoping that they would change the breeching lever from in front of the trigger guard to the rear. They must have been listening, because at the 2013 SHOT Show, CVA introduced the Optima V2 (version 2). It had everything that a hunter could ask for. It incorporated the trigger guard breeching system, trigger design and internal parts of CVA's top of the line Accura. It did cost a bit more, but not when compared to its competitors.
I have hunted with the Optima V2, topped with a Leatherwood Hi-Lux TB-ML 3-9x40mm riflescope, for three years and it has never let me down. I was a very happy camper and had no issue with the fact that my bride preferred her Accura V2. Our discussions as to which was the better gun became routine on every hunting trip. However, she was never able to change my mind. That was until I shot her new Accura MR with its black nitride barrel. Now, that is a fantastic gun. I found myself thinking that maybe I should change to an Accura MR.
Well, the folks at CVA must have recognized that they had a winner with the black nitride barrel, because at the 2015 SHOT Show they introduced the Optima V2 with a black nitride barrel. I did not have to change after all. I simply traded my original Optima V2 for the new Optima V2 Black Nitride.
Features and Specifications
Caliber: .50
Barrel: 416 Stainless Steel, Fluted, Nitride Barrel
Barrel Length: 26 in.
Rifling: 1:28 twist
Bullet Guiding Muzzle - ensures level and easy of loading bullets
Trigger-guard actuated breeching lever - provides a positive lock/unlock of action
Stock: Synthetic
Stock Finish: Realtree XtraT Green
Solid Aluminum Palmsaver ramrod
Sights: DuraSight Fiber Optic Sights; DuraSight Integral Scope Mount optional
Quick Release Breech Plug is finger removable without tools
Reversible Hammer Spur - great for lefties
Neutral center-of-gravity trigger - reduces the likelihood of an unintended discharge
CrushZone Recoil Pad
Overall length: 41 in.
Weight: 6.65 lbs.
Length of Pull: 14 in.
Lifetime Warranty
Country of Origin: Spain
2015 MSRP: $416 (with DuraSight Fiber Optic Sights)
The following are the results of our range testing with the black nitride Optima V2 over a two month period. With all of the bullet/powder combinations below, we were able to shoot three and four shot groups from 3/4 inch to one inch center-to-center at 100 yards, which is outstanding for hunting big game. On some days, when our shoulders were especially sore and we were not holding as steady, the groups opened up to 1-1/4 or 1-1/2 inches, still more than adequate for harvesting Class 2 size game.
Your muzzle velocities will vary depending on how you compress the load, air temperature and elevation, etc. The following values, recorded by our Caldwell Chronograph at an elevation of 5,232 feet, are posted to give the reader an idea of the approximate velocities to expect.
Velocities with 100 grains Blackhorn 209 Powder
CVA AeroLite 300 gr. - Mean MV 1,819 f.p.s. / 2,204 f.p.e.
CVA AeroLite 250 gr. - Mean MV 1,977 f.p.s. / 2,170 f.p.e.
Harvester Scorpion PT Gold 300 gr. - Mean MV 1,907 f.p.s. / 2,422 f.p.e.
Harvester Scorpion PT Gold 260 gr. - Mean MV 1,987 f.p.s. / 2,279 f.p.e.
Velocities with two IMR White Hots pellets
CVA AeroLite 300 gr. - Mean MV 1,650 f.p.s. / 1,813 f.p.e.
CVA AeroLite 250 gr. - Mean MV 1,780 f.p.s. / 1,758 f.p.e.
Harvester Scorpion PT Gold 300 gr. - Mean MV 1,625 f.p.s. / 1,759 f.p.e.
Harvester Scorpion PT Gold 260 gr. - Mean MV 1,720 f.p.s. / 1,708 f.p.e.
The following composite photograph of our targets clearly illustrates the accuracy of the Optima V2 black nitride barrel with both CVA Aerolite and Harvester Scorpion PT Gold bullets.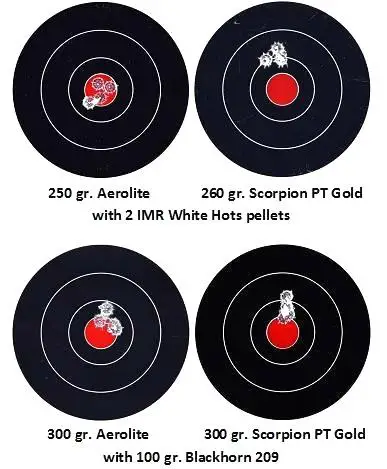 By now, you are probably wondering why the black nitride barrel is so special. From personal experience with the CVA Accura MR Black Nitride rifle, the nitride process eliminates the need for swabbing while you are hunting and need to reload for a second shot.
To quote from the owner's manual:
"The Bergara barrel has been treated with a process known as Salt Bath Ferritic Nitrocarburizing. This process is widely used in modern military weapons. This steel treatment hardens the outer layers of the steel, substantially increasing corrosion resistance, wear resistance and lubricity."
Nitride treated barrel surfaces will not chip, peel or scratch like many painted-on exterior finishes. Most importantly the process also protects the inside of the barrel, forming a barrier in the bore that is impenetrable to rust. Any surface rust that does develop inside the barrel will easily wipe away with a bore swab.
In fact, CVA Nitride barrels are so tough that they are guaranteed for life against rust pitting. If the barrel ever develops permanent damage due to corrosion, return it and CVA will replace it for FREE.
With a 2015 MSRP of $416 equipped with the DuraSight Fiber Optic Sights or $425 with DuraSight Scope Mounts, this new Optima V2 Black Nitride Rifle may be one of the best muzzleloader buys on the market today.